Linked In
TECHNOLOGY: Latest exec hires at Silicon Beach show local scene strong enough now to create and keep top managers.
Originally published June 9, 2014 at midnight, updated June 16, 2014 at 11:25 a.m.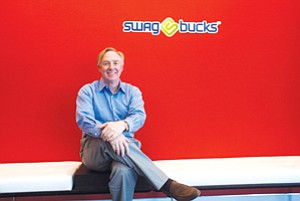 There was a time, not that long ago, when L.A. tech startups looking to bring in "grownups" to take them to the next level had to look far afield. Experienced chief executives were brought in from Silicon Valley or such mature industries as manufacturing or big pharma.
That, said former NetZero Chief Executive Ron Burr, often created a culture clash since those execs didn't understand how the region's tech entrepreneurs thought and acted.
But as Silicon Beach has come into its own and L.A. tech has minted a number of success stories, there are signs that a new wave of seasoned managers being brought in to shepherd young companies are both tech savvy and fully immersed in the local culture.
Burr, who took the helm of Santa Monica's CallFire in December after joining the cloud-based voice and text platform as chief revenue officer in January 2012, is among a slew of recent hires with track records in local tech.
Notable among this crop of well-heeled chief executives settling into new digs is Swagbucks' Chuck Davis. The former Shopzilla and Fandango topper, who guided those local companies to big exits in 2005 and 2007, respectively, took the helm of the booming online consumer rewards site last month when Palo Alto's Technology Crossover Ventures, where he is a venture partner, handed the El Segundo company $60 million in exchange for what the company called a "significant minority" stake.
Another veteran who stepped into a new executive role is former Global Crossing Chairman Gary Winnick, who took over as chief executive at T+ink in March after his investment firm, Winnick & Co., acquired a majority stake in the company. T+ink creates interactive digital components for physical objects through what's called conductive technology.
While observers aren't sure there's enough evidence to qualify these moves as a trend just yet, there's optimism about what it means for the L.A. tech sector.
Gerard Casale, co-founder and managing director of Santa Monica venture capital and advisory firm Tylt Lab, said the local tech sector benefits when its companies bring in homegrown executives because it means those leaders and companies are likely to be rooted here long term.

"It's great for the area," he said. "The more we have seasoned entrepreneurs stay here and not fly the coop, that's a good sign."
Providing validation
Swagbucks, which offers rewards for searching the Internet, taking surveys, playing games and watching videos, among other online activities, said it has been profitable since 2010, when it generated revenue of $15 million. Last year's sales were $53 million, a 51 percent year-over-year increase.
For reprint and licensing requests for this article, CLICK HERE.
Prev Next