Flipping Lid
Buyer/fixer-uppers move to higher-priced homes
Monday, June 9, 2014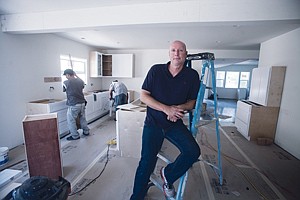 Bruce Bartlett last week accepted an offer of more than $1.2 million for a home on a quiet, tree-lined street in Studio City that he bought last summer for $750,000.
"We haven't even completed construction on it," he said. "We're still putting in the cabinets and hardwood flooring."
A managing partner at Sequoia Real Estate Partners in Westwood, Bartlett said the small investment firm plans to put up to $200,000 into renovations to the once-tired home before turning the keys over to new owners.
The house on Fair Avenue is one of six single-family homes in pricey L.A. neighborhoods that the firm owns and is quickly renovating to sell for more than $1 million each, financed by a $7 million fund. Other neighborhoods where the firm owns homes include Palos Verdes Estates, Los Feliz, Venice and the Hollywood Hills.
Flipping more expensive properties is a fairly new strategy for the firm, which until about a year ago focused on buying cheap homes out of foreclosure to fix up and rent or sell for quick cash. The buy-to-rent market, which fast came to be dominated by giant investment firms such as American Homes 4 Rent of Agoura Hills, Blackstone Group of New York and Colony Capital of Santa Monica, was ripe with opportunity after the housing crash in the late 2000s. But as the economy recovered, fewer foreclosures and growing competition at the low end of the market drove Sequoia – and at least two other Southern California real estate investment firms – to search for opportunity up market.
"We saw the landscape change last year and margins compressed after the large funds came in, so we did what any entrepreneur would do: We followed the money," Bartlett said. "We started moving up market where the margins were far higher."
Last month, Pathfinder Partners, a real estate investment firm in San Diego, announced that it intends to do the same. It plans to buy more than $50 million in residential real estate in exclusive L.A. neighborhoods over the next year; properties it intends to fix and flip.
Similarly, American Coastal Properties of Irvine received $50 million in the fall from Colony and Pritzker/Vlock Family Office to fund the acquisition, renovation and sale of dozens of multimillion-dollar homes, primarily in Los Angeles. The firm opened an office in Venice earlier this year.
Nick Sinatra, founder and president of American Coastal, said Los Angeles is a particularly good setting for repositioning multimillion-dollar homes. Among them is a Beverly Hills mansion he bought from actress Mitzi Gaynor, which he said could bring as much as $8 million.
"There's a lot of stock – homes built in the '50s and '60s – in Venice, Santa Monica, Pacific Palisades, some of the most coveted neighborhoods in the world," said Sinatra, who's not related to the famous singer. "Some of these great communities are just ripe for this type of infill development."
Curb appeal
The types of homes these investors look to buy are indeed in large supply in Los Angeles: homes built 30 or more years ago that, because of their layout, aesthetics and age, don't appeal as readily to today's homebuyers.
A home Pathfinder recently put on the market in Palos Verdes for $2.7 million, for example, sits on a parcel of land with a view of the ocean, an amenity its architect didn't feature in its original design.
Mitch Siegler, senior managing director and a co-founder of Pathfinder, said that before the home was renovated, it had a compartmentalized floor plan, few windows and an overbearing floor-to-ceiling stone fireplace.
"The home was completely gutted from top to bottom; everything was taken down to bare studs and built back up again," he said.
Pathfinder also added what is now a key feature of the house: an expansive outdoor deck in the rear with a view of the ocean and sliding glass walls.
Unlike mom-and-pop flippers who bought homes with debt before the housing bubble burst, these corporate investors tend to pay in cash, minimizing competition from less-well-funded buyers.
Because of their resources, they are able to keep more projects going than individual speculators might. Sequoia's active inventory is about six homes under construction; Pathfinder aims to have from nine to 12 going at a time; and American Coastal now has 25 projects under way.
Another distinction is that because they're searching for higher margins, the firms generally don't pay top-of-the-market prices.
Sequoia's Bartlett said he has formed relationships with brokers who call him when they're looking to quickly sell a dated home in a good neighborhood. Often, properties that fit that description become available because of a death in the family and out-of-town heirs are eager to settle affairs quickly.
"We're not the people who are going to pay you top dollar for your house, so if it's going to be a bidding war, don't call me," he said. "Call me if you need all cash and you need it fast."
Sequoia, Pathfinder and American Coastal all promise double-digit returns for investors, but they have various strategies when it comes to how much they are willing to spend on a property.
Bartlett said Sequoia typically buys homes for between $750,000 and $1.25 million, and then invests between $100,000 and $250,000 to fix them up.
Siegler said Pathfinder aims higher, buying homes for between $2 million and $5 million and spending between $500,000 and $1.25 million on renovations.
American Coastal takes the broadest view. Sinatra said his firm buys homes for between $500,000 and $5 million, and then invests between 50 percent and 100 percent of the purchase price in renovations.
"The sweet spot is around $1 million," he said.
But even as all three firms race to ramp up business in the million-dollar renovation space, they're approaching the future thoughtfully.
Bartlett said Sequoia has hit upon a strategy that will continue to produce profits for investors for the foreseeable future, particularly because more homes that fit the firm's criteria will become available as baby boomers age and move to retirement homes or die.
"I think it's sustainable, at least in Los Angeles, simply because of the housing stock," he said. "We've got a lot of old houses and we have an aging population."
Sinatra, however, takes a shorter-term view. He's more apt to believe the business is just the next hot trend in a recovering housing market, one that could soon go by the wayside.
"We think this strategy has probably another three years left, it's not going to be there forever," he said. "Once the housing market is fully recovered, it's going to be hard to find a property and add significant value."
For reprint and licensing requests for this article, CLICK HERE.