Pie Fixings
DINING: California Pizza Kitchen revamps restaurant interiors and menu to reclaim share of fast-casual market.
Monday, June 2, 2014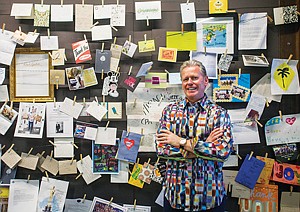 California Pizza Kitchen Inc. was considered a pioneer in its early days for creating hand-tossed pizzas with quirky toppings such as barbeque chicken and pineapple with Canadian bacon.
But a few years ago, profits and sales began to fall as it became harder for the restaurant chain to differentiate itself from other fast-casual chains.
So after a change in ownership amid the economic recovery, the Playa Vista company is looking to retool its image by implementing new dishes and redesigning its 275 properties around the world.
The new menu, with fewer items and some pricier offerings, is part of an effort to rebrand the fast-casual chain as a homier, slightly more upscale destination.
G.J. Hart, who took over as CPK's chief executive after its acquisition in 2011 by San Francisco private equity firm Golden Gate Capital, said the time was ripe for a change.
"I think, candidly, over the last four to six years, prior to the acquisition, the company became a little risk averse," he said. "It didn't lead as much. … In this competitive landscape of quick casual and the headwinds in casual dining in general, it became a tough environment that affected the company like it affected many companies."
Aaron Allen, a restaurant consultant at Aaron Allen & Associates in Orlando, Fla., said fixing the menu and interior will help gain relevancy, but the trick is selling items at prices customers would pay for while helping a company's bottom line.
"A lot of restaurants are trying to maintain a full-service restaurant with all of the overhead costs while competing in price and speed with fast-casual concepts," said Allen. "It's the dead wrong thing to do."
The creation of CPK's customizable "lunch duos," starting at about $9, was an effort to help it compete with fast-casual restaurants. However, the chain is also hitting the deeper-pocketed customer with main dish items such as a $25 rib eye, a 12-ounce steak that's the most expensive item on its redesigned menu.
Hart said it was important to offer high-quality menu items, but proper pricing was a concern when the chain started rebranding two years ago.
"We've historically been in this narrow band of pricing; this $9 to $15 kind of range," he said. "We're trying to round out our menu and give people additional choices."
Kindling fire
CPK was co-founded in 1985 by attorneys Larry Flax and Rick Rosenfield. Its first location was in Beverly Hills; by 1992, the chain had 26 restaurants. That same year, PepsiCo bought a two-thirds stake for $100 million.
New York private equity firm Bruckmann Rosser Sherrill & Co. bought PepsiCo's stake in 1997.
Rosenfield and Flax left the day-to-day operations, but three years after the company went public in 2000, they were brought back to serve as co-chief executives.
By 2007, CPK had sales of $624 million and a market cap of $625 million.
But things started to go downhill for the chain by 2010 as commodity prices rose and the recession kept diners away. The chain reported a loss of $400,000 on sales of $642 million, well off the net income of $18.6 million it posted on sales of $665 million the year earlier.
The company spent the following year hunting for a buyer and was purchased by Golden Gate in 2011 for $470 million.
Now private, the company is withholding financial details, but a credit report issued by Moody's in March 2013 pegged CPK's 2012 revenue at about $630 million, a figure Hart said stayed about the same last year.
Jerry Prendergast, a restaurant consultant with West L.A.'s Prendergast & Associates, said he feels the company has growth potential.
"The biggest issue with growing a chain is real estate," said Prendergast. "And CPK has the real estate. They have the locations. They have the capital infrastructure already invested. I think with the right marketing and the right employee training they'll do pretty well."
The redesign calls for restaurants to be updated with unfinished reclaimed wood floors and wood chairs for a more a rustic interior. Even dishes and utensils are being swapped out to present a more fashionable yet casual look.
Hart said remodeling of the company-owned 215 U.S. properties and its 60 international restaurants, which are franchised, should take about three to five years.
He said franchises have welcomed the change, citing the already completed renovations of 20 restaurants in Mexico.
Remodel costs range from $100,000 to as much as $1 million, depending on store size.
Hart said the company invested about $250,000 into its estimated 2,000-square-foot Beverly Hills space. The average size of a CPK location is between 5,000 and 6,000 square feet.
CPK's rebranding strategy could be a sign the company is gearing up for an eventual IPO. Golden Gate said in a statement to the Business Journal that its changes have been a great evolution for the brand, but declined to comment on whether CPK will go public.
Sarah Grover, the pizza chain's executive vice president and chief concept officer, said CPK has been through many changes but it's poised to be a stronger brand.
"Being public, you have your own set of issues," said Grover. "And going private as we did three years ago was a perfect time so that we could stop and retool and refocus on what made this brand so great."
For reprint and licensing requests for this article, CLICK HERE.