Soundstage Takes New Movie Role
FILM: Thunder looks to trade services for stakes in productions.
Monday, July 28, 2014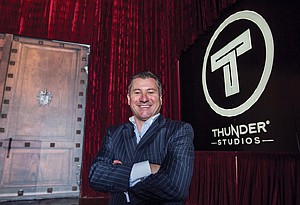 Rodric David runs a sprawling independent production facility in Long Beach. Set on six acres, Thunder Studios hosts shoots for commercials, films and TV shows. A week's work at one of the site's 20 soundstages can bring him as much as $100,000.
He leased the facility a year ago and has found the business to be "very profitable." But now, he wants to get into independent film production. However, he's taking an unusual approach.
The plan is to allow independent producers to use his facilities and connections – as well as the services of a postproduction firm – for no out-of-pocket cost. In exchange, his company will take ownership stakes in the films. The initiative is called Thunder Funder.
"Our future is producing our own content," David said. "I don't want to be restricted by four walls and a ceiling."
It's the latest venture for David, an Australian native who first came to Los Angeles two decades ago to study acting at USC. Among others: a partnership with Middle Eastern power players that went wrong to the point of landing him in an Abu Dhabi holding cell.
Thunder Funder is taking its first round of script submissions through August for a fee of $300. Selected projects will get access to production facilities and equipment at Thunder Studios as well as postproduction work from Westwood's Pace Pictures. David said there also will be distribution help from Cassian Elwes, who was involved with recent hit indie films "The Butler" and "Dallas Buyers Club." Elwes did not respond to a request for comment.
Under the plan, up to 12 filmmakers each year will get as much as $1 million each from Thunder Funder in production and postproduction services in exchange for varying stakes in the project.
Also, David is executive producing additional projects under a separate Thunder shingle. It's an ambitious workload for a Hollywood newcomer. But David isn't just any Hollywood newcomer.
Around world
David grew up in Sydney, the great-grandson of Lebanese emigrants. His father, John David, ran the family business, a grocery and wholesale distribution firm.
Rodric David was fond of American TV shows growing up – especially "M.A.S.H." and "CHiPs" – and his interest in entertainment brought him to USC, where he earned his theater degree in 1993. But instead of pursuing an acting career, he went to work for his family's grocery business in Malaysia, then built a construction and development company in Sydney.
He started a private equity firm in Abu Dhabi with Charif Kazal and other members of the Kazal family, a prominent Lebanese-Australian clan of eight brothers who told David of their ties to Middle Eastern business leaders and royalty. The partnership went badly.
"I did my due diligence, I thought. But, unfortunately, my good nature got taken advantage of," said David, who described the misadventure this way:
The private equity firm was to be a joint venture. David said he fulfilled his commitment by putting in millions of dollars. But he claims he did not get matching funds from the Kazals, so he took ownership of the company. The Kazals filed a lawsuit in the Cayman Islands, where the company was based.
The Sydney Morning Herald reported that a court there found him in breach of fiduciary duty, although an Abu Dhabi court said he was not. Meanwhile, he also testified against the family in an Australian corruption case.
In 2010, according to reports in the Morning Herald, members of the Kazal family apparently retaliated by filing an immigration complaint in Abu Dhabi. Authorities put David in a cell where he was detained for a day before he was released.
David then spent a year in Australia before coming to Los Angeles to seek new challenges.
The Kazal family has a website detailing their claims against David. He has filed court documents in California to get the site taken down or blocked from search engines.
Nadine Burch, a representative of Charif Kazal, said that their description of events is the truth.
"The commentary on the website is an accurate synopsis of our dealings with Mr. David," Burch said in an email to the Business Journal. "He made a mockery of his inherent duties/responsibilities as a corporate director."
Burch also said the reports in the Morning Herald were trumped up to discredit the Kazals.
David said he's put the episode behind him and is fully focused on Thunder now.
Back to Los Angeles
David took over Thunder Studios in April of last year, taking out a 10-year lease on the site with an option to buy, which he expects to exercise within the next six months.
The facility was previously occupied by Focus on Cars, a company with a specialty in prepping vehicles for commercials. The space was also used over the years to shoot scenes for films such as "G.I. Jane" and "Baseketball."
The soundstages still rely on auto commercials for about 60 percent of their shoots, but D avid is now hosting more film and TV shoots. For example, the IFC comedy miniseries "Spoils of Babylon" recently shot there, as did TruTV reality series "Motor City Masters."
He has about 25 employees and hires more when needed for projects. Revenue is in the tens of millions, much of it coming from equipment rentals.
But transitioning from film services to producing movies isn't easy, said Craig Darian, chief executive of soundstage owner Occidental Entertainment Group Holdings in Hollywood.
"It is typically regarded to be a bad risk for a technical service company or facility provider to participate financially in the actual production of movies," Darian said. "They're different disciplines."
David believes that investing in-kind services in the projects is a way of minimizing risk. Thunder Funder also plans to get additional financing through product placement, crowdfunding and debt financing with banks.
Thunder's equity stake and the stakes of other companies involved will be determined by the value of in-kind services they provide. But they'll usually get most of it. The filmmakers are expected to retain at least 20 percent equity.
Once a film gets a green light, Thunder will begin to promote it and look to raise money through crowdfunding campaigns on IndieFilmFunding.com. Upon completion, distribution for the films could be theatrical or direct to the consumer at home, via iTunes, for example.
Heath Ryan, chief executive at participating postproduction house Pace, said he expects the investment of his resources to be returned either financially or by building relationships with filmmakers.
"I fully intend that anything I put my resources in will pay off financially or in relationships," he said.
Meanwhile, David is involved with other projects further along in development. For example, he is executive producing a project in preproduction called "Sweetwater," about Nathaniel "Sweetwater" Clifton, the first African American player on the New York Knicks basketball team. The shoot involves converting one of Thunder's stages into Madison Square Garden circa 1950, complete with hardwood floors.
David acknowledged that there will be a learning curve for it all, but he's convinced the opportunity to put together a new indie film model is substantial.
"The most common complaint I hear of the industry is lack of ability to get funding – that would suggest that the risk model is fundamentally flawed," he said. "That's what we need to address and fix."
For reprint and licensing requests for this article, CLICK HERE.