Soundstage Takes New Movie Role
FILM: Thunder looks to trade services for stakes in productions.
Monday, July 28, 2014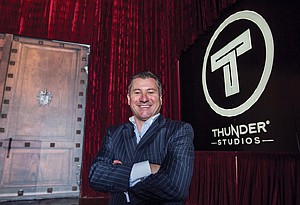 Rodric David runs a sprawling independent production facility in Long Beach. Set on six acres, Thunder Studios hosts shoots for commercials, films and TV shows. A week's work at one of the site's 20 soundstages can bring him as much as $100,000.
He leased the facility a year ago and has found the business to be "very profitable." But now, he wants to get into independent film production. However, he's taking an unusual approach.
The plan is to allow independent producers to use his facilities and connections – as well as the services of a postproduction firm – for no out-of-pocket cost. In exchange, his company will take ownership stakes in the films. The initiative is called Thunder Funder.
"Our future is producing our own content," David said. "I don't want to be restricted by four walls and a ceiling."
It's the latest venture for David, an Australian native who first came to Los Angeles two decades ago to study acting at USC. Among others: a partnership with Middle Eastern power players that went wrong to the point of landing him in an Abu Dhabi holding cell.
Thunder Funder is taking its first round of script submissions through August for a fee of $300. Selected projects will get access to production facilities and equipment at Thunder Studios as well as postproduction work from Westwood's Pace Pictures. David said there also will be distribution help from Cassian Elwes, who was involved with recent hit indie films "The Butler" and "Dallas Buyers Club." Elwes did not respond to a request for comment.
Under the plan, up to 12 filmmakers each year will get as much as $1 million each from Thunder Funder in production and postproduction services in exchange for varying stakes in the project.
Also, David is executive producing additional projects under a separate Thunder shingle. It's an ambitious workload for a Hollywood newcomer. But David isn't just any Hollywood newcomer.
Around world
David grew up in Sydney, the great-grandson of Lebanese emigrants. His father, John David, ran the family business, a grocery and wholesale distribution firm.
Rodric David was fond of American TV shows growing up – especially "M.A.S.H." and "CHiPs" – and his interest in entertainment brought him to USC, where he earned his theater degree in 1993. But instead of pursuing an acting career, he went to work for his family's grocery business in Malaysia, then built a construction and development company in Sydney.
For reprint and licensing requests for this article, CLICK HERE.
Prev Next