Hotel Buyers Check In With Pricey Purchase
ACQUiSITION: $65 million for Figueroa could be per- room record for downtown.
Monday, July 28, 2014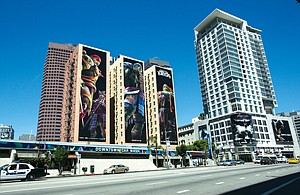 The Figueroa Hotel, an eclectic tourist haven that has been a fixture in downtown Los Angeles since the late 1920s, has been sold for $65 million, according to sources with knowledge of the deal.
A joint venture of New York real estate firm GreenOak Real Estate and Urban Lifestyle Hotels, a partnership formed by local investors Bradley Hall, Jack van Hartesvelt and Mark van Hartesvelt, purchased the 285-room hotel at 939 S. Figueroa St. from a trust in a sale that closed July 14.
Alan X. Reay, president of Atlas Hospitality Group in Irvine, said the price – about $228,000 for each guest room – is unprecedented in downtown, where 10 years ago it was difficult to drum up any investor interest.
"Considering the age of the hotel and the amount of money that's likely to go into it, I believe that's a new record for price per room in downtown Los Angeles," he said. "It's a huge testament to the vitality of downtown."
The 15-story building, built in 1925 by the YWCA as a hostel for professional women, commanded a steep price because it sits on a prime South Park site across the street from Staples Center and L.A. Live. It also has three expansive south-facing exteriors that have long been used for building-size mural advertisements.
The buyers declined to comment on their plans for the hotel, though sources said it is likely to get a makeover to bring it up to date.
Known for its vintage mishmash of Moroccan, Indian and other exotic decor, the Figueroa has not undergone significant renovations in decades. In fact, Uno Thimansson, the hotel's former general manager, told the Los Angeles Times in 2010, "We never renovate."
The hotel, a popular place for weddings and celebrity parties, features 25,000 square feet of event space and an outdoor swimming pool with an adjacent bar.
The hotel will be managed by Philadelphia hospitality management firm HHM, formerly known as Hersha Hospitality Management, which also manages the Courtyard Los Angeles Westside hotel in Culver City.
Century City Closing
The long-rumored sale of a partial interest in Century Park, the 3.2 million-square-foot Class A office campus in Century City, closed earlier this month in a deal that valued the complex at more than $2.45 billion.
Hines Real Estate Investment Trust Inc. of Houston, together with JP Morgan Asset Management of Rockland, Md., acquired a 67 percent stake in the 14-acre property for about $1.64 billion, according to real estate data provider CoStar Group Inc. The partners purchased the interests of investment funds formed for the benefit of General Motors Co. and AT&T Inc. JP Morgan, which owned a one-third stake in the property prior to the transaction, upped its interest to 50 percent. Hines, which sources said in March had enlisted the Hong Kong Monetary Authority as an equity partner, took the remainder.
For reprint and licensing requests for this article, CLICK HERE.
Prev Next