Direct Quotes
ADVERTISING: PK4's new ad tech eases online placement.
Monday, July 28, 2014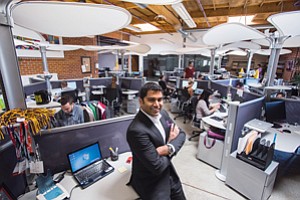 Buying ads in magazines and newspapers, and, more recently, on websites had been a labor-intensive business, with teams of media buyers exchanging proposals and spreadsheets with publishers.
But as the digital ad market has boomed, what had been a business of relationships has shifted to one of algorithms, with big data replacing the big Rolodex.
Reflecting that change, El Segundo ad tech firm PK4 Media last week purchased Prosperio, a Santa Monica firm that developed a technology allowing advertisers to bypass the popular buying method of a real-time auction to purchasing ads directly from favored websites at a flat fee.
"Prosperio is helpful because a lot of the heavy lifting has been done," said Tom Alexander, founder and chief executive of PK4, which already had a cross-platform ad buying-service called XPS. "It fits perfectly into what we're doing with XPS, and we acquired Prosperio to be our self-service platform. So, brand advertisers or agency trading desks can come in and do the (media) buys themselves."
Jimi Smoot, Prosperio's founder, started the company last year and went through accelerator LaunchPad LA this year. The idea, he said, was take a mundane, repetitive process and streamline it.
"I started my career as a media buyer," he said, "and one of the things I was surprised about was how manual the process was. To buy an ad unit on the Yahoo homepage, you had to call people. You had to send Excel spreadsheets, email back and forth."
Terms of the deal were not disclosed, but Smoot will not be joining PK4 and it has not been determined whether any of his staff of five will make the move either. The acquisition of Prosperio marks the second time Alexander has snapped up one of Smoot's businesses. PK4 bought Smoot's JSFour, a media, tech and video distribution business, in 2012.
Programmatic advertising uses software that allows media buyers to automatically purchase digital advertising.
There are two primary forms of programmatic advertising. Real-time bidding, or RTB, is automated, somewhat scattershot buying and selling of online ads based on demographic criteria through an auction conducted by ad exchanges. Programmatic direct, while also automated, allows ad buyers to target the publishers of sites on which they want the ads to appear.
Shifting focus
Prosperio's programmatic direct technology lets advertisers make guaranteed buys on specific websites. It will supplement PK4's sales team, which works its relationships with established, brand-name digital publishers on behalf of ad agencies and advertisers.
While that has been effective – PK4's revenue is expected to hit about $16 million this year, compared with $7 million last year – Alexander said the ad industry has increasingly been moving to programmatic or a self-serve, automated process.
Patrick Quigley, chief executive of El Segundo ad tech company Vantage Media, predicted programmatic would be the industry standard, and said such direct purchasing could lead to more expensive Internet ads.
"The new buzz word of the day is 'programmatic direct,' " said Quigley.
Because programmatic buying allows buyers to target premium ads, it is likely to drive the prices for those placements higher.
Digital foundation
Alexander, a former vice president of brand sales for ad network Dedicated Media in El Segundo, founded PK4 in 2009 as a way to simplify the ad-buying process. Many companies will enlist an ad network, which acts as a broker, to purchase ads. But those networks often simply pass off the work to another ad network.
He bootstrapped the company, which now has 30 employees in El Segundo, New York and San Francisco. He hasn't taken any outside investment.
PK4 launched XPS last year, with the idea that, rather than allocating an ad budget by where ads would run, an agency can use the platform to apply a single budget to run campaigns across all digital outlets. It will then analyze which platform is most effective and reallocate the budget toward the best performing one.
"As long as you're finding your target audience, it shouldn't matter what screen they're on," said Alexander.
But with the acquisition of Prosperio, PK4 puts the buying power directly in the hands of its clients.
Prosperio will initially be offered to agency trading desks, who are essentially media buyers at the major ad companies such as Omnicom and Publicis. They will be able to log in to PK4, identify the target audience for their various clients and choose the websites on which the ads should appear.
The trading desks can also create profiles for each client. For example, one with automobile, entertainment and travel clients will be able to create three separate profiles and customize which and how many people it would like to see its display or video ad. After the trading desk staff decides what websites they would like an advertisement to run on, they will be quoted a cost for running a campaign. PK4 would then take a percentage of the ad spend.
Alexander said his team is working on other initiatives and improvements to the system, such as security measures, which the firm plans to announce later this year.
"We knew we wanted to go in this direction," said Alexander. "But we were just trying to figure out the best way to do it. Do you build this out from scratch and put development resources to it or do we acquire it and integrate it into XPS. … We realized it's better to make the acquisition."
For reprint and licensing requests for this article, CLICK HERE.