Home Field
After post-college graduation break, Jeff Hyland found his niche as broker of L.A.'s biggest estates.
Monday, July 14, 2014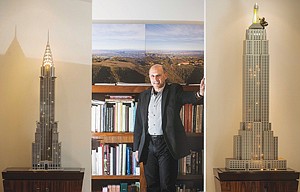 Jeff Hyland is a prototypical California guy. He was born and raised in West Los Angeles, in the quiet Little Holmby neighborhood between Beverly Hills and UCLA. During summers that he was home from a boarding school in Ojai, Westwood was his playground. He jetted off to New York after high school to study at the Cornell University's school of hotel administration, but the cold winter there soon drove him back to California. He spent the next few years surfing and studying business in San Diego at United States International University. He didn't start working – in any field – until he was 28, when he woke up one day determined to be in the real estate business. His dad, a screenwriter and literary agent with extensive Hollywood connections, brought him his first celebrity client. He formed his first residential real estate firm, Alvarez Hyland & Young, just three years into his career. It lasted more than a decade, until one partner died and the other moved on. In 1994, he partnered with Rick Hilton to form Hilton & Hyland. Today, the 140-agent firm is known for selling some of the most exclusive residential estates in Los Angeles. Last year, the firm did more than $2 billion in sales, the most for any single residential office in Los Angeles County. Hyland recently sat down in his Beverly Hills office with the Business Journal to talk about his L.A. childhood, his passion for historic L.A. estates and his latest book project.
Question: You grew up in West Los Angeles. What was it like back then? Answer: I spent my youth in Westwood Village, but I also spent time in Beverly Hills, when Rodeo Drive had restaurants on it and there was a Thrifty Mart with, I think, the original Baskin-Robbins. I can still recall my mother taking me from Beverly Hills to the Chinese Theater on the street car. To watch the city grow from then to now has been a fascinating experience.
Was Little Holmby an exclusive neighborhood when you lived there?
My dad paid $17,500 for his house. I asked him why we didn't move to Beverly Hills and he said because the same house would cost $3,500 more. But I was really raised in Westwood Village. I would get on my bike – I'd tell my parents I was going to my friend's house and he would tell his parents he was coming to mine – and we'd meet in the middle to ride our bikes into the village and just have a wonderful time.
Prev Next
For reprint and licensing requests for this article, CLICK HERE.