Inglewood Gets Down to Business
DEVELOPMENT: Retooled city policies help pull in projects.
Monday, July 7, 2014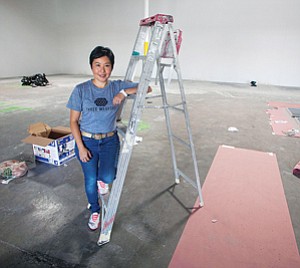 When Lynne Weaver decided to open a craft brewery on the Westside, she looked for months but couldn't find the right spot. Not in Santa Monica. Nor Culver City. Nor Playa Vista.
Then she found what she needed in Inglewood, which might seem like a surprising choice. But not for those familiar with the city's budding transformation.
Inglewood is back from the brink of bankruptcy. Political leaders have adopted a business-friendly attitude that is attracting a range of entrepreneurs such as Weaver. The Forum has reopened after a major remodel. A mini-city is planned on the site of Hollywood Park. There is even the potential for a National Football League stadium.
Combine all that and Inglewood, despite its continued problems, is gaining a much improved reputation for business.
"Being a stone's throw from Culver City, but with prices like Commerce, I don't think a business could really fail," said Joe Clarke, senior broker at Maxam Properties in Culver City. "With the Hollywood Park development, land that got bought for a potential football stadium and the Forum, people are going to go there in large groups."
The turnaround started only a few years ago. James Butts Jr. said when he assumed office as mayor in February 2011, the city was facing an $18.6 million annual deficit and $316 million in unfunded liabilities.
"We were going to miss payroll that June," said Butts. "The city had burned through $55 million in general fund reserves over the prior three years."
The City Council took drastic steps. City contractors were asked to take 10 percent off their contracts, employees were furloughed and dozens were laid off. Other steps included raising water rates, which hadn't been increased since 2003.
The biggest challenge, however, was addressing unfunded liabilities, which were nearly four times greater than the annual general fund budget, which typically ranges between $79 million and $85 million. Employees who had worked for the city for as few as five years were entitled to health care for life, not only for themselves but a dependent. Inglewood was facing insolvency by 2017 if it couldn't address those unfunded liabilities. Butts renegotiated with unions, telling them that a deal with the city was better than any deal they might get out of bankruptcy court later. For example, health care coverage for retirees was capped at 15 years, with diminishing benefits over that span.
Butts, who holds an M.B.A. degree, spent 19 years in the Inglewood Police Department, rising to rank of deputy chief of police. In 1991, he was hired as police chief for the city of Santa Monica, which at that point had a higher crime rate than Inglewood. While he was in Santa Monica, the crime rate dropped 64 percent. After that, he worked in security at Los Angeles International Airport. He credits those experiences for learning what it takes to make economies flourish.
"One big lesson I've learned in my career is cities that depend on indigenous property and sales taxes just get by in the best of times (and) struggle during recessions," Butts said.
With city finances stabilized, businesses did not have to fear that they would be taxed heavily. Also, Butts and the City Council have started making major infrastructure repairs. For example, the city spent only $140,000 on sewer projects in 2010-11 but this year will spend $1.18 million.
The city, population 111,000, sits at the intersection of four major freeways and is less than four miles from LAX. It also boasts L.A.'s coastal climate.
Major investments
Inglewood struggled mightily in recent years, especially since its heyday as the home of the Los Angeles Lakers and Los Angeles Kings, both of which left the Forum for Staples Center in 1999.
The city remains economically challenged. But the renovated Forum, which reopened early this year under its relatively new owner, Madison Square Garden Co., was a turning point, Butts believes.
"I saw this in my time in Santa Monica: You focus on a major entertainment anchor because high-end restaurants and retail follow," he said. "Then the business campuses relocate in your city. That's the next phase for what we need to attract."
The Forum was only the beginning. In February, construction started at the $1.6 billion Hollywood Park Tomorrow project. Plans for the 238-acre site include a retail development with a 300-room hotel and 2,995 market-rate homes. They also include a complete renovation of the city's largest taxpayer – Hollywood Park Casino, which will remain open during construction.
"As the mayor and City Council make the investment and as Madison Square Garden makes their investment and we bring this urban village to life, you'll see a huge transformation locally and how the area is perceived regionally," said Chris Meany, chief executive of San Francisco developer Wilson Meany, which manages the Hollywood Park project for the owner, Stockbridge Capital Partners, also in San Francisco.
The racetrack closed in December and is in the demolition process. During the past two weeks, bids have been awarded for the first phase of construction for infrastructure work along Prairie Boulevard.
That's not all. Another major site, the former Daniel Freeman hospital, was purchased by a developer with plans to build 272 townhomes on the 57-acre site with units in the $400,000-$500,000 range.
Most intriguingly, St. Louis Rams owner Stan Kroenke in January purchased a 60-acre vacant property from Wal-Mart Stores Inc. that sits between the Forum and Hollywood Park. Kroenke is a real estate developer with vast holdings across the country, but has not stated his intentions for the property. The acquisition led to speculation that he would consider building an NFL stadium at the site and move his team from St. Louis after the upcoming season, when he can opt out of the lease there.
More developments might soon be under way if the city can settle litigation over redevelopment agency funds. The state disbanded community redevelopment agencies statewide several years ago. Litigation with the successor agency prevents the city from selling any of its more than 30 parcels that were owned by the redevelopment agency; those parcels have sat in limbo for more than two years. Butts expects to enter into a settlement in about two months, which will allow the city to sell former redevelopment agency parcels for development.
One area that developers are looking at for investment is in downtown Inglewood along Market Street. Despite many vacancies, the city and various developers see potential for the area to develop into a retail strip similar to Old Town Pasadena or Third Street Promenade in Santa Monica. Butts said he has received offers from developers who are looking to invest $100 million to $150 million to build an anchor property on a city parcel in the area that would help begin a revitalization there.
In addition, the city has started to draw in small businesses with its low costs for licenses and lower rents than surrounding areas.
One company that did not plan to open in Inglewood was Three Weavers, a Kickstarter-funded craft brewery that is the outgrowth of Malibu resident Lynne Weaver's homebrew hobby. She is launching the craft brewery in Inglewood, although she looked there only after eliminating all other Westside locations.
"Rents were too high in Santa Monica, Culver City was not brewery friendly, and warehouse owners would not lease me space in Playa Vista and Playa Del Rey," she said. "Inglewood wasn't on the radar, but my real estate agent encouraged me to look there."
She found a city that already had zoning requirements for a brewery. The city has a moratorium on new alcohol licenses but waived that for her business. Fees are lower, too. The cost of a conditional use permit from the city of Los Angeles was $12,000 compared with $1,500 in Inglewood.
"During special use process, it was shown that they were welcoming and supportive of us," Weaver said. "I have not had a negative interaction with anyone in the city of Inglewood."
The warehouse she found, west of the 405 freeway, is in an area filled with air cargo storage. Those buildings do not generate a lot of property tax, but if businesses can find new uses for the structures, they can generate property and sales taxes for the city much like redevelopment that has taken place in the Arts District in downtown Los Angeles.
Butts asserted that crime is down. Nevertheless, a perception remains that it's not the safest of cities.
"Inglewood has a bad reputation, but so did Culver City and Venice at one time. There is nothing to stop the city from being revitalized and bringing in businesses that are income generating for the city," said Weaver.
Her business will employ between 15 to 20 people full time and provide a community gathering place with an on-site tasting room.
Business openings
In addition to the brewery, the mayor points to 15 businesses that have opened this year in the city. They include L.A.-based Orleans & York Deli, which opened a location in Inglewood and has plans to open in Carson and downtown Los Angeles within the next six months. Sprinkles Cupcakes is moving a warehouse from Culver City to Inglewood. Yogurtland, Dunkin Donuts and Starbucks also have plans to open retail locations this year.
Maxam's Clarke, who helped Weaver find the Inglewood location, has said that industrial prices have tripled in Culver City, where space is being converted to creative offices and postproduction studios. He's pushing clients such as art studios to Inglewood because rents remain low.
The city passed a live-work ordinance this year to further increase investment from artists and other small businesses that can use spaces such as air cargo warehouses that are only occupied seasonally. Businesses provide warehouse owners year-round tenants that also generate a solid tax base for the city.
"There are high-end artists who are leaving Culver City when leases are up and going to Inglewood because it has the space and the rents they desire," said Clarke.
For reprint and licensing requests for this article, CLICK HERE.