Casden Lets Go of Hard-Won Westwood Property
SALE: Palazzo deal latest fallout from developer's split with ex-partner Cerberus.
Monday, July 7, 2014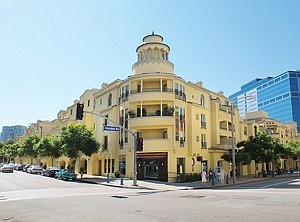 Beverly Hills developer Alan Casden, who in recent years has struggled to hold on to a diminishing real estate portfolio, has sold one of his most prized remaining properties.
Palazzo Westwood Village, a 350-unit apartment complex at 1060 Glendon Ave., was acquired by New York real estate investment firm Clarion Partners from a joint venture of Casden Properties and the Canada Pension Plan Investment Board, according to sources with knowledge of the deal.
Casden, who fought a well-publicized five-year battle with the community to build the 510,000-square-foot mixed-use building, finally prevailed and completed the project in 2008. Today, the five-story building, a block away from UCLA, is anchored by a Trader Joe's grocery store.
Both buyer and seller declined to comment; terms of the sale could not be determined.
The last transaction involving the property came in 2011 as Casden scrambled to rescue it from a bitter breakup with his former financial partner, New York private equity firm Cerberus Capital Management. He brought in Canada Pension Plan, which acquired a 49 percent stake for a sum that valued the property at roughly $280 million.
Sources said the sale to Clarion came as Canada Pension Fund sought to divest its interest.
The buyer is said to have plans to upgrade the property and, subsequently, rental rates, though they are already high. The apartments range from 750-square-foot one-bedroom units for $2,325 a month to 1,710-square-foot three-bedroom units for $4,900 a month. The sale of the Westwood property comes a year after Casden sold Burbank's Empire Landing, a similar 276-unit luxury apartment complex he built in 2010. It also comes two years after three Beverly Hills office buildings Casden controlled went into foreclosure.
With the sale of the Palazzo, just one project remains in Casden's multifamily portfolio. He has continued to work through the approvals process for Casden West L.A., a 10-story development with 595 apartments at the intersection of Sepulveda and Pico boulevards, near a future Metro rail station. That project has been held up in litigation brought by two community groups that oppose its density.
Downtown Digs
NationBuilder, a tech company founded five years ago in a downtown L.A. apartment, will make its second move to bigger digs, this time to a hotel.
The company, which builds and sells software for community organizers, signed a 10-year lease last month for nearly 55,000 square feet at Biltmore Court, part of the historic Millennium Biltmore Hotel Los Angeles. Terms of the deal were not disclosed, but average monthly lease rates in the building are about $2.08 a square foot, according to real estate data provider CoStar Group Inc. At that rate, the NationBuilder lease would be valued at about $13.7 million.
The lease is the largest ever signed for the Biltmore, where the majority of its 1,500 guest rooms were converted to office space in the 1980s. The company will occupy the entire second floor of the 220,500-square-foot building at 520 S. Grand Ave. Renovations to upgrade the space, which sat vacant for decades, will begin immediately, and NationBuilder is expected to move in by November.
Andrew Tashjian, a broker in the downtown L.A. office for CBRE Group Inc., represented landlord WHB Biltmore in the deal. He said NationBuilder, now housed at 448 S. Hill St., needed to accommodate its recent growth. In the last year, the company grew from 50-some employees to 120.
"They've been bursting at the seams," he said.
Dennis Smith and Griffin Farriss of Travers Realty represented the tenant in the deal.
Real Estate Science
California is home to three of the top six cities in the United States found to be most hospitable to biotech and other life sciences enterprises, according to a recent report by real estate services firm Jones Lang LaSalle Inc.
The firm's third annual Global Life Sciences Cluster Report ranked San Francisco, San Diego and Los Angeles second, third and sixth in the nation, respectively. (First place went to Boston.) The ranking weighed several industry factors in each region, including employment concentration and growth, venture capital and other funding, concentration of businesses in the area and patents.
The report predicts that real estate demand for life sciences users will grow. The niche market, which occupies about 2.8 million square feet of laboratory space, has a tight vacancy rate of 2.7 percent, and with minimal construction in the pipeline, supply is expected to remain constrained.
Staff reporter Bethany Firnhaber can be reached at bfirnhaber@labusinessjournal.com or (323) 549-5225, ext. 235.
For reprint and licensing requests for this article, CLICK HERE.