Tipping Scale
TRANSPORTATION: Dependable Cos. loads up on overweight trucking business through another acquisition.
Monday, January 27, 2014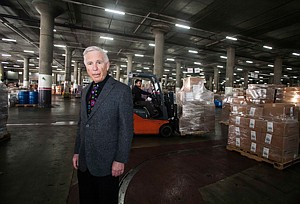 The world of overweight trucking has a new heavyweight.
Dependable Cos., an East L.A. logistics company, has just acquired 3 Zone Logistics, a trucking and warehouse firm operating in the narrow corridor in which freight haulers can carry containers up to 20 percent heavier than standard loads.
The acquisition of 3 Zone, which had been operating under bankruptcy protection, is Dependable's fourth purchase in the last year. The company, which employs more than 1,600 worldwide and had revenue in excess of $250 million last year, has moved to solidify its place in overweight shipping in the wake of the passage in late 2012 of a Carson ordinance extending the zone in which these loads could travel into the city.
Before the extension, trucks leaving the ports of Los Angeles and Long Beach carrying containers weighing up to 95,000 pounds – more than 47 tons – could bring those loads no farther than warehouses on the Los Angeles side of the city line with Carson at Alameda Street. To go beyond the line, loads could be no more than 80,000 pounds.
Extending the weight limit into the industrial section of Carson bounded by Sepulveda Boulevard, Wilmington Avenue, 223rd Street and Avalon Boulevard brought more than 8 million square feet of warehouse space into the overweight zone – and created opportunity for Dependable.
"The acquisition was made with the idea of expanding our warehouse and transload opportunities in the harbor area, particularly in the heavyweight corridor," said Ron Massman, Dependable's owner and chief executive.
Overweight containers create, quite literally, economies of scale.
Shipping fees are charged on a container basis, not by weight. The more goods that can be carried in one standard 40-foot-long shipping container, the lower overall costs will be for an importer or exporter. Weight limits intended to protect roads meant that many containers, particularly those carrying grain, paper and metal, traveled local roads only partially full.
"You can get the equivalent of four containers of cargo delivered to warehouses in three containers of cargo," said George Boyle, chief executive of Quik Pick Express. "It's a 25 percent reduction in the numbers of trucks on the road. It's a reduction in the numbers of containers in the supply chains you have to move."
He said the extension of the corridor by the Carson City Council was a boon to his company, which has four warehouses in the extended area. In all, he noted, the extension created access to more than 50 more warehouses for overweight containers, nearly doubling earlier capacity. Acquired company 3 Zone has a 100,000 square foot warehouse there.
The change is seen as a win all the way around: cargo owners save on the cost of shipping, traffic congestion and pollution are reduced and delivery efficiency is improved.
The savings come at little additional cost. Trucks equipped to carry the heavier loads are required to have extra axles and tires, a relatively inexpensive modification that displaces the added weight in a way that does not rough up roadways. The weight-displacing extra axles counteract the rationale that heavier-than-normal trucks damage roadways.
Long time coming
Dependable moved into the overweight container business just after the extension was formalized with the purchase of Carson's C.A.N Transport.
The deal for 3 Zone closed two weeks ago. Terms were not disclosed.
Massman, whose father founded Dependable in 1950, joined the company in 1964. Armed with a business degree from UCLA, he quickly began building the company through acquisitions.
Today, Dependable owns 1.5 million square feet of warehouses in Los Angeles and has 14 global offices. Massman didn't disclose the exact revenue for 2013 but said it was over $250 million.
Though 3 Zone is a small company, Massman said the acquisition was significant, as in addition to expanding the company's presence in the overweight corridor, it also allowed the parent company to enter the foreign trade zone for the first time. Holding a license to operate in the port's foreign trade zone, a restricted access site near the U.S. Customs Service, allows 3 Zone to handle merchandise duty free or at discounted rates.
The acquisition of 3 Zone also brings 20 more overweight load drivers to Dependable's ranks, a small piece of his wider business that has interests in trucking, air and ocean freight forwarding, warehousing, distribution and logistics.
John Boyd, principal of Boyd Co. Inc., a corporate site-selection consulting firm in Princeton, N.J., said the recent extension of the overweight corridor, or even further extension, could be good news regionally.
"It's enormously beneficial to the region's economy," he said. "It indicates increased container traffic. The market is growing in a way that it should."

Increased traffic and lower costs will have further positive impact on local retailers, the housing market and sales tax, he said.
In addition, port executives argue, the recent extension creates a competitive advantage for the region's ports.
There are concerns that when widening of the Panama Canal is completed, the ports of Los Angeles and Long Beach could lose traffic from Asia to East Coast ports. The ability to handle more cargo more efficiently and inexpensively is seen as a tool to stave off some of that loss.
"We view the overweight corridor as part of our ability to compete against the expanded Panama Canal and our competitors in Canada or Mexico," said David Libatique, director of government affairs at the Port of Los Angeles.
For reprint and licensing requests for this article, CLICK HERE.