Tackling Football Injuries
Iron Neck exercises muscles to help protect head in collisions.
Monday, January 27, 2014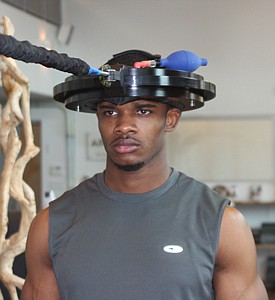 Mike Jolly played football at UCLA in the 1980s with Mark Tuinei and Luis Sharpe, both of whom went on to play in the National Football League with tragic results. The turns of their lives inspired Jolly to start a Redondo Beach company, Mission Competition, after he was laid off from a sales job two years ago.
Tuinei played 15 seasons in the NFL and committed suicide about a year after he retired. Sharpe fell into drugs after a 13-year career and is now in prison. Jolly believes their downfalls were linked to chronic traumatic encephalopathy, a degenerative neurological disease caused by repeated blows to the head.
"CTE to me is a very personal problem," Jolly said.
To reduce the risk of CTE, Jolly launched Mission Competition to make a halo-type device that's worn like a crown. The product, called Iron Neck, attaches by cables to weights. That allows the player to strengthen his neck muscles.
"It's pretty much accepted now that a strong neck will lessen the chance of you getting a concussion or a subconcussive blow," he said.
Jolly introduced the Iron Neck to a few strength coaches last year. The Florida State Seminoles football team, current national champs, recently agreed to make a promotional video for the product.
Still, the company is very small. It has one full- and two part-time employees. Sales have totaled about $135,000.
A distributor who works in Iowa and Nebraska sells Iron Neck to high schools there, and the company has another distributor in Europe. Most sales come through the company's website and from word of mouth. Buyers are mostly sports teams, although there have been a few sales directly to parents of student athletes.
The Iron Neck is manufactured in Torrance and retails for $715.
– Matt Pressberg
For reprint and licensing requests for this article, CLICK HERE.