Trustee Sought In EB-5 Case
Law: Creditors of jailed lawyer Justin Lee file as feds probe.
Monday, January 20, 2014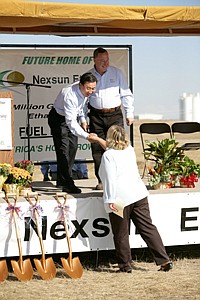 Former clients of Los Angeles attorney Justin Lee, who became the latest poster child for problems in a federal visa program when he was arrested by South Korean authorities for fraud last summer, are now tackling a new challenge: how to get their money back from someone detained overseas.
With Lee still in jail in Korea awaiting a criminal trial, another half-dozen former clients have come forward in recent weeks and are attempting to push him and his U.S. companies into receivership to recover more than $3 million. A hearing has been set for July.
"We want to track down the assets. The money has to have gone somewhere," said Daniel Park, an attorney representing the six former clients.
"We believe some of the assets and funds are still in the United States."
Other past clients have won judgments or settled cases against Lee, but have not been able to collect and it is unclear how much money is left, or where it went. Some believe appointing a receiver could help trace those assets.
The civil action comes as several federal agencies have started to come after Lee. Park said California State Bar prosecutors had directed his clients to an FBI investigator and that an FBI investigator had attempted to reach him.
Korean-language media in the United States has reported that the FBI raided Lee's law offices in Koreatown last year, and that South Korean authorities are cooperating with the FBI and U.S. Immigrations and Customs Enforcement. ICE, according to a source with knowledge of the probe, has an ongoing investigation into Lee.
Spokespeople for the FBI and ICE declined to comment.
In addition, Yongo Hwang, a former Lee client, and Thomas Kent, a former attorney at Lee's firm, both confirmed to the Business Journal that they were contacted by Securities and Exchange Commission investigators last year.
The federal probes come after Lee, acting as both an attorney and developer, received tens of millions of dollars from at least 40 investors in South Korea and China participating in the EB-5 visa program, which allows foreigners to obtain green cards in the United States in exchange for job-creating investments.
He promised to use the money to build biofuel projects across the country, and was even asked to speak before members of Congress about energy issues. But not one of the plants was ever finished. Clients lost money and their visas, and have since claimed that money from newer investors was used to pay off previous investors in a Ponzi-like scheme.
An attorney who has represented Lee did not respond to requests for comment.
Since Lee's arrest by South Korean authorities in July, many of his business interests appear to have ground to a halt. His Koreatown law firm, the Lee Law Group, has closed its doors, and a phone number listed for Nexsun Corp., his Los Angeles energy company, is now disconnected.
Some legal issues are on hold too. The State Bar of California had previously filed charges against Lee for attorney misconduct, but that trial is on hold pending the outcome of criminal proceedings in Korea.
There is one way in which Lee's absence has benefited former investors.
Lee filed for bankruptcy last year, but his case was dismissed in December after he failed to show up for a creditors' meeting. The dismissal has allowed former clients, who filed more than a dozen lawsuits prior to his arrest, to proceed with their civil claims and potentially get judgments entered against him.
The request for receivership, filed on Dec. 31 in Los Angeles Superior Court, calls for a third party to take over operations of half a dozen Lee-run entities, including Nexsun Ethanol in Kansas and Borger Biofuels in Texas, in order to preserve remaining funds and assets. Though getting a judge to appoint a receiver is more difficult when a defendant is out of the country, it is not impossible, said Steve Donell, a receiver at FedReceiver Inc. in Los Angeles who has handled similar cases. Furthermore, receivers often have the authority to trace assets to other countries.
Despite that effort and that of government agencies on both sides of the Pacific, many clients remain pessimistic as to whether anything can be recovered, believing investor money was either spent or shifted overseas.
"I think there's not much chance for recovery," said Hwang, who lost his $500,000 investment into Lee's ethanol projects and is unsure if his visa will be extended for another year. "Whatever the government people do, they have limited ability."
There are a few known assets: Lee's companies did purchase sites for potential plants, and also reportedly made other investments, including in mining companies in the Philippines.
Kent, the attorney who worked at Lee's firm here, has also been named in some of the litigation and Lee, in his defense against State Bar allegations last year, blamed much of what went wrong on Kent.
"Mr. Lee was not my partner. I had no equity interest in his business I was an employee. He defrauded me into believing he would make me a partner," Kent said in an email to the Business Journal. "Justin Lee is a nightmare for me and my family."
Citizenship and Immigration Services, which oversees the EB-5 visa program and has received criticism for a lack of oversight of Lee's projects, still lists two of Lee's companies, Kansas Bio-fuel RC and South West Biofuel RC, as approved investment vehicles. A USCIS spokesman, speaking on background, said that a pending criminal charge alone would not be enough to revoke their approval to pool EB-5 investor money.
For reprint and licensing requests for this article, CLICK HERE.