Kombucha Craze Has Soda Firm Ready to Pop
Beverages: Sales of Asian tea drink projected to double; Reed's may attract buyout.
Monday, January 20, 2014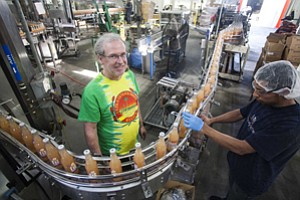 Could kombucha make Reed's Inc. a takeover target?
The South L.A. beverage company has been riding the wave of popularity of the vinegary, fermented tea, a brew that helped boost Reed's sales by $4 million last year.
That momentum carried into the New Year, as the company signed two distribution deals that will put its eight kombucha drinks in supermarkets in New York and throughout the Southeast. The latest deals are part of a drumbeat of distribution contracts that have been signed monthly since it launched the product a year ago.
Together, the deals put its drinks on the shelves of more than 3,000 grocery stores throughout the country, including Kroger Co.'s major supermarkets, and are expected to double the company's kombucha revenue this year.
But that has led to speculation that the company, which was founded in 1987 and went public in 2006, could be a tempting target for a larger beverage maker looking for a quick entry into the kombucha market.
Gregory P. Garner, director of research at Singular Research in Calabasas, said Reed's could see its 2012 revenue of $30 million triple in a couple of years on the back of kombucha. It even has the potential to hit $100 million in sales, he said.
If Reed's hits that level, he said, it's very likely that big beverage companies like Coca-Cola Co. in Atlanta or Monster Beverage Corp. in Corona come knocking.
Indeed, Chris Reed, the company's founder and chief executive, said big companies already approach him regularly to discuss an acquisition, including Monster. A call to Monster seeking comment was not returned.
Reed, who with his wife Judy controls 19 percent of the company, said he has no plan to sell – unless it's a really good deal or one he's unable to decline.
"I'm just starting here," he said.
The company's shares closed at $8.16 on Jan. 15 with a market cap of $105 million. Reed's stake isn't big enough to stave off a hostile bid.
Shares are listed on the New York Stock Exchange but are thinly traded and no institutions hold a significant stake. That lack of attention has allowed Reed's to operate largely unfettered. But it has not reported a profitable year yet.
In 2012, the company posted a loss of $524,000. It reported net income of $34,000 for the quarter ended Sept. 30, up from $22,000 a year earlier.
"We believe it will be turning profitable either in the December quarter or in the first half of the 2014," Garner said.
For reprint and licensing requests for this article, CLICK HERE.
Prev Next