Fitness Company Pumps Up Its Teacher Training
HEALTHCARE: Santa Monica firm sets up Beachbody Live to certify new instructors.
Monday, January 20, 2014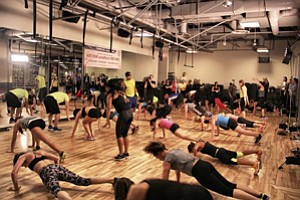 Direct marketer Beachbody made its name bringing the health club experience to the living room. It turned innovative trainers little known outside their hometowns into brand names by creating DVD versions of their weightlifting and group exercise programs, such as Insanity and P90X, into home exercise programs that were marketed to coach potatoes on late-night infomercials.
Now the Santa Monica company is expanding its training for fitness instructors. The two-year-old Beachbody Certification program, which teaches fitness instructors how to lead classes based on the company's formats, will now be called Beachbody Live. Daylong certification classes will be featured at this week's Evolution Fitness Conference at the Los Angeles Convention Center.
"We came to realize that many of our customers want flexibility," President Jon Congdon said. "Some people want to work out alone, at their own time. Other people really need the social experience. Some people who have gotten in shape with our programs at home want to change it up. Others who are new to fitness buy a program, but feel intimidated and can benefit from a group class where they can get coaching on technique."
The company now offers five certification programs based on the work of its three most popular trainers – P90X's Tony Horton of Santa Monica, Turbo Jam's Chalene Johnson of Mission Viejo and Insanity's Shaun "Shaun T" Thompson of New York City – but plans to expand that.
Beachbody does not charge gyms for use of its branded classes, but does require they be led by certified instructors, said Shannon Pappas, its vice president for certification. Instructors pay between $249 and $498 to take a one or two-day class, and have the option to subscribe to a continuity program for $25 to $30 a month. They receive DVDs filled with fresh workouts and licensed music timed for needs of a group class.
A growing number of certification students are "success stories" who went on to build home-based businesses as Beachbody coaches. They had been working with clients virtually via the social networking services on the company's website, Congdon said. Others are already fitness trainers looking to add to their repertoire. According to the company, more than 20,000 have been certified to date.
Former English teacher Julie Voris of Carmel, Ind., got fit through Johnson's kick-boxing-based classes years ago, and went on to make fitness a second career. She now has joined Beachbody's master trainer ranks. "No more grading papers, but I still get to do the teaching I love," Voris said.
New Owners at Olympia
Olympia Medical Center, a 204-bed community hospital in L.A.'s Miracle Mile district of Los Angeles, is under new ownership.
Alecto Healthcare Services, led by former Prime Healthcare Services Chief Executive Lex Reddy after he left the Ontario hospital chain in 2012, has obtained controlling ownership in Olympia. The deal for the hospital, which had been physician-owned for decades, closed on Dec. 31. The doctors group retains minority ownership. It's the first acquisition for Alecto, which also manages a small non-profit hospital in Northern California with an option to buy.
Prime Healthcare's L.A. County holdings include Centinela Hospital Medical Center in Inglewood and Garden Grove Hospital Medical Center. Chairman and founder Dr. Prim Reddy, Lex Reddy's brother-in-law, has battled organized labor and insurance companies in a drive to make his hospitals profitable. Earlier this month, Prime was hit with a $50 million lawsuit for allegedly overbilling Medicare and Medicaid.
While Alecto also aims to flourish by turning around struggling community hospitals with emergency rooms by making them more efficient, Alecto Chief Financial Officer Roger Krissman said the company won't copy Prime's play book.
"We are near Cedars-Sinai, but believe we can attract patients who are looking for a smaller, community hospital experience," said Krissman, who was Prime's chief operating officer under Lex Reddy.
He said the company plans to proceed with much-needed equipment upgrades.
TwinMed Hires New CEO
TwinMed, a national distributor of medical supplies and services in Santa Fe Springs, this month announced that Kerry Weems, a former administrator of the federal Centers for Medicare and Medicaid Services, has joined the company as chief executive. Weems replaces Steve Rechnitz, who co-founded TwinMed in 1998 with his twin brother. He now has the title of executive chairman.
Weems most recently was head of the health business unit for General Dynamics, and before that served in various health care positions with the federal government. He led CMS during the President George W. Bush administration.
Staff reporter Deborah Crowe can be reached at dcrowe@labusinessjournal.com or at (323) 549-5225, ext. 232.
For reprint and licensing requests for this article, CLICK HERE.