Anonymous-Forum App Maker Pulls in Big Name
TECH: Whisper draws traffic-generating writer away from Gawker.
Monday, January 13, 2014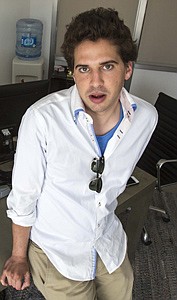 App maker Whisper Inc. rang in the new year by making a high-profile hire and signaling a new initiative for the company.
Neetzan Zimmerman, described by the Wall Street Journal as the "viral genius" of Gawker, is leaving the blog network to join Whisper at the end of the month. Gawker's editors first announced Zimmerman's departure on Twitter, and a source later confirmed it was Whisper that had lured him away.
So far, details are sparse about his new role at the Santa Monica company. Zimmerman declined to elaborate in several media interviews and a statement from Whisper Chief Executive Michael Heyward confirmed the hire but did not provide additional details.
The app, with which users anonymously share messages in a public forum, has long been rumored to be exploring new outlets for its posts. The typical message on the app is a confessional; "I'm afraid I'm losing my best friend" reads a recent one. Some observers of the company have floated the possibility that these posts could provide supplementary content for other site's articles.
In Zimmerman, Whisper has picked up a writer with remarkable success in generating traffic. His articles on Gawker routinely crossed 1 million views and were responsible for almost half of the network's entire traffic, according to a chart from Business Insider.
Whisper has shown impressive traffic itself over the past year. When the Business Journal profiled the company April 2013, it boasted 1.5 billion pages views a month. Executives said that by the end of the year monthly views were nearing 3 billion.
Whisper's news follows another high-profile staff poaching for a local app company. Late last year, Snapchat Inc. in Venice brought in Emily White to serve as the company's chief operating officer. White had been an executive at Facebook Inc., where she was leading the push to monetize Instagram, its popular photo app.
Whirlwind Trip
The life of any startup comes with a definite end point, but most don't expect it to arrive soon after launch.
Such is the case with Pasadena's Crashworks Inc., maker of a free city-guide app for iPhones. The company was acquired at the end of December by downtown L.A.'s Oversee.net, 10 months after going live with the backing of seed money from Pasadena incubator Idealab.
It was a bittersweet ending for Crash's founder and sole employee, Erick Laubach.
The former Ticketmaster executive developed the app to provide a photo-based guide to a city's sites, attractions and public art. Its first featured city was Los Angeles, where Laubach himself took photos of 500 spots, including sites along the Los Angeles River and Venice.
Prev Next
For reprint and licensing requests for this article, CLICK HERE.