Investment Bank OKs Buyer With Stake in State
ACQUISITION: De La Rosa sees pickup by Stifel boosting its public bond business.
Monday, February 17, 2014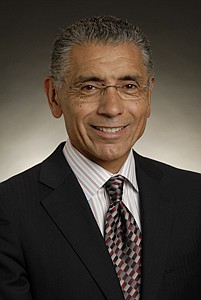 The partners at Century City investment bank and bond underwriter De La Rosa & Co. had wanted to sell to a bigger firm for a few years, and they'd had offers.
The decision late last month to be acquired by St. Louis brokerage Stifel Nicolaus & Co. was motivated in large part by a deal Stifel did back in 2011: its purchase of San Francisco bond underwriter Stone & Youngberg.
Namesake founder Edward De La Rosa said he and other partners wanted to sell to a buyer committed to the California market. The firm, founded 25 years ago, has been one of the largest underwriters of public bonds in the state.
"When we looked at who to partner with, we liked that Stifel had already made a long-term commitment to California," he said. "It made it easier to join this team."
Stifel and De La Rosa announced the deal, which is expected to close by the end of next month, on Jan. 31. Financial terms were not disclosed.
In a press release, Stifel said the acquisition would make it one of the biggest issuers of several kinds of public bonds in the state, including school construction bonds.
De La Rosa said he and other partners had been looking to sell for some time because of limited prospects for growth.
"We looked at our competitors and realized they were all major financial corporations with billions and billions in capital," he said. "That's when we started thinking we needed to find a way to grow by leaps and bounds, not just person by person."
Most of De La Rosa's 45 employees will remain with Stifel after the deal closes, and the firm will retain its sales and trading offices in Century City.
Feeling Mutual
West L.A. stock brokerage and investment bank B. Riley & Co. has always been focused on servicing institutional investors, but it made a move last week to open up to smaller retail investors as well.
The company launched an affiliated registered investment adviser, B. Riley Asset Management, which offers a new product, the B. Riley Diversified Equity Fund. The mutual fund holds stocks rated as "buys" by B. Riley's research department, mirroring another new item at the firm, an index called the B. Riley Diversified Equity Composite.
Bryant Riley, chairman of B. Riley, said the goal is to give individual investors access to research and stock picks that have only been available to institutional investors.
The B. Riley equity composite is up 35 percent over the past 12 months, compared with 20 percent for the S&P 500 index.
"We've been approached by people saying, if you put together something that mimics this index, it would be a great investment vehicle," Bryant said. "This was the natural next step – access for individuals to our research product."
The mutual fund holds shares in about 130 companies, most of them with market capitalization of $2 billion or less.
Aristotle Launch
Westwood asset management firm MetWest Ventures launched a new investment business last month, debt investor Aristotle Credit Partners, after hiring a team from downtown L.A. bond investment manager Bradford & Marzec.
Aristotle will invest in corporate bonds – both investment grade and high yield, or so-called junk bonds – as well as bank loans and other forms of corporate debt. The firm is led by senior partners and portfolio managers Michael Hatley and Douglas Lopez. Lopez was previously a senior portfolio manager at Bradford & Marzec. Hatley is also a senior partner at another MetWest Ventures affiliate, West Gate Horizons Advisors.
West Gate invested in bank loans and collateralized loan obligations, but will transfer its bank loan business to Aristotle.
Hatley said the goal for MetWest is to offer a wider array of investment types, including corporate bond investments not offered by West Gate.
Aristotle has a team of 15, including four hires from Bradford & Marzec.
C-Suite News
Olivier de Givenchy has been named head of the western U.S. market for wealth manager JPMorgan Private Bank, putting him in charge of the firm's operations west of Chicago. Givenchy was formerly head of the private bank in the United Kingdom. He is the nephew of Hubert de Givenchy, founder of the French fashion design firm.
Staff reporter James Rufus Koren can be reached at jrkoren@labusinessjournal.com or (323) 549-5225, ext. 225.
For reprint and licensing requests for this article, CLICK HERE.