Property Buyers Wrap Up Hefty Year-End Deals
REAL ESTATE: $160 million hotel purchase among rush of pickups to close out 2014.
Monday, December 22, 2014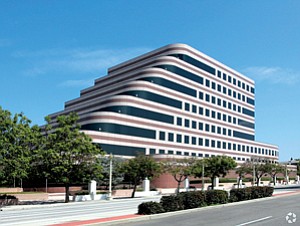 Real estate investors have been rushing to finish deals before the end of the year, closing some of the biggest commercial real estate deals of the year and setting more in motion.
Perhaps the most notable transaction to close in the year-end rush was the sale of the third-largest hotel in Los Angeles. XLD Group, the U.S. arm of Chinese real estate company Sichuan Xinglida Group Enterprises Co., bought the Los Angeles Airport Marriott Hotel for $160 million last week.
In a transaction that marked the highest price an investor has paid for an L.A. hotel this year, the mainland Chinese investor bought the 1,004-room hotel at 5855 W. Century Blvd. from Diamond Rock Hospitality Co., a hotel real estate investment trust out of Bethesda, Md.
The Marriott is the second hotel XLD has purchased in the area in a little over a year. Late last year, the company acquired the 487-room Torrance Marriott Hotel at 3635 Fashion Way for $74 million, also from Diamond Rock.
"This is a solid investment, with good infrastructure, managed by Marriott, at a great price," Zhang Jun, chairman of Sichuan Xinglida, said through a translator in an email exchange.
Eddy Chao, co-founder and a managing director of real estate advisory services firm Asia Pacific Capital Co. in downtown, said XLD plans to spend tens of millions of dollars to upgrade the hotel. Chao, along with Richard Alter, Tina Yeung and Karin Chao, guided the buyer through both of its L.A. hotel investments.
"The hotel is a landmark building in a very important location and its sale is a reaffirmation of foreign investors coming to Los Angeles," he said. "The softer economy in China has encouraged more Chinese investors to come here, where the market is booming, and they continue to want to put their money here."
Sony sale
In a deal that closed Nov. 18, Irvine real estate investment firm LBA Realty purchased the horseshoe-shaped Sony Pictures Plaza at 10000 W. Washington Blvd. in Culver City for $159 million.
The 339,000-square-foot modernist building, built in 1986 and occupied by Sony Pictures Studios since the late 1980s, was sold by Torrance developer Transpacific Development Co.
Transpacific, whose founder Shurl Curci died a year ago, put the property on the market in the spring as part of a strategic decision to diversify the Curci family's estate. The company had owned the property for 14 years.
Only two other sales of stand-alone office properties in Los Angeles were bigger this year. In September, the 25-story tower at 801 S. Figueroa St. in downtown sold for about $177 million, and in October, the 62-story Aon Center at 707 Wilshire Blvd., also in downtown, sold for about $269 million.
Kevin Shannon, Ken White, Todd Tydlaska and Michael Moll of CBRE Group Inc. represented the seller and the buyer handled negotiations internally.
Another big deal was announced last week on the Westside, as real estate investment firm DivcoWest completed a joint venture with Rob Maguire to gain an interest in his Water's Edge office campus at Playa Vista. The firm, which has dual headquarters in San Francisco and Boston, declined to disclose terms of the deal with Maguire Investments, but Maguire said that with the equity infusion in the property, he will have resources to spend about $70 million on the construction of a third office building on the six-acre campus at 5510-5570 Lincoln Blvd.
Two existing buildings on the campus, constructed in 2002 before a slew of media, entertainment and technology companies put Playa Vista on the map, are together nearly 90 percent occupied by tenants such as Electronic Arts Inc. and Popchips Inc.
The transaction, DivcoWest's third in Los Angeles County this year, brings the company's area holdings to more than 1.3 million square feet.
Pending purchases
For every big sale that has closed in the last few weeks, a couple more are expected to close before the first of the year.
KBS REIT II Inc., the Newport Beach owner of Union Bank Plaza, a 40-story office tower at 445 S. Figueroa St. in downtown, was nearing a deal to sell the building to Santa Monica investment firm Ocean West Capital Partners. The 627,000-square-foot Class A tower last traded in 2010 for $208 million, according to real estate data provider CoStar Group Inc.
Also downtown, LBA, buyer of Sony Plaza, was close to a deal to sell its 28-story building at 550 S. Hope St. It paid nearly $158 million for the property in 2011.
Along Miracle Mile, real estate sources said Foster City investment firm Legacy Partners has put the 21-story office building at 6300 Wilshire on the market and might be close to a deal. The building last sold in 2006 for $132 million.
A deal between Occidental Petroleum Corp. and the Hammer Museum, which has an option to purchase the oil company's former Westwood headquarters building at 10889 Wilshire, is said to be imminent. The museum has an option to purchase the building at the end of its 30-year, rent-free lease in April 2021 for $55 million. But sources said the arts institution is working closely with UCLA, which has an interest in leasing the entire 311,000-square-foot building, to come up with the money six years early to buy the property in the spring.
For reprint and licensing requests for this article, CLICK HERE.