Pot Firm High On Nasdaq Bid
Monday, December 22, 2014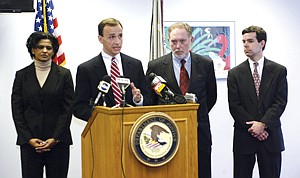 The notion of buying shares in a marijuana-related business listed on a major exchange might have seemed farfetched a few years ago. But with recreational marijuana legal in five states and the District of Columbia and medicinal pot legal in 23 states, the notion of a cannabis business trading on a major exchange is no longer a pipe dream.
Indeed, the Nasdaq market already boasts a listing for a British company making prescription medicines made from cannabis, and West Hollywood's Medbox Inc. should hear in the coming weeks if it, too, will make the leap.
Being accepted by Nasdaq would be a major milestone for the mercurial Medbox, bestowing it with a legitimacy that could open doors to capital markets even as its clientele still faces hurdles opening conventional bank accounts. And so the company has been working diligently to chip away at a long list of risk factors that have stood in its way.
Over the last several months, Medbox has shifted its business model from primarily selling high-tech marijuana-dispensing machines to consulting with dispensaries.
Also, it has added independent directors to its board, including a former U.S. ambassador and a former FBI special agent. The changes encouraged its new leadership to announce in an earnings call last month that it had applied to be "uplisted" to the Nasdaq from the over-the-counter market.
Yet while the changes show maturity worthy of a company listed on a major exchange, big hurdles remain.
Medbox's third-quarter revenue of $107,000 was "infinitesimal," said Alan Brochstein, an independent Houston-based analyst covering the marijuana industry.
Indeed, the company posted a loss of $3.2 million (-7 cents a share) in the quarter ended Sept. 30. That's compared with a loss of $179,000 in the year-earlier period (less than a penny) on revenue of $1.98 million. What's more, company officials confirmed that it is being investigated by the Securities and Exchange Commission and the Justice Department served its accountants with a subpoena seeking records in August.
And while the Drug Enforcement Agency will no longer interfere with state medical marijuana laws, the federal government still says recreational marijuana is illegal.
Bud's roots
Controversy is nothing new to Medbox. It's practically woven into the company's fabric. The company was founded in 2010 by Vincent Mehdizadeh, who had a patent for machines that dole out premeasured doses of marijuana in a secure way. But as the dispensary machines gained attention, so, too, did Mehdizadeh's background, which included convictions on charges including grand theft, intent to defraud, trespassing and loitering with intent to solicit prostitution, according to records from Los Angeles Superior Court.
Realizing his background could, at best, be a distraction for the business, Mehdizadeh told the Business Journal in January that would to step down as chief operating officer. In April, he did just that, also resigning his board position to become senior strategist. In October, he relinquished that position to become a consultant for the company, though he's taking a break from that while finishing his autobiography. Mehdizadeh remains Medbox's largest shareholder, with more than 26 million shares (including convertible preferred stock), roughly 65 percent of outstanding shares.
With Mehdizadeh out of day-to-day operations, the company overhauled its management team. In as chief executive is Guy Marsala, a former EZ Lube chief executive; the new chief financial officer is Doug Mitchell, who once held that post for what is now BJ's Restaurants Inc. Medbox also added three independent directors; J. Mitchell Lowe, co-founder of Netflix and former Redbox president; former U.S. Ambassador to the Bahamas Ned Siegel; and Jennifer Love, whose two-decade tenure at the FBI included a year as assistant director of the Security Division.
The new management team has taken pains to paint a picture of a business repositioning itself.
"We are actively transitioning from a company that provided a Medbox dispenser and other services for a one-time fee, to a company that generates recurring ongoing fees by partnering with dispensary and cultivation operators," Marsala said in an earnings call last month. But he also offered the caveat that "implementing this new business model will take some time to generate revenue and profit, as you can see in the third-quarter results."
Company officials declined to comment.
'Billions to be had'
Like nearly all of the roughly four-dozen stocks on the MJIC Marijuana Index of cannabis industry stocks, Medbox trades on the lightly regulated and informal over-the-counter market, which is shunned by many investors.
"They're all pretty much penny stocks, thinly traded, very volatile," said Chris Walsh, editor of Denver-based Marijuana Business Daily. "There's billions to be had in this industry and it's attracting everyone and anyone."
Walsh estimates that the burgeoning industry will generate up to $2.6 billion this year in medical and recreational marijuana sales through dispensaries, and around $8 billion by 2018 as more states legalize the drug.
Even though recreational marijuana is still illegal under federal law, the government has backed off to some degree over the last year or so, Walsh said. It can still be difficult for companies handling the drug to get a bank account let alone a listing on a major stock exchange.
Brochstein, the Houston analyst, was more concerned with Medbox's lack of revenue, among other things, which makes him think the stock is overvalued.
The market has addressed some of that concern already: Shares of Medbox closed Dec. 17 at $6.89 and are down 62 percent year to date, making it one of the year's biggest losers. (See page 33.) It hit $73.90 in January, making Mehdizadeh a paper billionaire for a short time. It is the second year in a row that shares of Medbox plummeted steeply. It opened 2013 at $65.25 before falling 72 percent to close the year at $18.26.
"Look at their sales, or lack thereof, last quarter," Brochstein said. "I don't understand how they get a $300 million valuation." (Medbox's market cap has since dropped to less than $210 million.)
While Brochstein commended Medbox for becoming current with its SEC filings and trying to be more communicative, he thought there was still room for improvement on multiple fronts.
He noted that Love, the new director, would receive 100,000 restricted shares a year starting in April as compensation. At recent prices, that would mean her pay is quite generous considering directors at Standard & Poor's 500 companies averaged $251,000 last year, according to Bloomberg. Brochstein also pointed to Medbox's frequency of insider selling. During the first week of December, for example, a board member, executive or the founder sold stock each day, usually in amounts of a few hundred shares.
Brochstein said that pattern might have played out because the company was using stock as compensation, rather than offering cash and options. He noted when compensating somebody with stock, the owner must pay cash to hold the stock as soon as it vests or sell some of it to pay tax on the grant. Regardless of the reason, he didn't think all the selling made the company look good, suggesting options would've been a better route.
Investigation
The changes come as the company deals with allegations made by a former employee that an unnamed former Medbox officer, now described as a consultant to the company, was involved in unspecified "wrongdoing." The company said in an October regulatory filing that it was forming a board committee to investigate a letter sent by the employee to the SEC and that it would also look into a federal grand jury subpoena served on Medbox's accountants by the Justice Department.
"The company plans to fully cooperate with the SEC staff," Marsala said in the November earnings call. He added that the commission said the investigation "does not mean that it has concluded that the company or anyone else has broken the law or that it has a negative opinion of any person, entity or security."
For his part, Mehdizadeh eyed the SEC action calmly.
"I'm not the least bit disappointed or dejected at anything that's happening," he said. "These things have to run their course. It's part of being a public company and adding this industry to the equation is like adding fuel to the fire."
For reprint and licensing requests for this article, CLICK HERE.