Disneyland Looks to Ride Instagram Popularity
INTERNET: Park charges MomentFeed with turning photos into boon for brand.
Monday, December 22, 2014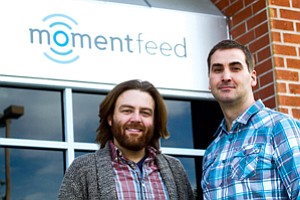 Disneyland has long dubbed itself the "Happiest Place on Earth." But being happy sometimes isn't quite enough, and so the granddaddy of all theme parks tapped Santa Monica mobile marketing company MomentFeed, which helps it take advantage of being the most "geotagged" place on Earth in 2014.
That's according to rankings released by Instagram earlier this month. When you consider that Instagram, owned by Facebook Inc., has more than 300 million users worldwide – a bigger base than Twitter – that ranking represents more than just a feather in Mickey's cap.
It's a marketing opportunity.
"User-generated content is kind of the holy grail of marketing these days," said Rebecca Markarian, who has handled campaigns for Microsoft Corp.'s Xbox division as vice president of social media at Pasadena ad agency Ayzenberg Group.
As part of its work with Walt Disney Co., MomentFeed helped the entertainment giant maximize its Instagram feed by mining the service for photos taken at all of its parks that have been geotagged, or given an electronic marker that pinpoints the location. MomentFeed's service also looks for relevant hashtags.
In its two years of work with the studio, MomentFeed said its platform has pulled in 2.6 million photos, many of which would have previously gone unseen by Disney's social media team due to the wide variety of hashtags and geotags used by visitors. For instance, one person might tag themselves at Splash Mountain or Pirates of the Caribbean in a particular photo rather than at the Anaheim park generally.
All that information now flowing to Disney allowed it to crowdsource its entire Instagram feed rather than posting its own content, according to MomentFeed. As a result, Disney hasn't posted a single original photo on its feed in a year and a half. Instead, it finds interesting photos being taken at the park and asks the photographer for permission to "regram" the photo on its account. Disney also credits the user who took the photo in its posts.
In the first six months it employed the strategy, the Disneyland Instagram audience grew by 360 percent to more than 250,000 followers from fewer than 70,000, according to numbers released last year by MomentFeed.
The account currently boasts 1.2 million fans.
"We really emphasize the value of user-generated content," said Craig McKenna, vice president of client services at MomentFeed. "When you combine the hashtag with a place tag … you're listening to people actually having an experience with your brand."
For reprint and licensing requests for this article, CLICK HERE.
Prev Next