Chef Missing Ingredient at Eateries
DINING: Ex-partner stews over David Myers' exit to new venture.
Monday, December 15, 2014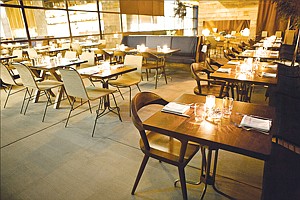 Editor's Note: This article has been updated to correct the losses alleged to have been incurred with the bankruptcy of David Myers' Sona restaurant. The $12 million said to have been lost was associated with restaurants Sona and Boule and operational costs of parent FoodArt Group. Losses came prior to the purchase of assets by Culinary Lab Partners.
An "L.A. food luminary," gushed the New York Times Magazine. "One of the most talented young chefs in America," effused Food & Wine magazine.
Those were just a taste of the encomiums that greeted David Myers, a Michelin-starred chef whose local restaurants have, over the last decade, been lauded by critics and foodies from around the globe.
But the good reviews belied a stale business plan that left his debut restaurant in bankruptcy. Now, he's split with his financial partner, leading to a dispute over whether Myers raided the cupboard before he left to form a new venture focused on overseas eateries.
His departure earlier this year from David Myers Group – now called Culinary Lab Partners – led his former partner, Walter Schild, to allege that Myers took proprietary information, including financial documents, menus, recipes and other intellectual property and used them for his new venture. Schild, who first partnered with Myers in 2009, now claims that despite all the good reviews, the restaurant businesses he invested in were "multimillion-dollar failures."
"Having a celebrity chef involved, it's going to get attention right off the bat and it's going to get press in the beginning," said hospitality recruiter Brad Metzger, who has worked with several renowned cooks, including Myers. "But at the end of the day, it's all about execution."
Myers and Schild teamed in the wake of the closure of Myers' first restaurant in Los Angeles, Sona. Sona opened in 2002 and filed for Chapter 11 bankruptcy protection in 2009.
Despite its failure, Sona was widely touted by foodies and even dubbed Restaurant of the Year by Angeleno magazine. Schild, a venture capitalist who sold his marketing agency Genex to Des Moines, Iowa-based publisher Meredith Corp. in 2007, saw potential in Myers and was confident he could be the difference maker to take the young star to the next level.
So with Sona in bankruptcy, Schild jumped in and purchased about $1 million in assets from its parent, FoodArt Group Inc. The package included majority stakes in two other Myers projects: West Hollywood's Comme Ça, a French restaurant launched in 2007, and Pizzeria Ortica in Costa Mesa.
Prev Next
For reprint and licensing requests for this article, CLICK HERE.