Work/Life: Erich Joiner
The founder of production company Tool on keeping a director's schedule, soccer tournaments and priceless advice from his daughter.
Thursday, December 11, 2014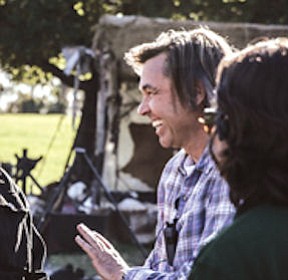 Erich Joiner, a 51-year-old Emmy-winning commercial director, founded production company Tool in Santa Monica almost 20 years ago. The company, which produces commercial and digital campaigns for major global brands including PlayStation, Google and Target, now also has offices in New York and London. Joiner began his career as an art director at Goodby, Silverstein & Partners, where he collaborated on the famous "Got Milk?" campaign before leaving to found Tool in 1995. Joiner has received several Cannes Gold Lions, a Directors Guild of America Award nomination and a News and Documentary Emmy Award. When he isn't directing commercial campaigns or assisting with other projects at the company, he races cars, watches his two daughters play sports and surfs near his Manhattan Beach home. We spoke with Joiner about making time for what is important.
Question: Describe your morning routine.
Answer: I don't know that I have a typical morning. There are some mornings when I wake up and I get to drive my two kids to school. Other mornings, I get to direct, and then other mornings, I get to work from home a little bit and watch the waves roll in at Manhattan Beach. I don't have a routine. I don't drink coffee.
How do you stay focused on a shoot?
At times, I have a problem with staying too focused and I only know this because I hear this from the woman I love. I'm very focused for weeks at a time on a shoot. We're building a house, and she'll ask, "Have you looked at the revisions?" It's not looking at it that's the problem; it's that these things require thought. On a shoot, I'm answering a thousand questions and I'm very focused on what I'm creating and in the moment. What I have trouble with is focusing on anything else until we wrap. Then, once we wrap, I can think about plans for the house.
How do you achieve work/life balance?
It's an ongoing process, and it took me a while. For the first five years I was running the company, I was consumed by the company. It wasn't a good balance, although I enjoyed those years. Early on, in my late 20s, early 30s, I didn't have kids yet and work was my life. My personal friends were people I worked with. But things changed, and the company got more stable with more employees and more projects. My personal life changed. We had two kids. My youngest daughter, Kaki, is 12 and very involved in soccer. She's on a club team and they travel far distances, so many weekends I find myself spending a weekend in a city that is a little bit of a drive away. I find myself in places like San Bernardino. My other daughter, Lily, figure skates, which is funny because my wife and I don't skate at all. I would fall on my butt. I think, like anything in life, you prioritize things and you do some things you enjoy that stimulate you and other things are commitments. I tell my kids that work for me is really like fun for me, that I get to work with these amazing artists. I enjoy work. As far as that balance goes, I love work and I love my family. Our kids are 12 and 13, and on the horizon, when they are in high school, we see that they will want to spend less time with us, so we are spending as much time with them as we can before then. I'll shed a little tear when it happens, but then another chapter opens. Maybe we will travel more without the kids.
How do you make that time you spend with your daughters?
I don't have a set schedule. I am in a business where, if I am working on a project, it might shoot through a holiday or a birthday or Christmas and that's the reality of what I do. But then there are always times off. Here it is, on a Tuesday, mid-morning and I took the kids to school and I am getting to enjoy the day. There are a few things I really try to make. The kids go to Chadwick School in Palos Verdes, and I moved a shoot to go to the parent teacher meetings with my wife, Deirdre. It's exciting to talk to the teachers about the kids, to hear what they are like at school. It's helpful to know what we can do to help at home. I love helping with homework. I help with math and science and Deirdre helps with writing.
What's the best advice you've received on the subject of work/life balance?
My 13 year old, Lily, tells me every day, "Have fun today and don't waste the day." I don't know where she came up with this, but it's so great. In ten years, no one is going to give you this week back. Strive for the things you want to achieve and have fun, because when sun goes down, the day is over.
For reprint and licensing requests for this article, CLICK HERE.