Male Delivery
HEALTH CARE: Plastic surgery center Marina ManLand joins retail trend of crafting attractive settings for men.
Monday, December 8, 2014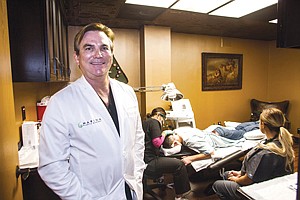 Leather club chairs, a TV tuned to ESPN and a stuffed bison head on the wall.
No, it's not a cigar lounge or a sports bar. It's a waiting room, and just next door there's a man getting fat taken off of his love handles and having a laser hair-removal procedure on his back.
This is Marina ManLand, a Marina del Rey plastic surgery center dedicated exclusively to men, and decorated to match. Opened last month, it's the brainchild of Dr. Grant Stevens, a plastic surgeon and founder of Marina Plastic Surgery in Marina del Rey.
Stevens created the "man cave" look to give his male clientele a more comfortable experience with a separate entrance and exit from the main lobby area of his practice, which typically greets women.
"These men are walking in the door and they're sitting in an environment which has been made for women," Stevens said. "Historically, plastic surgery practices and offices are geared toward the feminine gender because they're the consumers and that makes sense."
ManLand, with its copper ceilings and leather wall coverings, is the latest business hoping to use the man-cave aesthetic as a marketing tool to draw men into historically women-oriented shops. Others include hair and nail salons, such as Hammer & Nails Salons Inc. in West Hollywood.
Stevens said it was important to create a male-friendly space at his facility because he could tell his male clients weren't comfortable in his standard treatment rooms.
"When these guys were getting treatments, I would walk back and introduce myself," Stevens said. "It became clear to me that I had a female environment and I was dealing with males. They weren't unhappy but they weren't as happy as they could be."
David Berne, senior vice president and director of strategic planning at ad agency RPA in Santa Monica, said the man-cave theme popped up among businesses during the recession.
"Men wanted to have this space where they can decompress but also in a way that reminds them of their manliness," Berne said.
He said this kind of marketing might be effective in driving male clients to a business for now, but, like all trends, it could just as quickly fall out of fashion.
"Men are trying to figure out who they are and what they should be," he said. The man cave "is a manifestation that is true right now, but it may need to change five or 10 years from now."
Prev Next
For reprint and licensing requests for this article, CLICK HERE.
Stories You May Also Be Interested In