Up in the Air
Vaping vendors fear city bans could snuff out business
Monday, December 8, 2014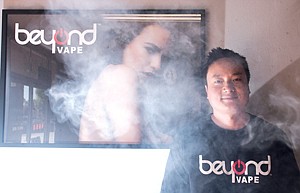 Billy Chen was cautious in his approach to the electronic cigarette business. He first took note of the nascent industry back in 2009, but tabled his ambitions as the industry worked out some early regulatory kinks. Then, as the market began to explode last year, he and his partners formed Beyond Vape and jumped in.
They have moved quickly, spending about $1 million to manufacture both the equipment and "e-juice" used in vaping, open a wholesale business and set up retail shops in New York, Seattle, Santa Cruz and Downey, with another on the way in Boston.
Now, however, as cities, the federal government and tobacco companies mount assaults on vaping, what looked like a cautious approach might have been premature.
Vaping, which involves inhaling the vapor from nicotine-infused water, is touted as a much better alternative to smoking. Yet the cities of Long Beach, Beverly Hills and Los Angeles have set rules in the last year banning vaping in restaurants, beaches and parks. Santa Monica last month banned vaping in public and won't allow vaping in any new vape shops. At the federal level, the Food and Drug Administration has proposed rules that would treat vaping products like tobacco. And in the face of all that regulatory pressure, big tobacco has moved to take a piece of the action. Altria Group Inc., Lorillard Inc. and Reynolds American Inc. are all making basic versions of e-cigarettes.
"Each of these is a separate threat to the industry," said Mark Burton, a Marina del Rey vapor industry consultant.
Of those, he's less concerned about the pending FDA regulations, which he thinks will be litigated, and he doesn't see big tobacco eating into the market share of more high-end vaporizers. It's local government that is the biggest menace.
"When it comes to localities, this can be the biggest threat because we just don't have the resources to battle it out in each and every city," he said.
Indeed, Chen and his partners in Beyond Vape, in Baldwin Park, are no longer working close to home, focusing instead on opening shops in other states.
"We are no longer are looking to open in the L.A. area for the time being," he said.
Retooling
Chen, his brother Mike and friend Wen Wei are partners in Import LA, a 10-year-old designer and marketer of pet grooming tools and furniture for high-end spas, among other industries. When they made the decision to dive into vaping, the partners brought in Donald Giang, a friend who owns a tire distribution company, to handle sales.
Prev Next
For reprint and licensing requests for this article, CLICK HERE.