Up in the Air
Vaping vendors fear city bans could snuff out business
Monday, December 8, 2014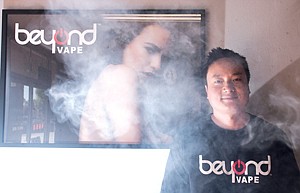 Billy Chen was cautious in his approach to the electronic cigarette business. He first took note of the nascent industry back in 2009, but tabled his ambitions as the industry worked out some early regulatory kinks. Then, as the market began to explode last year, he and his partners formed Beyond Vape and jumped in.
They have moved quickly, spending about $1 million to manufacture both the equipment and "e-juice" used in vaping, open a wholesale business and set up retail shops in New York, Seattle, Santa Cruz and Downey, with another on the way in Boston.
Now, however, as cities, the federal government and tobacco companies mount assaults on vaping, what looked like a cautious approach might have been premature.
Vaping, which involves inhaling the vapor from nicotine-infused water, is touted as a much better alternative to smoking. Yet the cities of Long Beach, Beverly Hills and Los Angeles have set rules in the last year banning vaping in restaurants, beaches and parks. Santa Monica last month banned vaping in public and won't allow vaping in any new vape shops. At the federal level, the Food and Drug Administration has proposed rules that would treat vaping products like tobacco. And in the face of all that regulatory pressure, big tobacco has moved to take a piece of the action. Altria Group Inc., Lorillard Inc. and Reynolds American Inc. are all making basic versions of e-cigarettes.
"Each of these is a separate threat to the industry," said Mark Burton, a Marina del Rey vapor industry consultant.
Of those, he's less concerned about the pending FDA regulations, which he thinks will be litigated, and he doesn't see big tobacco eating into the market share of more high-end vaporizers. It's local government that is the biggest menace.
"When it comes to localities, this can be the biggest threat because we just don't have the resources to battle it out in each and every city," he said.
Indeed, Chen and his partners in Beyond Vape, in Baldwin Park, are no longer working close to home, focusing instead on opening shops in other states.
"We are no longer are looking to open in the L.A. area for the time being," he said.
Retooling
Chen, his brother Mike and friend Wen Wei are partners in Import LA, a 10-year-old designer and marketer of pet grooming tools and furniture for high-end spas, among other industries. When they made the decision to dive into vaping, the partners brought in Donald Giang, a friend who owns a tire distribution company, to handle sales.
They spent between $250,000 and $500,000 in product development, design, manufacturing and inventory. In addition, each of the six shops costs about $100,000 to set up.
Beyond Vape's products range from cheaper basic e-cigarettes to often larger higher-end customizable "mods." The devices include a tiny battery that powers an atomizer, a heating element that vaporizes e-juice, which is usually composed of flavoring, propylene glycol, vegetable glycerin and different concentrations of nicotine, if any at all.
Beyond Vape makes its line of e-juices in a San Diego lab and its mods are made both in the United States and China. It sells both its own line and other brands in its stores, with basic multi-use e-cigarettes starting at around $30 and going up to almost $300 for more fashionable mods that come with unique finishes (some are gold-plated) and greater power to deliver more vape.
Chen declined to disclose revenue figures.
It's all part of what has become a $2.2 billion retail market in the United States, according to research from Wells Fargo Securities.
And Burton, the industry consultant, said the L.A. area is particularly ripe for investment, with an estimated 300,000 to 500,000 vapers in L.A. and Orange counties out of some 4 million to 5 million nationwide.
Burton, who's also co-president of the Southern California chapter of the Smoke-Free Alternatives Trade Association, thinks vaping has taken off in the region partly because established small businesses like Import LA had the infrastructure to pivot or spawn a vape hardware or e-juice manufacturing subsidiary.
"It's relatively easy to transfer from food or cosmetics to vaping," Burton said of the production process. "If they're in plastics and want to do part of the heating element, that's just another mold."
Burton also credited local growth to substantial demand.
"Southern Californians are early adopters for any new technology," he said, adding it didn't hurt that some local cultures are very heavy smokers, particularly within the Asian community.
Natural selection
But the pressure is now on. In addition to regulatory constraints and the entry of big tobacco into the market, the rush of smaller players has led to saturation.
Chen said he's observed a lot of vape shops shuttering in Southern California.
"The industry (nationwide) is growing, but in Southern California it's shrinking because there's been way too many shops," he said.
He thinks roughly half of the region's estimated 700 vape shops operating at the industry peak earlier this year will close over the next two years.
Burton said it's partly because some of the entrepreneurs trying to cash in on the vaping craze are novices. He suggested their inexperience probably leads to customer service issues, inferior products, and poor inventory control and marketing.
"It's a management issue," he said, noting some newer entrants will realize the areas where they set up shop "didn't need three stores in a five-mile radius."
Vaping bar owner John "JJ" Jenkins, who opened his first shop in 2010, calls it "business Darwinism."
"I don't know if I'd use the word 'oversaturation,' but there is saturation in certain cities," said Jenkins.
His company, the Vapor Spot, has shops in Westwood, Hollywood, Sherman Oaks and Sacramento. He suggested that parts of Los Angeles County are still wide open.
Beyond Vape's only local retail outlet is in Downey, and Chen said the municipal legislation limiting vaping hasn't affected that side of the business. But if the regulations became widespread, they could affect the wholesale business – and he's more concerned about what will happen if the proposed FDA rules go into effect.
The cost of making a product FDA compliant is astronomical, he said.
The estimated expense of a single premarket tobacco product application is approximately $334,000, according to the FDA.
In an industry dominated by small operators, Burton said that expense could wipe out a majority of the small manufacturers.
Despite all the new hurdles, Jenkins still sees vaping as a growing business sector attracting new customers.
"It's an industry worth fighting for," he said, "not merely from a financial standpoint."
For reprint and licensing requests for this article, CLICK HERE.