Site Raises Curtain on Show Biz
Sophia Loren's son looks to foster careers in entertainment.
Monday, December 1, 2014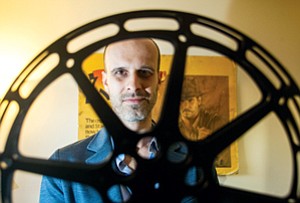 As the son of cinema royalty, Edoardo Ponti's life has involved movies since he was a kid.
Now an accomplished filmmaker himself, the son of actress Sophia Loren and late Italian film producer Carlo Ponti is taking his appreciation for the craft of cinema to the online realm through a website called Takehollywood.com.
The site offers aspiring entertainment professionals a place to connect while also gaining insight into the artistic process by watching video interviews of more than 70 legendary Hollywood stars, including Lauren Bacall, Ted Danson and, of course, Ponti's mother.
Though the site's Marina del Rey parent company, Takehollywood USA Inc., was formed in 2008, the website only launched in beta mode this month. Takehollywood was co-founded by Ponti's wife, Sasha Alexander, co-star of TNT drama "Rizzoli & Isles," along with his friend and business partner Sylvain Perret.
To fund the business, the trio raised nearly $2 million from private investors in Mexico, Switzerland and Los Angeles.
It's taken so long to get the site up and running because Ponti made a point of shooting all the interviews himself in between his various film projects.
"Come end of next year, we'll have over 120 interviews," he said. "I'm going to keep on doing it until I'm bored," he laughed.
In each interview, Ponti asked the same 40 questions that cover the individual's approach to the creative process as well as more practical topics such as finding an agent and making audition reels.
"In this culture of fake fame, I wanted to strip the veneer off of that bullshit," he said. "All these actors are more than artists, they're craftsmen. That's what we're trying to inspire."
Users can create a profile, contact others, and post photos and quotes to an "inspiration board" for free, but it costs $10 a month to access the video archive.
"I don't think you can separate the educational from the networking," Ponti explained. "Truly it is both."
And what's the biggest piece of advice Ponti's parents taught him about show business?
"If you can do anything else but film, do that. But if it's in your blood to do this, then do it," Ponti recalled. "And don't give up."
– Omar Shamout
For reprint and licensing requests for this article, CLICK HERE.