Luxury Offerings, Chinese Buyers Rev Up Car Sales
Monday, August 25, 2014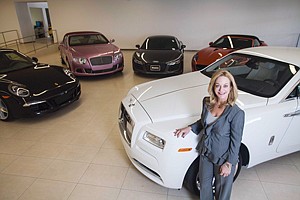 Sales of luxury cars are accelerating and there are several reasons for that.
Retiring baby boomers ready to celebrate their golden years in a flashy coupe, a wider range of offerings from upmarket manufacturers and low interest rates making financing more affordable have been a boon to dealers. And on the high end here in Los Angeles, an influx of Chinese money has given sales of Bentleys and Maseratis a turbo charge.
"More than 50 percent of our customer base is Chinese for super-luxury brands," said Victoria Rusnak, president of Rusnak Group, which operates 15 dealerships throughout Southern California. (Rusnak's Pasadena dealership group is No. 2 on the Business Journal's list of largest auto dealers. See page 15.) And that has translated into big profits for Rusnak.
"Our Bentley, Rolls-Royce and Maserati dealership just had a record month," she said.
Tim Smith, owner of Bob Smith BMW in Calabasas (No. 9 on the list), said it's a great time to be in the "Bimmer" business.
"It's been a real good year for expensive cars," he said.
According to data from Automotive News in Detroit, luxury-car sales rose 6 percent year to date through July compared with last year, outpacing a 1 percent rise in the total car market. Lexus sales are up 17 percent year to date, BMW 10 percent and Mercedes-Benz 8 percent. Sales of high-end cars are on pace to exceed the all-time record of 1.83 million, set in precrash 2007.
In the first four months of the year in the L.A. area, Infiniti registrations were up 14 percent over the same period last year, Land Rovers were up 17 percent and Lexus registrations jumped a whopping 49 percent, according to data from the Greater Los Angeles New Car Dealers Association. Those were all well above the 9.7 percent increase in overall registrations of new cars and trucks locally.
Automotive industry consultant Warren Browne of WP Browne Consulting in Northville, Mich., said the biggest driver of strong luxury-car sales might be the impact of baby boomers ready to reap the rewards of their long careers.
"Baby boomers are close to retirement or at retirement and they're going into the 'I deserve it' phase," Browne said. "You can't underestimate the effect that's having. Instead of buying a Toyota, they're buying a BMW."
American boomers are keeping BMWs and Lexuses flying off assembly lines, but the sizzling L.A. super-luxury market also owes a great deal of its strength to Chinese cash.
"The biggest change in our local area is the growth of the Chinese market," Rusnak said.
Chinese buyers can save 40 percent to 50 percent of the price of a car by purchasing it in the United States, mostly due to duties added to a car when imported into China, she said. And with many Chinese investors scooping up real estate in the L.A. area, they need some local wheels they can use to check on their properties. Many newly wealthy Chinese people believe the United States is a safe haven for their money, and Los Angeles is a favored spot for them to land and invest.
As a result, Rusnak employs several Mandarin-speaking sales people at its Pasadena dealerships – which are close to the San Gabriel Valley, a heavily Chinese part of Los Angeles that's been revitalized by new investment from across the Pacific.
Low rates
Industry consultant Browne also said rock-bottom interest rates in what he calls the "Yellen market" – named for Federal Reserve Chairwoman Janet Yellen – have been another key factor in stimulating the auto market.
"Interest rates are so low, the kind of deal that you can get to either lease a car or buy one is incredible," he said. "No money down, 72 months of zero interest."
Smith said the favorable borrowing climate has helped him get customers into cars that they didn't realize they could afford when they walked into the showroom.
Leasing activity has been particularly robust. According to Automotive News, about 30 percent of all financed new cars this year were leased, higher than the historical average of 15 percent to 20 percent. That percentage rises to 50 percent to 60 percent for luxury cars, as their customers prefer new models and hold their cars for only a few years.
Manufacturers of cars such as BMW and Lexus have invested in developing their certified preowned programs. Those programs have increased the residual value of used cars turned in after a lease. The end-of-lease value, or residual, is factored into the lease payment because the dealership needs to project how much it can expect to sell the car for when it's turned in. When a residual goes up, payments go down. And that's put more drivers in high-end cars.
"You can get a less expensive car, but if it doesn't hold its value very well, the lease payment is going to be higher," Smith said.
This has helped make the current market especially strong for leases, which he says is as good as it's been in at least five years. But a sudden rise in rates could put a damper on the party.
"The portion of the payment devoted to servicing the debt is fairly minimal," he said. "That could change if interest rates become much higher. The payment tends to drive the market."
New models
Upmarket manufacturers are also introducing more models targeted for a wider audience, bringing whole new groups of potential buyers to their dealerships.
"Over the past three or four years in the United States, the entry-level luxury offers, whether that be a Lexus IS or a BMW 1 or 2 series, are driving people to the showroom," Browne said. "For an extra $75 a month, people can show off to their neighbors."
Smith said that these manufacturers are battling for market share, which has made the prices of these models very competitive. He mentioned the BMW X3 sport utility vehicle, which starts at about $38,000, as an example of a hot product that's been attracting new drivers to the make.
"The luxury brands are competing tooth and nail," he said.
Rusnak, whose family has been in the car business more than 50 years, said the expanded menu has been one of the biggest developments in the luxury market that she's seen.
"A huge change we've seen over the years is the proliferation of our brands' product lines," Rusnak said. "Years ago BMW and Mercedes and Audi sold five to six models and now they sell more than 20 different models, each with a larger selection of trim levels and options."
While rates could rise and make cars more expensive, luxury consumers who aren't as price sensitive are less likely to bail on their Mercedes-Benz dreams. Browne believes the "I deserve it" crowd will continue to support a healthy luxury car market for at least the next five years.
That would be welcome news to dealers such as Rusnak and Smith.
"We're in a good spot right now," Smith said.
For reprint and licensing requests for this article, CLICK HERE.
Stories You May Also Be Interested In