Aquifer in Desert Makes Tracks Toward Pipeline
WATER: Government memo bolsters Cadiz's plan for project along railroad.
Monday, August 25, 2014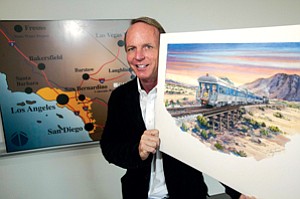 Cadiz Inc., an L.A. company that plans to store and sell billions of gallons of water beneath its desert land holdings, lacks a major component for its bold plan: a pipeline to take the water from its desert aquifer to market.
But that pipeline has moved closer to reality, thanks to a recent federal government memo that could allow Cadiz to build the pipeline alongside railroad tracks.
That could prove crucial to the company because project opponents are trying to get the federal government to launch a full environmental review of the water project, which they claim could deplete the aquifer and destroy desert habitat. The project has already won approval under state environmental rules and has been upheld in court. A federal review might be the last chance opponents have to stop the project.
Cadiz has been trying for nearly a quarter-century to push through a plan to store and pump water from its holdings in the Cadiz Valley east of the Twentynine Palms Marine Corps base. The water would then be transferred via pipeline to the Colorado River Aqueduct and ultimately sold to several local water agencies and utilities. In May, Cadiz cleared a major hurdle when a state court judge threw out the remaining lawsuits against the project.
The day Cadiz issued a press release on the Bureau of Land Management memo – Aug. 13 – shares of the company shot up 12 percent on the Nasdaq exchange to close at $10.44. Shares continued climbing after that. The company was one of the biggest gainers on last week's LABJ Index, rising 13 percent for the week ended Aug. 20 to close at $11.79. (See page 56.)
"Now that the BLM has its long-awaited framework and because we are the only application presently before the BLM, we expect they should be in a position to finalize a determination in a reasonable amount of time," Scott Slater, Cadiz chief executive, told the Business Journal last week.
Federal guidelines
The memo from the bureau lays out guidelines to implement a 2011 ruling for projects in a railroad right-of-way. Under the guidelines, so long as the Cadiz pipeline "serves the purpose of the railroad," no action from the bureau is required. If the bureau determines the pipeline does not serve the purpose of the railroad, then Cadiz would need authorization from the agency. That is when an environmental review might be ordered.
For reprint and licensing requests for this article, CLICK HERE.
Prev Next