Tower Buyer Orders Up Tall One in Downtown
ACQUISITION: Suitor to pay $270 million for L.A.'s second-highest building.
Monday, August 18, 2014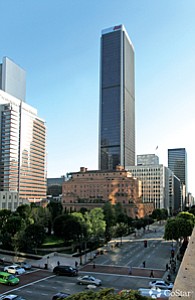 Aon Center, the second-tallest building in Los Angeles – and the state – is close to being sold for about $270 million.
The 62-story tower at 707 Wilshire Blvd. in downtown Los Angeles is expected to be purchased by San Francisco's Shorenstein Properties later this year, according to sources with knowledge of the deal. The seller, Beacon Capital Group of Boston, selected Shorenstein earlier this month after reviewing several offers. Shorenstein is said to be going through its due-diligence process before paying a nonrefundable deposit on the property.
At about $245 a square foot, the sale of the Class A, 1.1 million-square-foot office tower would be a loss for Beacon, which originally purchased the 40-year-old building at the height of the market in 2007 for $330 million, or nearly $300 a square foot. While the price has dropped significantly, so too has occupancy. In 2007, the building was more than 90 percent full, according to real estate data provider CoStar Group Inc. Today it's at barely 60 percent.
The tower was built in 1974 and Beacon did a renovation in 2009.
Arty Maharajh, a vice president of research in the downtown L.A. office of Cassidy Turley, which was not involved in the deal, said Beacon had been trying to sell the building for at least three years but had trouble finding a buyer willing to spend close to $300 a foot for it.
"Around 2010 or 2011, they marketed it but they didn't get the price they wanted so they pulled it off the market," he said.
The sale would mark the second downtown purchase by Shorenstein this year. In April, the company paid $37 million for a portfolio of three old industrial buildings in the Arts District that once housed a Ford Motor Co. factory.
Representatives of Beacon and Shorenstein declined to comment.
Pasadena Purchase
The Old Pasadena Collection, a mixed-use multifamily complex consisting of two apartment buildings and two free-standing retail buildings in the heart of the city's historic shopping district, sold last month to private investors for $42.6 million.
The 91 residential units at 22 W. Green St. and 65 W. Dayton St., along with more than 22,000 square feet of retail space at 60-70 W. Green St., were sold to the Chang family of Pasadena by North Hollywood's JSM Construction Inc.
Built in 2003, the 48 units in the four-story Palermo building at the southwest corner of Green and Fair Oaks Avenue feature granite countertops, and in-unit washers and dryers. Some units feature loft ceilings and mountain views. The 43 units in the neighboring five-story Messina building have similar features but also include access to a rooftop lounge and barbeque area. The apartments in the two buildings are mostly a mix of one- and two-bedroom units that rent for an average of $2,000 and $2,500, respectively. The retail component of the property was more than 80 percent leased at the time of sale, including to the Japanese restaurant chain Gyu-Kaku and furniture showroom Design Within Reach. Two spaces totaling about 4,000 square feet remain vacant.
Prev Next
For reprint and licensing requests for this article, CLICK HERE.