Rights Enforcer Deputizes ISPs in File-Sharing Fight
Monday, April 7, 2014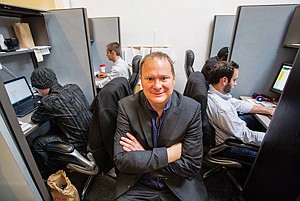 "This is not spam."
That's the warning that Josh, a 32-year-old Birmingham, Ala., resident, read 10 months ago in a notice from Rightscorp, a Santa Monica company that contacted him through his Internet provider, Charter Communications.
Rightscorp convinced Josh, who admits to downloading movies and television shows illegally almost every day, to click a link and use his credit card to pay $20 to settle a copyright infringement claim.
Warner Bros. Entertainment hired Rightscorp, a 10-employee startup, to go after people who had illegally shared its "Hart of Dixie" TV show on sites that are known hubs of illegal peer-to-peer sharing.
Co-founded by childhood friends Christopher Sabec and Robert Steele in 2011, Rightscorp's aim is to take the cost of policing piracy "off the shoulders of the rights holders."
Rightscorp accomplishes that not by charging studios and music labels any upfront fees. Instead, it takes a 50 percent cut of each settlement. The company has settled more than 60,000 cases, though it declined to provide specifics on how many notices it has sent in total.
This month, Rightscorp expanded its operations into the Canadian market, and it plans to tackle pirates in China and Europe in coming months.
Opinions differ on how big a problem the piracy of digital content – music, films, television shows – is. The Motion Picture Association of America said in 2011 that copyright infringement costs the U.S. economy $58 billion every year, but those numbers drew intense criticism. Cato Institute researcher Julian Sanchez calculated in 2012 that movie studios lose only $446 million every year to online pirates in the United States.
Wherever the real number falls, there is plenty of room for Rightscorp to grow. The company said it has contracts with dozens of rights holders big and small to investigate the illegal sharing of roughly 40,000 movies, television shows, songs and other types of intellectual property. Its contract with the music industry's BMG Rights Management accounted for about 25 percent of its revenue last year; a deal with Warner Bros. about 7 percent.
Using patented tracking software developed by Steele, Rightscorp monitors peer-to-peer file-sharing sites and identifies the Internet protocol addresses used to repeatedly share content illegally. It then asks Internet service providers to forward its settlement offers to the account holders.
Rightscorp's business is built on its interpretation of the Digital Millennium Copyright Act of 1998, in particular the law's "Safe Harbor" protection for ISPs regarding how those companies handle repeat copyright infringers. If a content owner can establish that an ISP is a conduit for pirates and the ISP does not forward a notice to cease the activity, it could be sued for damages. That alone is incentive enough for ISPs to pass Rightscorp's demand letters along to their users.
Rightscorp also avoids thorny privacy issues by declining to request the personal information of account holders, using the ISP as an intermediary.
The company said 50 ISPs have cooperated so far.
Josh's story
Josh, who spoke on condition that his last name not be used, downloaded "Hart of Dixie" episodes from a site called Pirate Bay so he could burn them onto a DVD for his soon-to-be mother-in-law. She's a big fan.
On the bright side for Josh, Rightscorp presented him with a seemingly simple solution to his problem – pay the company $20 and it would go away forever – as long as he stopped sharing its clients' content illegally, of course.
On another day, Josh might have simply ignored the email. But on that day, he and his fiancée were undergoing a credit check in order to get a new apartment.
"It was a moment of desperation," Josh said. "I thought, 'I better pay this off real quick,'" fearing that it might reflect negatively on his credit report if he didn't. He even gave Rightscorp his cellphone number.
Soon after he settled the first claim, Josh got emails regarding two other infringements. He didn't settle those right away, so Rightscorp started calling his cellphone once a week, like clockwork, on Friday afternoon, until he paid up.
"I really regretted the decision later," Josh said of his settlement, "because I included my phone number."
Steele, who serves as Rightscorp's chief technology, financial and operating officer, said it's up to each ISP to read the law and make a decision about whether to work with his company. Some have decided to do "absolutely nothing."
Sabec, the company's chief executive, said when people don't settle claims, Rightscorp has been successful in convincing ISPs to shut down the alleged infringer's account.
"It happens all the time," he said.
Sure, the person could just sign up with another ISP, but that's OK with Sabec.
"We feel like we're winning at that point," he said.
Sabec, an inactive member of the California State Bar who served as chief executive of the estate of late Grateful Dead guitarist Jerry Garcia and also managed the band Hanson, said his company has no intention of seeking subpoenas against the alleged pirates or filing tort cases.
"We don't litigate," he said.
However, Sabec noted, rights holders could sue an ISP that continued to be a conduit for piracy, and in that case, Rightscorp would "help our clients hold the ISP accountable for their responsibility under the Digital Millennium Copyright Act."
Erik Syverson, a partner at Miller Barondess in Century City, specializes in Internet and digital media issues, and is not affiliated with Rightscorp. He said there's no case law regarding whether or not an ISP could be held liable. However, he might advise an ISP to cooperate with Rightscorp rather than risk a lengthy and costly court battle.
"The lawyer in me would sit down and say they may have a contributory liability argument if we don't do this," Syverson said. "If (Rightscorp) can get ISPs to police their content for them, that's great for content holders."
On the other hand, he said, as a consumer, he'd be pretty angry if his ISP ever put him in a situation like the one Josh found himself in.
"I'm surprised they got 60,000 people to pay," he said, adding that an IP address is not enough to identify a specific individual, since multiple people often use one Internet connection and unauthorized usage occurs often.
Still in the red
Sabec said individuals can contest the allegations with Rightscorp directly, which then investigates on a case-by-case basis. But, ultimately, "every account holder is responsible for infringements that happen on their network."
Despite trying to bring some order to a digital Wild West and eight straight quarters of revenue growth, the Santa Monica company is still in the red, posting losses of $2 million each of the last two years. While losses have remained steady, its year-over-year revenue jumped by 236 percent, to $325,000 in 2013. It attributed the losses in part to increased patent costs and travel expenses as its principals wooed financial backers and potential clients. Sabec and Steele, according to Securities and Exchange Commission filings, each took home more than $200,000 in salary and bonuses last year.
But their efforts to find investors have yielded fruit.
Last year, Hartford Equity Inc. committed to buy $2 million worth of common stock in Rightscorp, which went public through a merger with a shell company and is traded over the counter. Additionally, Juno Beach, Fla., private equity group Seaside 88 Advisors agreed to invest $750,000 last month. Representatives of those investors could not be reached for comment.
With more copyright infringers to go after and more clients to sign, the company sounded an optimistic note in its SEC filing, saying it could become cash-flow positive from revenues sometime this year.
Looking at a piracy market that accounts by one estimate for 10 percent of all North American Internet traffic, it said, "our revenues and margins could potentially increase exponentially."
For reprint and licensing requests for this article, CLICK HERE.