Smoked Out?
Cities' concerns leave e-cigarette shops up in air
Monday, September 30, 2013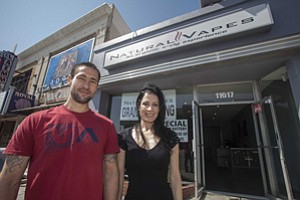 Today's models include disposable and rechargeable e-cigarettes. Disposable e-cigarettes start at the most basic for $9; "disposable hookahs" that deliver 600 puffs cost in the $20 to $30 range. The more expensive rechargeable models called "personal vaporizers" cost from $50 or so to almost $300 for the top of the line.
The rechargeable models also require accessories: a charger (typically $10 to $15), the nicotine-infused liquid (typically sold in half-ounce containers costing about $15) and a tank to hold the liquid (typically $10).
Catching fire
According to industry publication Vape News, U.S. e-cigarette sales were a mere $20 million in 2008; that figure grew to more than $500 million last year. The magazine projects sales will top $1 billion nationally this year.
Advocates see e-cigarettes as a healthier alternative to tobacco cigarettes because the smoker controls the dose of nicotine. They can even be used to help kick the nicotine habit, which is what Strawn at Natural Vapes did by reducing the nicotine content little by little. Also, they don't have additives such as tar.
Caught completely off-guard several years ago by the rapid spread of medical marijuana dispensaries and the years of litigation that followed, city officials are moving quickly to try to get a handle on the e-cigarette situation. Several cities have either imposed or are considering temporary halts on opening vape stores; others, including Los Angeles, are moving to regulate them.
City officials cite health concerns of the nicotine-laced liquids and they are especially concerned that teens are attracted by the huge variety of flavors available.
The Centers for Disease Control and Prevention notes that the percentage of high school students who say they've used e-cigarettes doubled between 2011 and 2012 to 10 percent.
To date, the federal Food and Drug Administration has not moved to regulate e-cigarettes, though the agency is studying the issue.
Earlier this summer, officials in Pico Rivera proposed a moratorium on new stores.
"We wanted a moratorium because in just six weeks, we had five permit applications come in for electronic cigarette stores and we didn't even know what e-cigarettes were, much less how to treat them," said Julia Gonzalez, deputy director for economic development.
But after several e-cigarette activists turned up in City Council chambers, the city backed off and instead passed a measure banning the use of e-cigarettes in public places.
"Our main message we like our members to send to city councils: When you prohibit an e-cigarette store, you deny people the option to switch to a product much less hazardous than cigarettes," said Gregory Conley, legislative director of Consumer Advocates for Smoke-free Alternatives Association, an e-cigarette advocacy group headquartered in Springfield, Va.
For reprint and licensing requests for this article, CLICK HERE.