L.A. Tech Views New Rule as Cool
INVESTMENT: Solicitation change could jolt startup scene.
Monday, September 30, 2013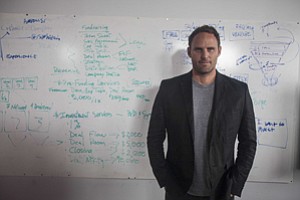 In an emerging technology community like Los Angeles where funding is critical, a regulatory change is giving companies a voice.
The Securities and Exchange Commission last week lifted an 80-year ban on general solicitation that forbade private companies from publicly advertising for fundraising. As a result, many L.A. startups are expecting to benefit.
Many of the boosters of the new rule are companies that have the most to gain from relaxed investment regulations.
Take Crowdfunder, a Venice company that acts as a platform for brokering deals among investors and technology startups or small businesses raising money. Now that companies can advertise deals, Crowdfunder could see a boom in the number of deals listed through its site.
"This creates a much broader distribution channel," said Crowdfunder Chief Executive Chance Barnett. "This has the potential to take people who might not even know that they qualify to invest and make them more aware of what small businesses are doing."
But the change has a double edge: It also requires more work verifying that the money comes from legitimate sources. Some fear it could scare off some angel investors.
Still, the change could have an outsized impact on L.A.'s so-called Silicon Beach. The new rule allows private companies – including old and established companies – to advertise to sell their stock. L.A.'s large contingent of fast-growing tech startups is hungry for money and could be fertile ground for new investment, especially since many of them are creative and could be particularly effective at soliciting investments.
Seeking investors
The SEC has long mandated that a private company that wants to seek investments but does not want to go public or publicly register its securities offerings must refrain from advertising.
By keeping the deal private, the company is also required to sell stock to primarily accredited investors – people with a net worth of more than $1 million or an annual income of more than $200,000.
But as of Sept. 23, a private company can advertise to sell its stock, provided all investors are accredited.
For companies that don't advertise to raise funds, verification is as simple as having an investor check a box on the securities form. But if the company solicits a larger group for the deal, verification becomes more complex.
The SEC has said a company must "take reasonable steps" to verify an accredited investor. Examples of reasonable steps include viewing copies of tax returns or receiving confirmation of net worth from an accountant.
It's that section of the new rule that has some investors alarmed.
Michael Green, president of the L.A. chapter of Tech Coast Angels, said the rule adds an extra layer of hassle for investors.
The new rule, he said, "now requires me to send (companies) my personal tax returns to verify that I'm accredited. That's problematic. Imagine if every time you bought a stock you had to send the CEO your tax returns."
The SEC has lifted the ban on general solicitation under a mandate from Congress as part of last year's Jumpstart Our Business Startups Act, or Jobs Act.
Broadly, the Jobs Act was meant to give startups and small businesses access to cost-effective capital. The particulars of the act required the SEC to make a number of changes, including implement rules that lift the general solicitation ban, which went into effect last week, and lower the barrier to becoming an accredited investor, which is expected to go into effect next year.
Lance Kimmel, managing partner at Brentwood's SEC Law Firm, said the longstanding ban on general solicitation was meant to safeguard companies and individuals from bad deals. With that ban being lifted, the SEC needed to put in place new protections, which is why verification has become more complex.
"The reason the SEC changed verification kind of makes sense," he said. "If you don't know the investors and you found them through general solicitation, it's not going to be enough for them to check a box. How do you know they're not lying?"
Angel investment groups such as Green's TCA said the issue is not so much the paperwork but that investors now have to change the practices they've had for years.
Many angel syndicates attend startup demo days or host their own pitch sessions to find deals. Under the new SEC rule, those events could be considered general solicitation, Green said. That means angels uncomfortable disclosing their financial information might not attend or invest in the companies that present at those events.
Many in the technology community speculate that angel syndicates are worried about becoming less relevant as more investors flood the market. But Green said that's not the case.
"We're not complaining because we're dying to make money angel investing," he said. "But if angel investing dried up, it would be very bad for companies because fewer companies would get funded and there would be fewer jobs."
Individual angel investors seem less concerned about the stricter rules. Prolific local investor Paige Craig, for example, said he'll continue to attend public demo days.
"Now that investing is becoming a more public activity, I expect we'll see greater attendance," he wrote in an email.
'American dream'
Barnett's Crowdfunder isn't the only company that expects to see more business as a result of the regulatory change. Beverly Hills' Realty Mogul, an online platform for real estate investments, also sees relaxed investment regulations as promising.
"Any loosening of the regulations that have been in place for 80 years is a good sign for our business," said Justin Hughes, Realty Mogul co-founder and Chief operating officer. "Just the idea that these changes are creating openness and relaxation of regulations, that's a positive."
For these companies, lifting the ban on general solicitation is just the beginning. Eventually, Joe Shmoe could use Crowdfunder to invest in his local coffee shop or Realty Mogul to help fund a nearby apartment building.
But Crowdfunder and Realty Mogul won't be allowed to broker those types of deals until the SEC lowers the barrier for accredited investors. That's scheduled for next year, and will allow just about anyone to participate in equity crowdfunding.
Investor Craig said it's all part of a changing investment landscape.
"As an entrepreneur from humble beginnings and an angel investor, I want the public participating in the next wave of innovation," he said. "Owning a house used to be the American dream – now it's owning a company. These new rules make it possible."
For reprint and licensing requests for this article, CLICK HERE.