Debit Card Company Failed by College Lender?
FINANCING: Green Dot sues Sallie Mae over deal to draw in students.
Monday, September 30, 2013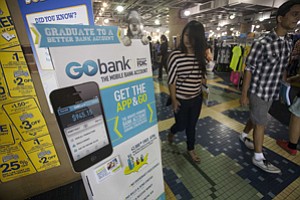 A deal inked last year with college lender Sallie Mae Inc. was supposed to give Pasadena's Green Dot Corp. a way into students' wallets.
But the deal fell apart and now the prepaid debit card issuer, which has been looking for new customers as more competitors horn in on its market, is trying a different approach to signing up students on campuses nationwide.
Instead of issuing prepaid cards with Sallie Mae through college financial aid offices, Green Dot is pushing its smartphone-based banking product, GoBank, at more than 500 college bookstores.
But it's also seeking $90 million in damages from Sallie Mae, an indication of just how profitable the company believed the prepaid deal could have been.
Green Dot's prepaid cards are used mostly by customers who don't use bank services. The company's GoBank service is aimed at young tech-savvy customers who need a basic checking account and feel comfortable using their phones to make purchases.
For both types of products, college students are a good fit, said Gregory Smith, an analyst in the Woodland Hills office of New York brokerage Sterne Agee & Leach Inc. But until the Sallie Mae deal, Green Dot had done little to market to students.
"Students hadn't been a target for Green Dot, but it is a logical extension," Smith said. "The challenge is distribution. How do you get to students?"
Along with issuing student loans, Sallie Mae had until recently provided business services to colleges through its Campus Solutions unit. One of those services was processing financial aid refunds to students.
When a student gets financial aid that covers more than tuition and fees owed to their school, the extra money goes to the student to pay for books and living expenses. Through Green Dot's deal with Campus Solutions, students could have had that money sent to a Green Dot prepaid card branded with the Sallie Mae logo.
The deal could have put Green Dot cards in the hands of students at the more than 1,000 schools served by Campus Solutions. But Sallie Mae sold the Campus Solutions business unit in May to Higher One Holdings Inc., a New Haven, Conn., company that had been a Campus Solutions competitor. Higher One dropped the Green Dot deal in favor of its own online checking account offering.
Green Dot is suing Sallie Mae for breach of contract, saying Sallie Mae negotiated in bad faith and has failed to pay a $4.8 million settlement fee Green Dot says was part of its contract.
Neither Green Dot nor Sallie Mae would comment for this article citing pending litigation.
Big returns?
Steven Streit, Green Dot's chief executive, first announced the Sallie Mae deal during a July 2012 conference call.
It was a rare bit of good news on the call, as Streit lowered the company's earnings estimates for the year and reported several retailers that sold only Green Dot prepaid cards would soon start selling cards from competitors such as American Express Co. Green Dot stock fell 61 percent the next day.
The company's response to increased competition has been to attract new customers by developing new products, including GoBank, and to sell its prepaid cards through more retailers, including Dollar General discount stores and Home Depot.
"It's important that we diversify both in terms of our customer segments, like Sallie Mae, and it's important that we find new products that give Green Dot something unique and special in the market," Streit told investors last year.
In targeting college students, the company aimed to use both new products and an on-campus distribution deal. New product GoBank would be marketed through campus bookstores, while the Sallie Mae deal would have created another distribution channel through financial aid offices.
John Keatley, Green Dot's chief financial officer, told investors in January that the nearly concurrent launches of GoBank and the Sallie Mae prepaid cards would give the company insight into which product students preferred. GoBank started accepting customers in July; the Sallie Mae cards debuted early this year but were due for a wider rollout this fall.
"It'll be interesting to see how the students adopt the (Sallie Mae) product," Keatley said. "And we're actually working through to find out which product would be best suited for the college population now that GoBank is released."
But Green Dot tried to keep expectations for the Sallie Mae deal low. On several conference calls, Streit downplayed the potential upside, at least in the short term. In April, he said that it would be "a smallish program under the best of circumstances."
But the lawsuit tells a different story. In Green Dot's complaint, the company said it could have made $130 million in profit over the course of the five-year deal with Sallie Mae. That's nearly equal to Green Dot's total profits over the past three years.
Sterne Agee analyst Smith said it's now likely Green Dot will find other ways to market prepaid cards to students, though the company has not announced any plans.
Green Dot alleges in the suit that Sallie Mae essentially duped the company into abandoning other potential deals that would have helped it target students. The suit was filed Aug. 30 in New York County Supreme Court.
At press time, Sallie Mae had yet to file a response to Green Dot's suit.
Smith said the Sallie Mae deal could have proved lucrative for Green Dot, but it was far from a sure thing.
"It's a bummer – you're losing what could have been potentially a large contract," he said. "But is it a complete game-changer? No."
For reprint and licensing requests for this article, CLICK HERE.