Cross Campus Moving to Bigger Office
Wednesday, September 25, 2013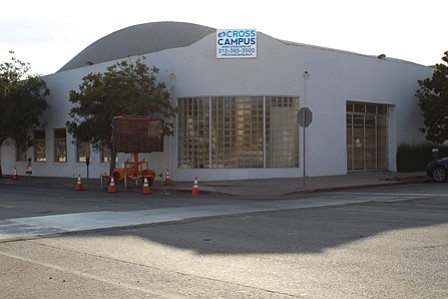 After less than a year providing co-working space for Santa Monica entrepreneurs, Cross Campus is upgrading to a larger office.
Cross Campus has signed a long-term lease for a 13,000 square-foot-property at 10th Street and Colorado Avenue. Its current office is two blocks away at 820 Broadway.
The company expects to move its co-working members into the space after the first of the year.
The building, which has a bow truss ceiling, was previously occupied by an architecture firm. It has an open floor plan that Cross Campus will renovate to use as collaborative work and event space.
The company plans to add offices and conference rooms near the perimeter of the open space. An attached but separate office will also be remodeled into reserved private offices.
The new building, which is about 30 percent bigger than the current space, will allow Cross Campus to increase its event capacity from about 350 people to about 500.
The company will also expand the size and number of its private offices, allowing for companies of up to 20 people to rent the rooms, up from companies of about 10 people in the current location.
Ronen Olshansky, one of the Cross Campus co-founders, said the firm began looking for new space as it approached capacity at its current location.
"What's great about this is that we'll have a broader inventory of space," he said. "It's great but also frustrating when we bring a member on and they get too big. Now that won't happen. We'll have that inventory to keep those companies in the lifecycle."
Cross Campus opened in Santa Monica last year as a co-working space with a hands-on approach. Olshansky and partner Dan Dato also mentor companies and host events that help them make business connections.
Memberships to Cross Campus range in price from $100 a month to $600 a month. Olshansky and Dato said the company works with hundreds of members, many of them technology startups. But Cross Campus also has members who are writers and creative types.
Jeffrey Chernick, chief executive of transportation technology startup RideAmigos, said he and his co-founder chose to work out of Cross Campus after they tired of spending time at their local coffee shop.
"We never wanted an office space," he said. "I started hearing about co-working places and we visited Cross Campus. That day we signed up. It's cooler because it's a shared space."
Cross Campus is part of a growing movement of shared offices popping up around town. In Silicon Beach alone there are at least a half dozen co-working spaces.
Be Great Partners, an incubator on the Miracle Mile, announced last week that it plans to expand to nine co-working facilities across the Los Angeles area.
The Cross Campus founders also envision opening more locations around Los Angeles and eventually expanding beyond Southern California.
Privately funded by the founders and a handful of investors, Cross Campus is working with the landlord to complete many of the building renovations.
Olshansky and Dato said the larger space will give them the ability to take on more members and continue to grow the business as they consider expanding into multiple locations.
In the near term, Dato said he wants the new location to serve as a flagship for Cross Campus and increase its visibility in the community.
Located along the Expo Line expansion that will begin running to Santa Monica in 2015, the new building could benefit from increased foot traffic and an influx in commuters taking public transportation.
"Everyone's kind of looking and asking how the Expo Line is going to change the demographics of Santa Monica," he said. "With us, it will be interesting to see what types of people find us."
UPDATE
After publication yesterday, Olshansky expanded on the reasons for the relocation. The co-working space at 820 Broadway had been sublet from Coda Automotive, he said, and that three-and-a-half year deal was dissolved as part of Coda's bankruptcy. Facing a rent increase to stay in the space, Cross Campus chose to look elsewhere. While an expansion was in its future, Olshanksy said the move came sooner than planned.
For reprint and licensing requests for this article, CLICK HERE.