Seed Money
Farms feed eatery Tender Greens' growth plan
Monday, September 23, 2013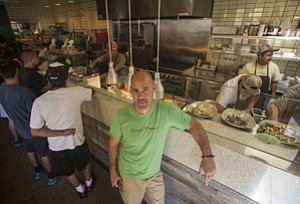 Restaurant chain Tender Greens could soon sprout far afield from its Culver City roots, its growth stemming in part from unusual partnerships it has struck with farms that supply it.
The budding privately held fast-casual chain has grown to 13 stores since it opened in 2006 and is planning an expansion beyond California that would take it to 30 restaurants by 2016.
The growth is being fed, in part, by its partnership with Scarborough Farms, a family-owned operation in Oxnard. One of Tender Greens' biggest suppliers, Scarborough was also one of the chain's first investors.
Erik Oberholtzer, who runs Tender Greens with co-founders Matt Lyman and David Dressler, established a relationship with the farm when he worked as a chef at Shutters on the Beach in Santa Monica more than a decade ago.
"We approached Scarborough in 2002 and said we want to build a restaurant around what you grow," Oberholtzer said. "They said awesome. They said they've wanted to do this for years and we were the first people to even bring it up."
Jeff Stein, whose family owns Scarborough, was immediately taken with the idea.
"Erik presented us with this idea, something called fast casual. I was a bit blown away," Stein said. "We were on the same page on the future of eating and farming and what we wanted it to be."
Initially offered a 50 percent stake in the startup dining concept, Stein said his family wanted to focus on what they know: farming. So they took a minority stake but extended a credit line to help Tender Greens open more stores.
Scarborough, which has 250 acres in the Oxnard Plain area and Santa Maria, grows two types of lettuce exclusively for Tender Greens. It also provides the chain with kale, heirloom tomatoes, spinach and fruits.
That close relationship with a farm separates Tender Greens from other fast-casual, farm-to-fork restaurants that have popped up in Los Angeles in the last few years, including Mixt Greens, a San Francisco concept, and Beverley Hills' Green Leaf Chop Shop.
Guarantees
Tender Greens guarantees it will buy a certain volume of Scarborough's crops. By essentially preselling a portion of its yield to a trusted partner, the farm can avoid the risks of selling into an unpredictable market. That, in turn, helps save on overhead costs and prevents waste. It also allows Tender Greens to hold prices down by purchasing at lower prices.
Prev Next
For reprint and licensing requests for this article, CLICK HERE.