Seed Money
Farms feed eatery Tender Greens' growth plan
Monday, September 23, 2013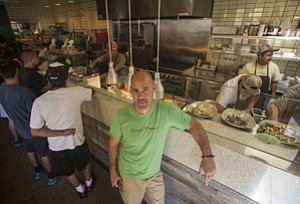 Restaurant chain Tender Greens could soon sprout far afield from its Culver City roots, its growth stemming in part from unusual partnerships it has struck with farms that supply it.
The budding privately held fast-casual chain has grown to 13 stores since it opened in 2006 and is planning an expansion beyond California that would take it to 30 restaurants by 2016.
The growth is being fed, in part, by its partnership with Scarborough Farms, a family-owned operation in Oxnard. One of Tender Greens' biggest suppliers, Scarborough was also one of the chain's first investors.
Erik Oberholtzer, who runs Tender Greens with co-founders Matt Lyman and David Dressler, established a relationship with the farm when he worked as a chef at Shutters on the Beach in Santa Monica more than a decade ago.
"We approached Scarborough in 2002 and said we want to build a restaurant around what you grow," Oberholtzer said. "They said awesome. They said they've wanted to do this for years and we were the first people to even bring it up."
Jeff Stein, whose family owns Scarborough, was immediately taken with the idea.
"Erik presented us with this idea, something called fast casual. I was a bit blown away," Stein said. "We were on the same page on the future of eating and farming and what we wanted it to be."
Initially offered a 50 percent stake in the startup dining concept, Stein said his family wanted to focus on what they know: farming. So they took a minority stake but extended a credit line to help Tender Greens open more stores.
Scarborough, which has 250 acres in the Oxnard Plain area and Santa Maria, grows two types of lettuce exclusively for Tender Greens. It also provides the chain with kale, heirloom tomatoes, spinach and fruits.
That close relationship with a farm separates Tender Greens from other fast-casual, farm-to-fork restaurants that have popped up in Los Angeles in the last few years, including Mixt Greens, a San Francisco concept, and Beverley Hills' Green Leaf Chop Shop.
Guarantees
Tender Greens guarantees it will buy a certain volume of Scarborough's crops. By essentially preselling a portion of its yield to a trusted partner, the farm can avoid the risks of selling into an unpredictable market. That, in turn, helps save on overhead costs and prevents waste. It also allows Tender Greens to hold prices down by purchasing at lower prices.
John Self, a professor at the Collins College of Hospitality at California State Polytechnic University, Pomona, said the partnership, an unusual one in the industry, works because it helps bolster both companies.
"It's one of the first in the industry and it's a heck of a partner to have for Tender Greens," Self said. "Both have a strong interest in making sure they live up to their reputation."
As Tender Greens has grown, it has turned that relationship around, striking deals to invest in farms throughout California.
It has put money into Point Loma Farms, an urban farm in San Diego that provides Tender Greens stores in Southern California with pork and a variety of citrus.
Oberholtzer said about 90 percent of the food prepared at Tender Greens comes from California.
Replicating that farm-to-fork, "locavore" (eating locally produced food) approach to dining might prove more challenging as the restaurant chain looks to expand.
Tender Greens is considering opening a Chicago location, perhaps as soon as the end of next year. Success in the Midwest would pave the way for a further national rollout.
But in moving out from California, the largest agricultural producer in the nation, Tender Greens will be hard-pressed to find suppliers in the same state as its restaurants.
"We've dealt with drought, so Chicago is not the best place to get your supplies," said Darren Tristano, executive vice president of Chicago research group Technomic Inc. "But if you deal with multiple farms in the Midwest you might get away with it, though the percent of local suppliers still might be lower than California."
Oberholtzer said the chain was working on establishing relationships with suppliers in the Midwest and trying to overcome challenges that arise from a shorter growing season. To that end, Scarborough and Tender Greens are trying to develop a proprietary water-based aquaponic farming system, though Stein said the system was not fully fleshed out yet.
Expanding reach
Tender Greens and Scarborough are willing to take on the Midwestern expansion in large part because their relationship has worked well thus far. The chain is projecting 2013 revenue of $40 million, nearly four times greater than the 2010 level.
"Both companies have to make money for this to work," Stein said of the expansion. "We've been able to sustain each other very nicely. It just skyrocketed beyond anything we could understand."
That success, Self said, was due in large part to an uncomplicated yet diverse menu of items for $11 (in Los Angeles) that, in addition to salads, includes such dishes as chipotle barbeque chicken and backyard marinated steak.
"It is food that people can appreciate, but don't want to cook it at home," he said. "It's not like meatloaf or rice. It's difficult to cook and it's interesting food. And they've done it at a great price point."
The chain keeps prices down by avoiding waiter service, shunning traditional advertising and using reusable shipping materials for its purchases from Scarborough.
It has resulted in a concept whose rapid growth Oberholtzer said took even him by surprise.
When Tender Greens opened its first location in Culver City, it ran out of food early on its first day because of a massive crowd.
"We were winging it at first. We had no systems in place. It was brutal," he said. "But by week four we knew we were going to be OK. We knew that we had done something right."
For reprint and licensing requests for this article, CLICK HERE.