Century Park on Block With Sky-High Price Tag
REAL ESTATE: Owners looking to sell landmark twin-tower campus for $2 billion.
Monday, September 23, 2013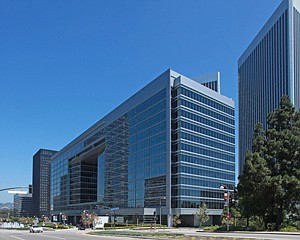 The owners of the Century Park office campus, perhaps the region's most recognizable real estate outside of downtown Los Angeles, have put the trophy property up for sale.
Entertainment Center, a limited liability corporation advised by J.P. Morgan Asset Management, is marketing the site, home to the headquarters of Creative Artists Agency and the twin Century Plaza Towers, for more than $2 billion.
The property has been quietly marketed since early August, according to a source familiar with the offering.
Lisa St. John, a principal at L.A. Realty Partners whose offices are in one of the twin towers, said interested investors have begun touring the property. She said that the steep price of $625 a square foot was not surprising.
"It's the Rockefeller Center of Los Angeles, a unique trophy asset that doesn't come available often."
The nearby 21-story office building at 1888 Century Park East sold for about $604 a square foot in June.
The iconic 44-story Century Plaza towers, built in 1980, were designed by Japanese-American architect Minoru Yamasaki, who also designed the World Trade Center in New York. Each tower is at least 85 percent leased.
CAA occupies about 180,000 square feet in a 12-story building at 2000 Avenue of the Stars that completes the 3.2 million-square-foot office park. The company, which signed a 15-year lease in 2007, is not expected to be affected by the sale.
Eastdil Secured Inc. has the listing, which was first reported in the Hollywood Reporter last week.
Jonathan Larsen, regional managing principal of real estate brokerage Cassidy Turley Inc. in downtown Los Angeles, said he wouldn't be surprised if foreign investors bid for the property.
"This is a rare opportunity that's going to attract international attention," he said. "It's not a crazy price for an institutional-quality core asset in a major world city that hasn't been on the market for many years. That type of asset is in demand around the world."
Principals at J.P. Morgan and Eastdil did not return calls seeking comment.
Pasadena Purchase
The real estate unit of Prudential Financial Inc. has purchased three office buildings in Pasadena, part of a portfolio of seven properties that fetched a total sale price of about $405 million.
Prudential, in Parsippany, N.J., bought 155 and 35 N. Lake Ave. and 790 E. Colorado Blvd. from New York investment bank Blackstone Group.
Blackstone acquired the properties when it purchased Chicago real estate investment trust Equity Office Properties in 2007. Since then, Blackstone has been reselling many of the 513 buildings that were part of the Equity Office portfolio after putting in work to boost occupancy.
For reprint and licensing requests for this article, CLICK HERE.
Prev Next