To the Rescue
Banking & Finance Quarterly
Monday, September 23, 2013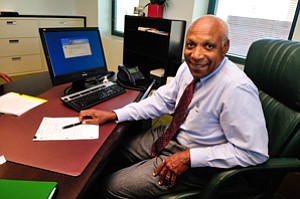 ederal law requires banks to serve poor neighborhoods. That's helped working-class homebuyers with mortgages and small businesses with startup financing.
But the law has also had an unexpected beneficiary in Los Angeles: a bank. And not just any bank.
Three times in the past decade, L.A.-based Asian-American banks have helped save South L.A. lender Broadway Federal Bank, the only black-owned financial institution west of Dallas.
When the recession hit, it was Koreatown's Nara Bank, now part of BBCN Bancorp Inc., that boosted Broadway's capital with a crucial loan. BBCN stepped up again last month, swapping much of Broadway's debt for stock, as part of Broadway's long-planned recapitalization. The Korean-American lender is now one of Broadway's biggest shareholders.
The Nara-BBCN action followed assistance years earlier from Cathay General Bancorp, parent of Chinese-American lender Cathay Bank, which stepped in to buy Broadway shares when Broadway's leadership wanted to cut ties with an antsy hedge fund investor.
For both banks, the money offered to Broadway had an extra benefit. It helped them satisfy requirements of the federal Community Reinvestment Act, or CRA, a law intended to stop banks from ignoring poor customers, minority neighborhoods and small businesses.
Banks can fulfill the requirements directly by making loans to poor or minority customers or indirectly by supporting minority-owned banks and so-called community development financial institutions – banks and non-profits that lend in poor communities. (See related story.)
Broadway is both minority-owned and a community development bank, and those designations have served the bank well, giving executives there an advantage in raising money during bad times, said Tamara Gurney, chief executive of Sun Valley bank holding company Mission Valley Bancorp, another community development bank.
"It's certainly an opportunistic way to gather capital, which has been a challenge in the community banking space," Gurney said. "Broadway was hit fairly hard. That's probably been a lifeline for them."
Perhaps even odder than Broadway's ownership by other banks is the ethnic identities of the parties involved: two Asian-American banks owning part of an institution founded to serve the black community.
Though traces of long-simmering tension between L.A.'s black and Korean communities remain, the Asian banks' stake in Broadway shows much has changed since the early '90s, said Gene Hale, chairman of the Greater Los Angeles African American Chamber of Commerce.
He remembers when Korean shopkeepers wouldn't even give bags to African-Americans for their groceries.
Korean businesses were hit hard by the 1992 riots. But not only Korean businesses: Among the many buildings that were torched was Broadway's headquarters building.
But times have changed.
"I think that race relations between Asians and African-Americans have improved over the years, and this is a testament to that," Hale said. "You can see the progress when an Asian bank is willing to come in and help Broadway continue surviving. I think it's a great deal."
Other banks could soon join Cathay and BBCN in putting money into Broadway. Wayne-Kent Bradshaw, chief executive of Broadway holding company Broadway Financial Corp., plans to raise millions in additional capital for the bank, and sees banks looking for CRA credit as likely sources of cash.
"I feel I might be able to take advantage of CRA," Bradshaw said. "It creates opportunities that weren't there before."
Broadway, originally Broadway Federal Savings and Loan Association, was founded in 1946 to serve black borrowers shut out by other banks. In 1996, the bank transitioned from a mutual – an institution owned by depositors – to stock ownership.
Eight years later, Pasadena's Cathay General became a major shareholder as part of a deal that rid Broadway of a hedge fund investor, Hot Creek Capital in Reno, Nev., that wanted Broadway to throw off more profit.
Broadway bought Hot Creek's stake at $14 a share, a slight premium and a price that hasn't been approached since. Cathay agreed to buy about half of those shares, about a 10 percent stake.
Alvin Kang, then-Broadway's chief financial officer, said Hot Creek's desire for a return on investment and Broadway's mission to serve the community were at cross-purposes.
"As a community bank and particularly an ethnic bank, I believe the founders (of Broadway) have a very deep responsibility to the community," Kang said. "That may not always sit right with an investor like Hot Creek. Anytime you're an investor, you're going to want a certain return."
A former investor was more critical, noting that Broadway operated more like a community service organization than a bank.
"There wasn't a desire to really be profitable and sustainable," the investor said.
In filings with the Securities and Exchange Commission, Broadway reported that Cathay's investment was motivated by the CRA.
Esther Wee, Cathay's CRA officer, was not with the bank at the time of its initial investment in Broadway, but she said the investment wasn't designed to make money. It was meant to help Broadway and, thus, to help Cathay earn CRA credit.
"We believed in what Broadway was doing," she said. "The objective of CRA is not to make money. It's really helping low- to moderate-income people."
In the years after Cathay's purchase, Broadway doubled in size, going from assets of $276 million at the end of 2004 to $552 million in the middle of 2010.
But by then, Broadway was already in trouble and losing money. Bradshaw, then the bank's chief operating officer, said the bank's problems are wholly the result of a massive and ill-advised expansion of the bank's church lending operation.
Lending to churches and other non-profits had been part of Broadway's business since it was founded, but lending was limited to local institutions. In 2007, Broadway starting lending to churches across the country.
In just three years, Broadway's church loan portfolio ballooned from $17 million to $101 million and from 7 percent of the bank's loans to more than 20 percent. The expansion of church lending was a misstep, almost a fatal one.
Because Broadway employees and executives knew local pastors and other church leaders, Broadway said the loans were secured by the threat of "social ostracism." No one in church circles wanted to be known as a deadbeat.
"Everyone knew each other, so there was no chance churches were going to default," Bradshaw said.
But that didn't work with churches in Georgia, Arizona and Indiana, where Broadway had started making loans.
At the end of 2011, the year of Broadway's biggest losses, church loans made up about a quarter of total loans, but more than half of its problem loans. Even today, seven of the 10 foreclosed properties owned by the bank are churches or other buildings that had been owned by congregations.
To stay afloat, Broadway has sold off tens of millions in loans, shrinking its assets down to $345 million. The bank also sold its former headquarters building on Wilshire Boulevard near Highland Avenue last year and closed a branch in Leimert Park in 2011.
Long-term loan
Broadway received $15 million through the Treasury's Troubled Asset Relief Program, but as the church loan portfolio soured and regulators classified the bank as troubled, Broadway needed more capital to backstop losses. But no one was interested in investing in the struggling bank, Bradshaw said.
So in February 2010, Broadway tapped a line of credit from Nara Bancorp, pumping $5 million into Broadway's capital. The credit line had been offered to Broadway in 2009, just as the bank's losses were beginning to mount.
"It was there in the event that they really needed to use it," said Kang, who had left Broadway and was Nara's chief executive when the line of credit was offered. "I was comfortable with it. I was familiar with their operations."
The loan came due in July 2010, but Broadway couldn't pay. A few months later, regulators issued a cease-and-desist order that required Broadway to stop issuing church loans and blocked it from repaying the Nara loan.
Despite all that, the money from Nara had proved helpful. The borrowed money boosted Broadway's capital ratios – a bank's cash as a percentage of its outstanding loans – to within sight of the requirements in the cease-and-desist order.
Bradshaw said it was unlikely that Broadway would have failed. But without the loan, regulators could have cracked down harder on the bank and it could have faced an existential threat.
"I don't think the prospects would have been good without that," Bradshaw said. "At that time, there wouldn't have been other investors."
Nara, meanwhile, got CRA credit from regulators and Nara successor BBCN Bancorp will continue to get CRA benefits from the transaction.
As part of Broadway's recent recapitalization, BBCN agreed to swap much of Broadway's outstanding debt for shares of Broadway's stock.
BBCN executives declined to comment, saying bank policy prevents them from discussing clients. But Kang said he believes that Nara and Cathay would have stepped in even without CRA credits, because Broadway serves poor communities in South Los Angeles.
"Broadway is an institution no one wants to see fail," he said.
Whither Broadway?
Banks, non-profit funds and, now, the federal government, are all among Broadway's biggest shareholders, controlling nearly three-quarters of the company's stock.
The Treasury owns 52 percent of the bank after converting its Tarp investment into common shares as part of Broadway's recap.
The National Community Investment Fund, a non-profit backed by Bank of America Corp., owns 8 percent; BBCN owns just shy of 10 percent; and Cathay owns about 4 percent after buying additional shares.
Banks could soon own even more of Broadway. Bradshaw said he plans to raise additional capital, perhaps $5 million to $10 million. He intends to raise some of that cash from banks that can get CRA credit.
BBCN, Cathay and other banks could also benefit by using investments in Broadway to add to their loan portfolios, said Jack Thompson, head of financial institutions investment at New York investment manager Gapstow Capital Partners, which recently invested in Broadway.
For example, if a Broadway customer asked for a loan bigger than the bank could provide, the customer could get some cash from Broadway and the rest from BBCN or Cathay.
"By having a relationship with Broadway, they may be able to partner with Broadway and participate in loans," Thompson said. "These are good loans. Broadway is a well-run bank now with access to a good market."
Gapstow last month paid $1 a share for 1.9 million shares – a 9.6 percent stake – as part of the recap. The recap helped boost the stock, which once traded as high as about $14, from about 80 cents to more than $1.
Thompson said he believes Broadway can be a very profitable bank without shifting its focus from the poor and minority communities it serves. If anything, that focus should benefit Broadway and similar banks.
"These banks serve underserved markets," he said. "There's a lot of opportunity there. You can make a good profit by being decent to these customers."
Broadway has branches in Mid-City, in South Los Angeles near USC and in Inglewood. No other local banks serve the ZIP codes of those branches, and Bradshaw said that Broadway isn't competing with the national banks that have nearby branches.
"We have to figure out what doesn't make sense for them," he said. "If JPMorgan wants to make loans in your market, you had better find a different market."
For Broadway, that has long meant loans to small landlords who buy, fix and rent out small apartment complexes and duplexes. Thompson is especially bullish about that business line.
Rental housing has proved a solid investment over the past several years, and Broadway's portfolio of loans to landlords fared relatively well during the recession.
Meanwhile, Thompson said he isn't concerned about previous investors' belief that Broadway was not focused on earning returns. He noted big changes that have swept through Broadway's C-suite in the years since the bank bought out hedge fund Hot Creek.
"That was nearly 10 years ago, with a very different management team," Thompson said. "The bank has a new chief lending officer, a new chief financial officer, a new CEO. They've really made a lot of changes at the senior level."
Virgil Roberts, a Broadway board member since 2002 and the current chairman, said making those changes – including bumping Paul C. Hudson, grandson of the bank's founder, from the chief executive's office – were tough but necessary.
With Bradshaw and other new executives in place, Roberts said the bank has been more aggressive in ridding itself of bad assets, stricter in dealing with late-paying borrowers and more rigorous in reviewing potential loans.
"There was a different direction the bank needed to go in," he said. "I think we got agreement from folks, even some of the ones being replaced, that changes were necessary."
Why Broadway?
Broadway is neither the only minority-owned bank in Los Angeles, nor the only community development financial institution. Cathay and BBCN could have invested in other institutions if they needed CRA credit. So why did they invest in Broadway?
In large part, because of relationships. Kang, a Broadway executive between 2001 and 2005, was chief executive of Nara when it offered Broadway a line of credit. And Bradshaw said former Chief Executive Hudson is close with Dunson Cheng, Cathay's longtime chief executive. Hudson and Cheng did not return calls for comment.
But those banks also invested in Broadway because it needed the money, whereas other banks didn't.
When Maria Contreras-Sweet, founder and chairwoman of downtown L.A. lender ProAmérica Bank, was raising money for her bank in 2006, she said that banks were interested in investing. But she was able to raise enough from local business people without hitting up other banks.
"I think it's better to have investors who are real people who use the bank, who are part of the community," she said.
Adriana Boeka, chief executive of Glendale's minority-owned Americas United Bank, said other banks have opened certificates of deposit or other accounts – another way for banks to get CRA credit – but they haven't invested.
At least one bank, though, is trying to follow Broadway's example. Jesse Torres, chief executive of East L.A. lender Pan American Bank, plans to raise between $2 million and $4 million in capital and said he'll seek out investment from banks and from the same types of non-profit funds that have invested in Broadway.
But he knows there's risk in that strategy. Pan American was founded by Latinos to serve L.A.'s Latino community. Torres said he'll make sure that if other financial institutions invest, they won't have too much influence on the bank's operations or philosophy. He doesn't want Pan American's customers to think the bank is an extension of a larger bank.
"If a large bank investor comes in, drops the money and walks away, then I don't see it being an issue," he said. "But to the extent they're playing a role in the management of the bank, at that point the bank has lost its way."
Broadway remains controlled by longtime board members, and both BBCN and the National Community Investment Fund agreed not to nominate board members. Gapstow has the option to nominate a board member, but Thompson said the firm does not plan to do so now.
Roberts, the board chairman, said he doesn't believe ownership of Broadway by other institutions, in particular by Cathay and BBCN, will harm the image of the nearly 70-year-old thrift.
"What we do as an institution is what gives us legitimacy in the community," he said. "And there'd be very little progress in America if we only did things in a monoracial or monoethnic way."
For reprint and licensing requests for this article, CLICK HERE.