JustFab Opens Retail Store
Monday, September 16, 2013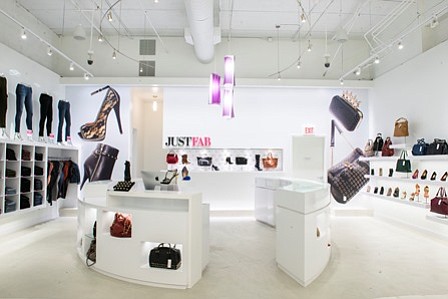 JustFab, the shoe retailer best known for its online-only store and monthly subscription plan, has made its first foray into the world of brick and mortar.
The El Segundo company opened a 3,000-square-foot flagship store at the Glendale Galleria over the weekend.
Co-Chief Executive Adam Goldenberg said the store is meant to address one of the biggest challenges in online shopping: the inability to try something on before buying it.
"We've heard from our members that being able to see and try on products before they buy is still an important part of the shopping experience for them," he said in a statement. "With the JustFab flagship, we are giving current VIP members and new customers a new way to connect with the brand and to experience the JustFab world in person."
The company is integrating many of its online features into the store. For example, customers can watch videos similar to those found on the JustFab website that explain how to wear a particular shoe or handbag.
The JustFab sales team has also been equipped with iPad and a mobile app that allows them to look up inventory, request products or access a customer's account.
JustFab launched in 2010 as an online-only subscription commerce business. It began by offering shoes for a monthly membership fee and later expanded into handbags, jewelry and denim.
The company has been on an acquisition tear, adding children's clothing to its portfolio and scooping up beleaguered competitor ShoeDazzle.
Though the brick and mortar store signals a shift away from JustFab's e-commerce roots, it's not leaving behind the monthly subscription plan that fuels its business. Customers can sign up for the JustFab membership at the store or shop for items at their regular retail price.
"JustFab has reverse engineered e-commerce into traditional retail with the opening of its flagship store," Co-Chief Executive Don Ressler said in a statement. "JustFab is now an omni-channel brand and has proven its innovation in fashion, television and retail."
For reprint and licensing requests for this article, CLICK HERE.