Data Firm Mines Repeat Business
Internet: Retention Science helps e-tailers keep customers.
Monday, September 9, 2013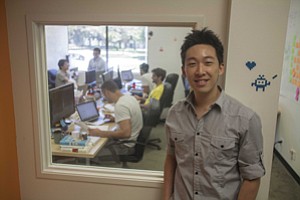 It's already happening to some extent.
Hamid Nazerzadeh, an assistant professor at USC's Marshall School of Business, said online travel agency Orbitz has been organizing its search results based on a correlation between price-point preferences and the type of computer a customer is using.
Mac users, for instance, are known to spend 30 percent more on hotel rooms on average than PC users, Nazerzadeh said. Therefore, someone on a Mac searching for rooms is more likely to see a four-star hotel come up at the top of Orbitz's search results than someone on a PC.
"You don't necessarily change the price," he said. "You just use information to display a better selection of items. Sometimes that doesn't necessarily mean the cheapest deal."
Window shoppers
Retention is Jao's third attempt to start a business in the e-commerce space. His two startups – a platform for artists to promote products to their fans and a social media analytics service for online stores to connect with customers – failed to gain traction with investors.
But the tools he gained in the world of pushing products online led him to pivot, developing a business providing big-data services to online retailers. He enrolled the new company in Santa Monica tech accelerator Muckerlab in 2011. Retention has since grown into a 14-person outfit working from an office not far from the Santa Monica airport.
Erik Rannala, who heads up Muckerlab, said Retention's specific focus on helping e-commerce sites target existing customers rather than reaching new ones is a clever way to bring in more revenue while keeping costs down.
"Historically, a lot of time and money is spent on acquiring customers through advertising," Rannala said. "It's much cheaper and cost effective to retain and reactivate already existing customers."
When Retention begins working with a client, it will take at least three months to gather enough data before starting to make recommendations. Jao said he prefers 30 separate points of information about each customer for there to be any meaningful conclusions.
The more specific the information gets, the more precise the recommendation. For example, someone whose profile indicates he wakes up early for work might be better suited for a promotional email early in the morning. Someone whose shopping habits tend to be quick, deliberate purchases, is probably best marketed through a concise, direct campaign.
Jao said there is a logical limit to what big-data processing can do. Even as a customer's personal information comes to play a larger role in the strategy of running an online business, humans will never be cut out entirely from the product planning and marketing process.
"There's human intuition and sense of fashion that can't be ever be replaced by stats and data," he said.
For reprint and licensing requests for this article, CLICK HERE.
Prev Next