State Storage Rule May Fuel Electric-Car Offshoot
ENERGY: Need to secure power could give Coda batteries inside lane.
Originally published October 28, 2013 at midnight, updated October 28, 2013 at 3:32 p.m.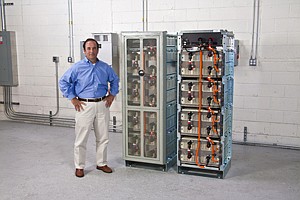 When the state Public Utilities Commission recently ruled that power companies must increase their capacity for storing electricity, it offered a much needed jolt of opportunity for Coda Energy, a Monrovia company that makes batteries that can fulfill that mission.
Coda is a familiar if tarnished name in Los Angeles: Coda Energy emerged from the ashes of the L.A. company that made the poor-selling electric car Coda.
The PUC ruling – the first such mandate in the nation – has set off a rush among dozens of companies trying to bring their energy storage products to market in an industry barely five years old. Big guns such as Samsung Group, Panasonic Corp. and General Electric Co. are poised to fight for market share with other energy companies such as AES Corp. and venture capital-backed startups, mostly in the Bay Area.
One of the few local players is Coda Energy, owned by New York hedge fund giant Fortress Investment Group, which bought the company out of bankruptcy earlier this year. Others include Ice Energy of Glendale, which has a product that hooks into rooftop building air-conditioning systems, and Energy Cache in Pasadena, which is developing a mechanical battery.
Coda Energy has spent the last two years developing a modular tower that combines a lithium-ion battery that accepts direct current from electricity generators and converts it into alternating current power, which is used by businesses and households. Each tower can store 40 kilowatts of electricity, enough to power a midsize commercial building for an hour.
String together hundreds of these battery modules in a series of standard shipping containers and Coda's technology can store enough electricity to power a military base or absorb all the electricity generated by the largest solar or wind farms.
"The beauty of our system is that it's scalable, allowing it to be tailored to an individual store looking to shift its energy use or to an entire military base looking to be self-sufficient," said Ed Solar, Coda's chief operating officer.
Coda has signed contracts to begin deploying its battery systems as early as the second quarter of next year.
But many other players in the energy storage market are also developing scalable battery storage systems, and some have already deployed theirs. Among the market leaders is AES Energy, a unit of AES Corp. of Arlington, Va., which has five battery storage systems in place across the United States, storing a cumulative 100 megawatts of power, with the largest being 64 megawatts at a West Virginia wind farm.
Prev Next
For reprint and licensing requests for this article, CLICK HERE.