Investment Pays Project Rewards
ENGINEERING: Aecom gets jobs on developments it co-funds.
Monday, October 21, 2013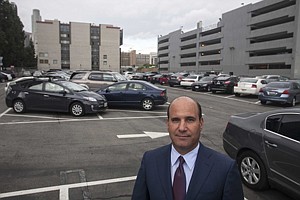 With a price tag of about $750 million, a massive apartment development downtown will rank among the biggest construction projects in Los Angeles once work gets under way.
But just as noteworthy as the project's size is who's picking up half the check: downtown L.A. construction and engineering firm Aecom Technology Corp., a company that designs and builds projects – and now wants to finance them as well.
The company's new investment fund, Aecom Capital, and Seattle developer Mack Urban are splitting the cost of the development, which could break ground next year. The two firms bought six acres of land downtown this month.
As part of the deal, Aecom will get the contract for all the engineering and landscape design work on the 1,500-apartment project, then build it through its Tishman Construction subsidiary.
This is just the second investment Aecom Capital has made since it was created last year, but company executives have big plans. They believe financing projects will lead to hundreds of millions of dollars in contracts for the company and will help it stand out from competitors such as Pasadena's Jacobs Engineering Group Inc. and San Francisco's URS Corp.
Mike Burke, Aecom's president, said the goal is to make the company a one-stop shop for developers building big projects.
"They need to design it, build it and finance it," Burke said. "Our objective is to be able to supply all three."
Aecom last year set aside $150 million for Aecom Capital to invest in private real estate developments as well as in privately financed public works projects. Burke said the fund will help build about $1.5 billion worth of projects, as Aecom Capital will partner with developers and borrow against its cash.
Much of that money will eventually return to Aecom through contracts for design, engineering and construction management services. Burke said he expects that over the next year projects financed by the fund will add about $750 million in contracts to the company's books.
But with all that work comes new kinds of risk. Aecom will be making bets on the real estate market and forming partnerships with competitors of potential clients, said John Rogers, a managing partner at Lake Oswego, Ore., securities brokerage D.A. Davidson and Co. who follows Aecom.
Though he said the thinking behind Aecom Capital seems sound, he wants to see how those risks play out before calling it a good idea. It's easy to see how such deals could lead to more contracts for Aecom, but it's harder to know whether the company will earn good returns on the real estate investments.
"I think we'll see very quickly that this does generate incremental business for Aecom," he said. "But the actual returns, we'll have to wait and see. It all depends on the execution."
Aecom Capital made its first investment earlier this year, partnering with Horsham, Pa., home builder Toll Bros. on a high-rise apartment building in Jersey City, N.J.
Aecom already had some experience in construction finance, but only for government projects. In 2005, it founded Meridiam Infrastructure, a Paris firm that provides private financing to public works projects including the recently completed George Deukmejian Courthouse in Long Beach.
Public and private
While Meridiam works exclusively on public projects, and typically projects costing upwards of $500 million, Aecom Capital aims to invest in both public and private projects worth $200 million and up. That could include apartment complexes, hotels, office buildings or public facilities such as water treatment plants.
Regardless of the type of building, Aecom Capital wants to own as much as half of a project, Burke said.
"If you put in 10 percent of the equity, you're sitting at the kids' table," he said. "To sit at the big table, you need to bring 50 percent."
That's the arrangement for the downtown L.A. project. Aecom Capital and developer Mack Urban are co-developing the first phase of the project, a 450-unit high-rise apartment building, likely along Grand Avenue between 11th and 12th streets. With an estimated cost of $280 million, it would place among the 10 largest in Los Angeles County on the Business Journal's list of largest construction projects.
Over the next decade, the two companies plan to build an additional 1,000 apartment units on adjacent sites, for a total project price tag of about $750 million.
Richard Mack, chief executive of New York's Mack Real Estate Group, one of the investors in Mack Urban, said partnering with Aecom Capital means Mack Urban can invest in other projects, as it needs to put less cash into this one, and that it will likely be able to borrow money at better rates.
"The more strong balance sheets are at the table, I expect it will lower our cost of funds to develop this project," he said.
Mack said that he also expects Aecom, which designs and builds projects worldwide, will provide advice and input that will improve the downtown development.
"We're trying to figure out what type of façade to use, what amenities, the size of units, how high to build certain buildings," he said. "In all of those decisions, I think they're going to be helpful."
Aecom Capital will only finance a project if Aecom can provide at least some of its professional services. Burke said the company will aim to contribute to everything from design through construction, but there's room for some negotiation. In the case of the downtown project, Aecom will provide engineering and construction management services, while the buildings will be designed by downtown architectural firm AC Martin Partners.
The only must is that Aecom manage the construction of Aecom Capital projects. Burke said that helps ensure the construction stays on budget and that Aecom Capital gets a good return.
Though Aecom competitors such as Fluor Corp. of Irving, Texas, and Bechtel Corp. of San Francisco have invested in projects over the years, D.A. Davidson's Rogers said the size of Aecom Capital's investments and the amount of control it will have on projects makes this a different proposition – and one that creates potential conflicts.
The requirement that Aecom provide construction management and other services cuts other engineering and construction firms out of Aecom Capital-funded projects, which could increase costs and hurt Aecom Capital's returns.
"It all depends on whether they're able to truly let it operate as an independent investor that stands on its own," he said. "There's certainly the potential for conflicts of interest."
Mack doesn't share that concern. Most of the money spent on big projects goes to acquiring land and paying subcontractors, not to the engineering or construction management company, he said.
Deals make sense
Burke said Aecom Capital analyzes deals to make sure real estate investments make sense on their own, without the assumption that Aecom will make money by providing services. He also said deals are structured in a way that keeps negotiations fair. In most deals, Aecom Capital and the developer will form a joint venture that will then negotiate with Aecom.
"It's an arm's length negotiation," Burke said. "There are no secrets in this business."
Another possibility is a fight between Aecom Capital as a project owner and Aecom as a service provider. Such disputes are common on major construction projects.
For instance, Sylmar construction firm Tutor Perini Corp. has been in a years-long dispute with Las Vegas hotel and casino operator MGM Resorts International over a high-rise that MGM says was shoddily built.
Burke acknowledged that disputes could arise pitting Aecom Capital against Aecom's other business units, but he said the deals will include provisions to address that possibility.
"These agreements have significant dispute-resolution provisions that are clear about how we clear up a dispute," he said. "God forbid there ever is one."
For reprint and licensing requests for this article, CLICK HERE.