Merger Latest Play for Online Video Companies
INTERNET: Break Media and Alloy Digital link up for Defy joint venture.
Monday, October 14, 2013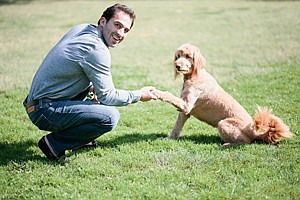 Online video companies Break Media and Alloy Digital are in the process of merging, with the resulting joint venture to be called Defy Media.
The news, first reported last week by the New York Times, was later confirmed by a source familiar with the process. The deal is set to be officially announced this week.
Break Media, headquartered in Los Angeles, has a collection of online channels and websites including Break.com, which produces a trove of self-described "male-humor videos." Alloy Digital, based in New York but with offices in Beverly Hills, has a significant presence on YouTube with some of the video streaming sites' most-viewed stars.
This kind of consolidation is in line with recent moves in online media, where even bigger channels and well-funded networks are scrambling for profitability.
Culver City YouTube network Maker Studios, in a bid to expand its roster of talent and off-YouTube video streaming capabilities, acquired New York's Blip this summer. That move followed DreamWorks TV's acquisition of teen-oriented YouTube network AwesomenessTV for upwards of $33 million.
Once combined, newly forged Defy will have $100 million in revenue for 2013 and be profitable, according to a source close to both companies. Matthew Diamond, chief executive of Alloy, will be the head of Defy, while Keith Richman of Break Media will serve as president. There are some layoffs expected in the process to eliminate redundancies.
The online media industry, much of which is based in Hollywood and on the Westside, has seen plenty of interest and investment over the past few years. Nearly all of the biggest YouTube networks are funded in some part by mainstream media companies. The task now is to convince brands that the newly "embiggened" networks are worthy of higher advertising rates, thereby making the online video business model "cromulent."
Bringing in Bones
Here's a fun one for pet lovers. DogVacay, a Santa Monica startup that hooks up pet owners with pet sitters, just raised $15 million in a series B round. The investment was led by Foundation Capital and included DAG Ventures and Sherpa Ventures. Previous backers Benchmark and First Round Capital also participated, bringing the company's total haul to $22 million.
DogVacay, which emerged from Santa Monica tech accelerator Science Inc., markets itself as a community for pet sitters. People who need someone to look after their dogs can browse the community and reserve a sitter. The transaction happens through the site, with the company exacting a 15 percent fee.
Although the service is intended for dog owners, sitters can indicate that they watch other animals (cats, for example).
Since launching last year, DogVacay has built a community of 10,000 sitters. The influx of money will be used to expand its international reach and build up the company's technical side. DogVacay released an app for Apple devices over the summer; there are plans to expand to Android in the near future. Founder and Chief Executive Aaron Hirschhorn also said the customer service team, which promises 24-7 support, will be reinforced. He expects the company will hire 25 employees in the coming months, boosting a current staff of 42.
Another Shave
Dollar Shave Club, a monthly razors in a box business, sliced off a B round of its own recently.
The $12 million investment was led by previous investor Venrock, and brought in new venture capital firms including Comcast Ventures and New World Ventures. The total raised to date is $22.8 million.
The Venice business emerged in 2011 as a razor-by-mail service and has built up a subscriber base of 330,000, according to founder Michael Dubin. He's since expanded the brand to include shaving butter and, most recently, flushable personal wipes.
There hasn't been any indication what Dollar Shave Club's next batch of products will include, although Dubin has been saying for some time that the company is thinking outside the face. "Anything a man needs taken care of in the bathroom" has been a recent mantra around the Dollar Shave Club offices.
The company has also been expanding its marketing efforts. This summer it signed deals with four professional football players, all centers, to hawk the flushable wipes. The aggressive and cheeky marketing campaigns have been intrinsic to the Dollar Shave Club brand, which Dubin launched to success on the back of a humorous and viral YouTube video.
Natalie Jarvey contributed to this column. Staff reporter Tom Dotan can be reached at tdotan@labusinessjournal.com or (323) 549-5225, ext. 263.
For reprint and licensing requests for this article, CLICK HERE.