App May Have Users' Numbers
INTERNET: Ad Hoc's Burner links multiple lines to one phone.
Monday, October 7, 2013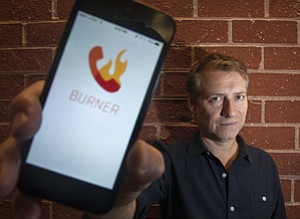 Greg Cohn sees phone numbers not as a string of digits but as a digital identifier, like an email address.
But unlike email, where one person is likely to have two, three or even more accounts, most people tend to have a single number. It's a piece of our identity that we either give out freely, with occasional regrets, or distribute with extreme prejudice.
In Cohn's view, phone numbers can become more and more like email addresses; that's the goal set out for Burner, an app made by his Silver Lake firm, Ad Hoc Labs Inc. Ad Hoc recently raised a $2 million seed round led by Cambridge, Mass., firm Venrock and included L.A. fund TenOneTen Ventures.
Burner, for Android and iPhone, lets people buy low-cost additional phone numbers that route directly to their smartphones. Cohn said Burner has been a hit among people looking for a layer of privacy when interacting with the outside world as they post ads on Craigslist, apply for jobs or meet someone at a bar.
"You can control in Facebook and Twitter what gets distributed, and it's second nature to think of multiple email addresses as different identities," Cohn said. "We think the phone should be more like both of those things."
The free-to-download Burner lets people purchase disposable phone numbers through the app. Pricing is based on the relative permanence of a phone line, so a number that's active for two weeks or 20 minutes of talk time, whichever comes first, costs $1.99; one that lasts for two months or 75 minutes costs $4.99. Users can add minutes to a number beyond the original length. Anytime they want to cancel a number, it can be "burned," immediately discontinuing the line and any unused minutes are lost.
Otherwise, the app works exactly like a phone's traditional calling feature. People make calls by dialing through a keypad in the app; the number that pops up on the recipient's phone is the temporary Burner number.
Incoming calls to the Burner number are routed through servers and appear on a phone as the Burner number calling the user. As a result, it's impossible to tell who is calling. Cohn said people manage that potential shortcoming by remembering to whom they gave their numbers.
Traditionally, it is a tricky and expensive process to assign two or more numbers to a single phone through a mobile carrier. Even when done, such auxiliary lines are not designed to be disposable.
David Waxman, general manager of TenOneTen, argues that the freedom to give out disposable digits brings phone numbers up to date with this era of online social networks. There have been steps along this way before – Google Inc.'s Voice application let people set up a free number online that routes calls to all the numbers an individual might have – cell, home, work. And Skype has made popular the idea of making free or low-cost calls online.
Neither of them, though, addressed the idea of being anonymous.
"Google and Skype aren't designed to have you switching numbers in and out," Waxman said. "But being in control of your identity is such an important part of the equation."
Office hours
Cohn and his Ad Hoc co-founder, Will Carter, are treading familiar ground with the phone-as-social-network app. Cohn worked at Menlo Park's Yahoo Inc. in business development and Carter at Finland-based phone maker Nokia Corp., now in the process of being purchased by Microsoft Corp.
Their initial idea involving disposable numbers was for a makeshift call-in show, in which experts could tweet out that they were free to talk about a topic then publicly post a temporary phone number for people to dial. It was modeled after a professor's office-hours concept in which students know they can stop by for a set time to get questions answered. The goal of Burner was to connect savvy businessmen with entrepreneurs looking for advice. But it didn't work that way.
"We found that people were a lot more interested with a temporary phone number than with the office-hours concept," Cohn remembered. "Then we started to realize we might have something."
In 2012, they brought the app to South by Southwest, the Austin, Texas, tech and media festival. It was officially released for iPhones in August last year with the Android version coming a few months later.
Since its debut, Burner has consistently ranked in the top five grossing apps in the utilities genre, according to analytics site AppData.
Apple Inc. doesn't release download metrics, but the Android apps store shows Burner has been downloaded more than 50,000 times.
A source familiar with telecom and informed of Burner's reach said the company might need in excess of 100,000 separate phone numbers, which could be purchased at a bulk rate for as low as 5 cents a line.
Cohn wouldn't comment on the pricing, nor would he disclose revenue, but he did say Burner's revenue stream of charging for numbers has kept the company running for some time without needing to raise capital. The new funding will be used to expand the staff of fewer than 10 as well as redesign the Android app to match the recently modernized version for iPhones.

Calls up
Burner's growth comes alongside the rising popularity of other calling-related apps, which in total have altered the mobile phone industry. "Over-the-top" services such as Mountain View's Whatsapp Inc. and Marina del Rey's TextPlus Inc. have given users the ability to make free app-to-app calls.
The immense success of those apps has forced mobile companies to alter their revenue models – where they once raked in cash by charging for text messages and calling minutes, they now focus largely on data usage accumulated when smartphone apps connect to the Internet.
"History shows us that unlimited offerings never work out over the long term," said Jan Dawson, a telecom analyst at London research firm Ovum. "Charging for data is the way it's going to be from here on out."
Burner's approach in many ways splits the difference between Whatsapp and its ilk and traditional calling. Texting on a Burner number counts against a user's data, but all calling is through a phone's minutes.
Hushed, a Canadian competitor to Burner, runs entirely over data streams and pitches itself as an international alternative with service in more than 40 countries.
Ad Hoc execs said they are considering changing Burner calls to be datacentric as well, but have no official plans.
Dawson sees the success of Burner as part of a spectrum of calling apps that have given people more freedom in how they use their phones.
"It's great for certain applications like online dating," he said. "If someone creeps you out, just cut off the number. It's handy for that kind of thing."
Cohn laughs about the online dating thing; it seems to be one of the biggest uses for Burner, although as a longtime married man, he's yet to try it himself (Carter, his co-founder, has).
There are some worries for Burner as the company grows.
If people continue to rack up temporary phone numbers in the way Ad Hoc executives expect, couldn't a new Burner number still be haunted by a previous owner's spurned date or telemarketer?
Cohn brushes aside those concerns. All numbers must lie fallow for a certain length of time before getting reintroduced into the system. He conceded there's a small chance that even with such a precaution a Burner line can attract some wrong numbers.
But, as he explained, "it's the case with any phone line. There's no such thing as a truly virgin number."
As a measure of how confident Cohn is that Ad Hoc's vision of phone numbers is the future, he said he's replaced his iPhone's native calling app with Burner. It's a move he equates to how people began adopting webmail service such as Hotmail and Yahoo Mail in the late 1990s.
"People used to rely only on the email address from their Internet service provider," Cohn said. "Once they realized how much freedom they had with the alternatives, they switched almost immediately."
For reprint and licensing requests for this article, CLICK HERE.