Solar Customers Left Out in Cold
ENERGY: Panels off as installers fight DWP over lease language.
Monday, November 25, 2013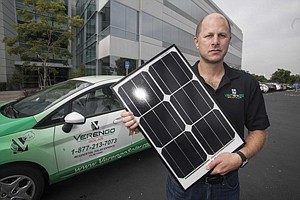 When Verengo Solar won approval from the Los Angeles Department of Water & Power to lease solar panels to residential customers, President Ken Button thought he would soon be basking in the largest solar market in the country.
But the skies turned cloudy for the Torrance company. Button's company and another have run into a contract dispute with the DWP that has left hundreds of their customers in limbo for nearly a year. That has delayed revenue for Verengo and may have dimmed enthusiasm for solar among potential customers.
The city department ordered cancellations of about 250 lease contracts distributed by Verengo and its finance partner, Sunrun of San Francisco – and an additional 1,050 contracts distributed by Solar City of San Mateo. And until the department received copies of new lease contracts, it would not put the customers in the queue for meter installations and final inspections, leaving their solar panel systems inoperative.
The result: More than 1,300 solar panel customers in Los Angeles were left with panels installed but not activated. That means no lease payments coming into Sunrun, which in turn has not made its scheduled payments to Verengo. Solar City did not respond to an interview request.
Button estimated that Verengo has so far fallen behind on revenue of six figures because of the dispute. The company spent thousands of dollars at each residence to install the panels, money that it had hoped to begin recouping by now. What's more, Verengo had to spend time and money sending its customers amended contracts and convincing them to sign.
But Button's greatest concern is how this will create a word-of-mouth disincentive.
"Our customers are having a very bad experience," Button said. "And when they start telling their friends about how long and painful this process is, they basically are telling them not to go solar. And that's scaring off future business."
Lease language
The dispute centers on language in lease contracts that Verengo-Sunrun and Solar City sent to customers regarding how the companies would get paid. After an initial 20-year term to pay off cost of installation concludes, a customer would pay a monthly fee to the installers that would be based on the market value of the electricity that came from the solar panels.
Take, for example, a customer who uses a total of 500 kilowatt hours of electricity in a month, half of which came from the DWP and the other half from solar panels. The customer and the installation company essentially would split the value of the 250 kilowatts that came from the solar panels. So, if the market rate were 50 cents per kilowatt hour, the customer would pay the DWP $125 and the solar panel installer $62.50. The customer would pocket $62.50 in power savings.
But the DWP is taking issue with the payment to the installer. The payment would be a variable amount each month based on the amount of electricity used and its market rate. The agency regards that as a sale of power to another entity besides the DWP. Because only the DWP can sell power within L.A. city limits, the agency claims such payments – the $62.50 in the example – would be in violation of the city charter.
Verengo-Sunrun argue that this charge is simply a formula for a lease payment and that it is not the sale of electricity.
There are several other companies that the DWP approved to install solar panels, and they have not had this contract problem.
After months of negotiations, Verengo-Sunrun agreed to change the lease language to say the lease payments after the 20-year term would be based on the market value of the solar panel system, not on the market value of the power saved. It is this revised language that is in the new contracts that were mailed out to customers this summer.
Walker Wright, government affairs director at Sunrun, places the blame on the DWP, accusing the agency of changing the rules retroactively. He and Button say the DWP had previously approved the lease language several times between 2009 and last year, and only this year decided that the language violated the city charter.
"This is an administrative mess-up that has left solar companies with a major burden," Wright said. "What's particularly distressing is that they made this retroactive instead of just telling us to apply the new language to all future contracts."
DWP officials say that Verengo-Sunrun and Solar City sent contracts to their customers that contained different language from previously agreed-upon versions.
"They deviated from the template," said Mike Webster, the agency's assistant director of system planning and development. "They submitted a new template and that's what we have been negotiating over these last few months."
Webster said that the charter provision at issue – that only the DWP can sell power to L.A. residents and businesses – is significant because it protects the city from market disruptions. He points to the power crisis in the year 2000, when power rates to other utilities soared because of market manipulation by resellers, most notably Enron.
"We here in Los Angeles were not affected because we controlled the sale of power in the city," Webster said.
Customer impact
Caught in the middle are 1,300-plus solar power customers, many of whom have endured waits of a year or more to get their solar panels operating.
Take North Hollywood homeowner Sandra Laoine, who first signed up to go solar in August of last year. She said she was fed up with rising electricity bills from the DWP and was lured by ads from Verengo touting cost savings. Verengo installed the panels last November.
But since then, Laoine said she has endured one problem after another, most of them with the DWP.
"We've had repeated inspections and all sorts of paperwork," she said.
At one point, the DWP ordered Verengo to replace a power inverter because it didn't meet specifications, Laoine said.
She thought her system was set to go this summer when she received one of the contract addenda that Verengo mailed to customers as a result of the dispute with the DWP. She said that she signed the addendum and thought no more about it. But it wasn't until Oct. 30 that a DWP technician came out and installed a solar power meter. That's when she began getting power from the panels – nearly a year after they were installed.
"People in the neighborhood saw the solar panels and asked me how much money I was saving," Laoine said. "I was completely embarrassed because the truth was this summer the solar panels were completely useless."
She said she is still a committed solar power proponent and has referred some of her friends to Verengo. But, she noted, "I've checked and so far, none of them have signed up. Perhaps they are looking at what's happened to me."
Fast track?
Verengo customers are now returning their signed amended contracts, but there's one more battle ahead for the company: getting those customers priority.
It typically takes the DWP one to three months to approve solar panel systems, send inspectors out to install meters and hook up the solar panels to the grid. Button said that when applications with signed amended contracts are resubmitted to the DWP, they get put at the back of the queue, just as if they are first-time applications.
"After all these customers have been through, because of no fault of theirs, they are now forced to wait all over again," he said. "That's just adding to their frustration."
The DWP's Webster said the agency would like to set up talks with Verengo to discuss giving these customers priority.
"We want to prioritize the inspection process for them," he said.
In the three months since the amended contracts started going out to Verengo-Sunrun customers, the agency has connected 86 of them.
The DWP has connected 238 Solar City customers, bringing the total to 324 out of more than 1,300.
In the longer run, Button said he's concerned that the agency could in the future decide there's a problem with the contracts, causing another round of delays while new contracts are drawn up and sent out for signing.
"I'm concerned about the prospect that we haven't heard the last of this," he said. "The most important thing for our business is certainty. When things change without notice, it hurts us, hurts our customers and hurts the reputation of the industry."
For reprint and licensing requests for this article, CLICK HERE.