Future Focus
TV studios get jump on content for 4K sets
Monday, November 25, 2013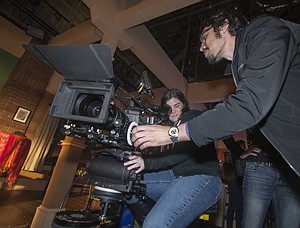 The shine has worn off of HDTV, and 3-D TV never really caught on. But the major TV studios in town, most notably Sony Pictures Television in Culver City, are fast-forwarding to a newer, ultrahigh-definition format called 4K.
Studios think it's the next step toward improving home entertainment because it displays four times as many pixels per frame as HD. And they're making the switch now because 4K cameras have recently come down in price.
The higher-resolution TVs, which have began appearing in stores, produce images with stunning clarity and detail. Demo videos feature paintings that could be mistaken for actual canvasses in front of you.
But even if you bought a set, there'd be no broadcast 4K TV programming. Cable and satellite companies don't even carry the signal yet and might not for a couple of years.
But producers have started shooting in 4K to make their shows more marketable years from now. The idea is to create high-quality master recordings that will hold value as reruns, when 4K TVs are more common.
"Four-K is inevitable, just like HD was inevitable back in the late '90s," said Michael Price, director of photography on "Trophy Wife," a sitcom about a twice-divorced man's new young spouse, produced by ABC Studios at the Disney lot in Burbank. Price expects that the show will move into 4K after the new year.
"More people are shooting in 4K to futurize their projects," he said. "When the shows go into syndication, the lifespan will be much longer."
Other shows shooting in 4K include new series "The Michael J Fox Show," "Masters of Sex" and "Blacklist," all produced by Sony Pictures Television.
The push to 4K is most visible at Sony, which in connection with the electronics division of its parent company, Sony Corp., created a 4K showroom in Culver City for Hollywood professionals and students at one of its soundstages, now called the Digital Motion Picture Center. Sony converted the stage last year and has used it to educate the industry about 4K production and postproduction processes.
By getting content producers to use the format early, Sony and other 4K proponents are hoping to avoid a major pitfall of 3-D TV, which languished from a lack of content available for broadcast.
"It starts with the filmmakers," said Alec Shapiro, a president at the Park Ridge, N.J., office of Sony Electronics, who has been involved with bringing producers and students to the soundstage. "The studios have come to the realization that 4K is the next HD."
Shooting for syndication
For viewers to see 4K, the best bet is to go a movie theater where the format has become popular. Chains such as AMC Theaters and Sumner Redstone's National Amusements have installed 4K digital projectors in recent years. Some movies that were shot on film, such as "Django Unchained," were later converted to 4K to be shown on the big screen.
But, just like 3-D, Shapiro acknowledged the 4K effect comes across far better when content is originally shot in the format. Native 4K movie production is also in its early stages, with Sony leading the charge toward boosting the format by shooting some of its recent films, such as Will Smith action picture "After Earth," in 4K.
That would seem to make sense for a major motion picture with a budget in excess of $100 million. But 4K is making its way toward TV because the cameras have gotten less expensive and can now fit television's lower budgets, said Mark Wilkins, a colorist at Technicolor in Hollywood.
"(TV has) used the lower-end cameras because it was not in their budget. And how much quality do you need in a sitcom?" he said. "Now it's so cheap and easy they're bringing it up to feature film standards."
Last year, "Made in Jersey," which briefly aired on CBS, was shot in the format.
Four-K TV production took a major step forward this year, Price said, when Sony came out with a 4K camera, the F-55, which sells for about $30,000. An earlier Sony 4K model, the F-65, went on the market in 2011 for about $65,000. Price personally bought three F-55 cameras this year to take on independent projects.
He brought the idea of shooting "Trophy Wife" in 4K this summer to ABC, which owns and distributes the program. He recently submitted test footage and expects the go-ahead.
Among the benefits of shooting with the new Sony 4K cameras: Price said he needs fewer lights when shooting on a dark street because the cameras have superior light sensitivity.
Also, "Trophy Wife" received an additional nine-episode order from ABC earlier this month, which Price said helped make the case for 4K, since it put the show at 22 episodes for the season and closer to the roughly 100 episodes that are usually needed for a program to make it into syndication. Many TV productions lose money initially but make a profit in syndication – if they can get there.
Signal to sets
The only way for 4K to catch on at home is for people to buy 4K TVs. But for the time being, the price is still too high to reach mass-market appeal, said Brian Blair, an analyst who follows Sony Corp. at Wedge Partners in New York. The 55-inch sets go for $3,000 and the 65-inch sets cost about $5,000 at Best Buy. He thinks prices will need to come in under $2,000 for the trend to take hold.
Robert Zitter, a former chief technology officer at HBO, said at an industry panel last year that he's skeptical of 4K due to the high price of the sets and the challenge of upending existing production and distribution infrastructure.
Nonetheless, Blair said having 4K content ready is a good step toward establishing a foothold in the TV market.
"The ability to record 4K content is a necessary piece," he said.
In September, Sony launched a 4K download service that makes its movies that have been converted to 4K in postproduction, such as "The Amazing Spider-Man," available for purchase starting at $29.99. TV shows produced by Sony Pictures Television and remastered in 4K, such as "Breaking Bad," are sold for $3.99 an episode.
But no cable or satellite companies have yet to distribute live 4K signals, which would require additional bandwidth compared with HD signals.
Shapiro at Sony said he expects that problem will be solved by compressing the signal so it can be sent on existing cable or satellite systems.
Already, Michael White, chief executive at DirecTV in El Segundo, stated in a recent earnings call that he would like to make his service the first to transmit 4K signals, although he noted that any material impacts of a 4K rollout won't be seen until 2015 or 2016.
Technicolor's Wilkins said he is receiving postproduction content that he knows was shot in 4K but he is still putting out the HD versions. He expects that he'll be working on the 4K versions when consumers adopt the format at home, though it might be a while.
"It's only in our little bubble that it exists," he said. "It's going to be a while before it gets to the home."
For reprint and licensing requests for this article, CLICK HERE.