Bank Grabs More Branch Space But Not Deposits
LENDING: Chase No. 1 in number of outposts but its market share declines.
Monday, November 25, 2013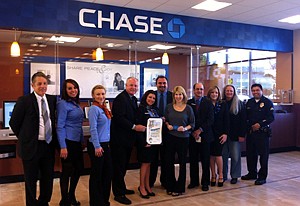 Pierre Habis, head of community banking for Union, said the bank doesn't have plans to significantly expand its branch network. With fewer customers relying on branches, the bank is more focused
on providing solid electronic banking products and good customer service than on adding locations.
"You don't need to be on every corner," Habis said. "We don't need to build another 100 branches in Los Angeles to have our fair share because not everyone needs a branch."
Of the 10 largest banks on the list, only Union and Bank of America reported gains in market share. Union ticked up only slightly.
Bank of America boosted its local deposits by more than $20 billion, growing from about 17 percent of local deposits to about 22 percent.
That was a big reversal for Bank of America, the longtime market-share leader in the county. Last year, its deposit market share fell from 20 percent to 17 percent, its lowest level since the FDIC started reporting county market-share data in 1994.
Barry Simmons, senior vice president for Bank of America's western region, said consumer and business deposits were both up over the past year. He attributed the increase in business deposits to a push by the bank to reach out to about 30,000 existing and prospective small-business clients over the past 12 months.
For reprint and licensing requests for this article, CLICK HERE.
Prev Next