Winery's Vintage Float to Make Rose Parade Debut
BEVERAGE: Sponsorship by alcohol firm is first in event's 125-year history.
Monday, November 18, 2013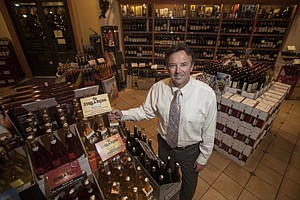 Forty-five flower-covered floats are scheduled to roll down Pasadena's Colorado Boulevard on New Year's Day for the Tournament of Roses Parade. One of them is said to be the first float built by a winery in the parade's 125-year history.
Steve Riboli, vice president of San Antonio Winery in downtown Los Angeles, said the float is the first-ever to promote a wine. The winery wants the float to build awareness of its Stella Rosa brand. And it's incorporating a disco theme to set it apart from wine snobbery.
"We want the audience to embrace us as a fun, celebratory concept that transcends just wine drinking and the whole mystique that wine drinking needs to be stuffy," Riboli said.
The 55-foot-long float, titled "Stellabrate Good Times," will be modeled to look like a double decker bus with a '70s vibe, said Riboli. Cost is estimated at $350,000.
It will also include a stage featuring a live performance by legendary disco group KC and the Sunshine Band with a troupe of 80 dancers.
Fiesta Parade Floats in Irwindale is handling the design and construction of the Stella Rosa float.
Tim Estes, president of Fiesta Parade Floats, said the company builds an average of 11 floats a year.
"They're not trying to sell a bottle of wine, but get people to know more about San Antonio Winery," he said.
The family-owned winery was founded in 1917 at its current location. The company has a staff of 130 and sells 16 brands including Stella Rosa, a semi-sweet, sparkling wine.
When the company was deciding its 2014 marketing in January, it decided that entering the Rose Parade would be a good fit. Riboli and his wife, Sindee, are Pasadena residents and members of the parade's committee.
"We've been around for almost 100 years," he said. "And what we've struggled with as an industry is how to attract a consumer."
Ira Kalb, assistant professor of clinical marketing at USC Marshall School of Business, noted that small wineries usually can't afford large-scale advertising such as national television commercials, so a Rose Parade float will probably provide good value.
"Marketing wine is very competitive," Kalb said. "They're using the corporate image of the Rose Parade, which is a huge event people around the world watch, and they're kind of hitching their sales to that, which is probably a good thing to do."
For reprint and licensing requests for this article, CLICK HERE.