Eastern Ad Execs Ride High-Tech Wave
ADVERTISING: Big names move west to work with Silicon Beach.
Monday, November 18, 2013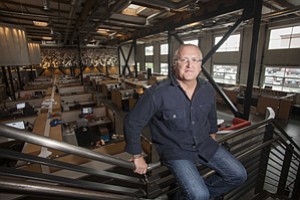 Pete Favat made his name as an advertising industry power player on the East Coast thanks to work that included placing 1,200 body bags outside a tobacco company's headquarters for an anti-smoking campaign.
After building his career in New York and Boston, he came to Los Angeles last month to be chief creative officer at Deutsch LA in Playa Vista.
And he's not the only prominent ad exec to move here recently. Stephen Larkin was named chief marketing officer at 180LA in Santa Monica, moving from his Boston base earlier this year. Peter Rosch left Mullen's Boston headquarters to come to the firm's El Segundo office. Sue Anderson, co-executive creative director at Crispin Porter & Bogusky in Santa Monica, came from TBWAChiatDay in New York this year. John Norman, came to TBWAChiatDay in Los Angeles as its chief creative office from the Martin Agency in Richmond, Va.
The arrivals are a sign of L.A.'s rise as an ad industry hub, thanks to a boom of new-media companies in Silicon Beach and elsewhere and the growing market they present for agencies that do digital work.
"There's more opportunity with the convergence of entertainment, automotive and the tech presence with Silicon Beach," said Susan Franceschini, executive director of ad industry trade group ThinkLA in Culver City. "All of that kind of comes together to create this new frontier of business, especially as it relates to branding, marketing and advertising."
Among the native agencies that have helped boost the city's reputation is Ignited, which specializes in digital advertising. Eric Johnson, the founder and chief executive of the El Segundo agency, notes that Los Angeles has become a big source for online entertainment, specifically citing studios for YouTube channels.
"This phenomenon of YouTube content creators has blossomed here," Johnson said. "If you want access to that … you're going to want to do business here. It's really been the last couple years that it's been accelerating as you're now starting to see some commercial successes of content made specifically for the YouTube generation."
U.S. spending on digital advertising was forecast to hit $42 billion this year, up from $37 billion last year, according to eMarketer, a New York website that covers digital marking.
Veteran migration
Larkin was part of the Boston ad scene for 23 years – most recently he was managing director of Mullen's Pittsburgh office although he still lived in Boston – but looked west because of the digital talent and creativity here, which he said he saw as a reflection of advertising's role in digital content such as Web videos.
"The business has changed so much," he said. "It's a seismic change."
Advertising consultant Russel Wohlwerth, principle at External View Consulting Group in Culver City, said the city's transformation into an advertising powerhouse for the digital age represents the biggest shift of talent from the East Coast to the West Coast since Lee Clow came to Chiat/Day, now TBWAChiatDay, in the early 1980s.
"New York is still the biggest home of agencies, but I wouldn't necessarily say that it's the hottest," he said. "There's a lot of baggage there. They tend to be bigger, old fashioned, tend to be more parochial and see the world through the eyes of New Yorkers. Los Angeles is becoming a destination."
Besides Deutsch L.A. and 180LA, other agencies have been making high-profile hires.
Anderson, who left TBWAChiatDay in New York to come to Crispin Porter, said the Los Angeles scene hadn't been appealing to her in the past. Now, the city is dotted with "many good agencies, packed full of good people."
Norman, new chief creative officer at TBWAChiatDay in Los Angeles, said L.A.'s new-media companies present agencies with fertile ground.
"The emergence of technology, entertainment and advertising coming together on a convergence in L.A. is pretty strong and something the L.A. office is rapidly getting their head around. And that was a big opportunity for me," he said.
Los Angeles ascendant
Rosch , who came to Mullen's L.A. office to lead its Acura account, had spent most of his career in New York. He said that he's certain Los Angeles is on the rise as an ad center.
"There was a time, at least in my mind, when there were maybe three agencies to go work for in L.A.," Rosch said. "That changed. I haven't taken the time to count, but I imagine there are 10 to 15 pretty strong shops."
In addition to his anti-smoking work as chief creative officer of Arnold Worldwide in Boston, Favat also led the team that conjured up Volkswagen of America's "Drivers Wanted" campaign. He's also worked on campaigns for Coca-Cola Co. and Converse. At 29, he was the chief creative officer for Houston Herstek Favat; Arnold bought his agency in 1999.
"Our industry is changing so rapidly," Favat said. "I've worked in New York, Boston … and around the world on global accounts, but the one thing I love about L.A. is that its roots are very pioneer and aggressive. I think there's this natural gravitational pull to Los Angeles right now, which I'm totally psyched about."
Favat, 52, will be managing the creative team at Deutsch LA. The office, which was founded in 1995, has a staff of 490 with clients such as Taco Bell, Volkswagen, Target Corp. and Netflix Inc.
He's proud of his past accomplishments and excited about the possibilities here.
"What really turns me on now is to assemble really smart, agile teams to attack problems in a new way," he said.
But it was a big step for him to decide to leave Boston, where he was firmly rooted. Some people he knew were astounded. He recently had dinner with a friend in Los Angeles who told him how shocked he was to learn of the move.
"He said, 'I'll be honest. You completely floored me with that announcement.'"
For reprint and licensing requests for this article, CLICK HERE.