Leaving the Lab
SPECIAL REPORT: Health Care & Hospitals
Monday, November 4, 2013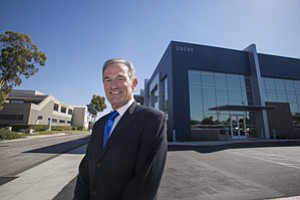 Most Angelenos haven't heard of the Los Angeles Biomedical Research Institute. But it was the point of origin of many noteworthy advances in health science.
It was launched by UCLA doctors in 1952 at the site of a decommissioned World War II Army camp in Torrance. Rats were a problem, but they were kept under control by stray cats that wandered the sprawling campus. Inside the former military barracks, researchers developed the paramedic model for emergency care, the modern cholesterol test and human egg transplants for infertile women.
Today, LA BioMed, a non-profit research organization, is still on the same site along with Harbor-UCLA Medical Center. In recent years, it's become an incubator of biomedical startups.
Spinoffs that have products on the way to market include Kythera Biopharmaceuticals Inc., a publicly held Calabasas developer of an injectable treatment for chin fat, and Emmaus Medical Inc., a Torrance pharmaceutical company working on treatment of sickle cell disease. The institute gets licensing royalties from products and technology developed there.
The descendants of the felines are still on patrol, fed by the scientists who work there. Some of the original barracks remain but have been converted to research facilities and offices. Others have been torn down and replaced by state-of-the-art laboratories.
Money to convert the buildings comes from government grants and corporate partnerships. For example, a Japanese company that's formed a partnership with Emmaus to develop treatments for damaged organs paid to transform one of the old wartime health clinics into a modern laboratory that maintains the feel of the original site.
Much of the institute's research remains focused on the needs of the disadvantaged population served by the Los Angeles County hospital. For example, doctors develop treatments for chronic ailments prevalent among poor people, such as obesity and resulting heart disease and diabetes.
But the physician-researchers at the institute are also thinking entrepreneurially about niche medical devices and drug development.
"There is a rare spirit here that you don't find at other institutions I've worked at," said Executive Director David Meyer, who has fostered tech transfer at LA BioMed since he came in 2009. "We share a campus with a level-one trauma center that serves a tremendously underserved community. Our people don't stay holed up in their laboratories. It results in some exciting medicine."
At least two LA BioMed startups are slated to present their technology to potential angel and venture investors this month at the annual Southern California Biomedical Council Investor Conference in downtown Los Angeles.
In addition to their business ventures, most LA BioMed doctors conduct academic research, supervise medical residents and even make the rounds at Harbor-UCLA.
Dr. Matthew Budoff is an LA BioMed cardiologist who leads a team with patents pending on a computer workstation that can take cost-effective measurements of both bone density and plaque in the heart with a standard CT scanner. He notes that the institute's reputation for cross-collaboration among medical specialties helped it win grants that were used for creation of a $9.7 million multidisciplinary research facility. It helps that it's a more modest research facility than some of the area's heavier hitters.
"LA BioMed has really allowed me to work in an unfettered environment," Budoff said. "It's not a big behemoth like UCLA. We're small and nimble."
On the following pages, The Business Journal profiles five of the companies that started at LA BioMed and are at various stages of spinning off and putting their products on the market.
For reprint and licensing requests for this article, CLICK HERE.