Future of Effects
'Previs' looks to ride blockbuster trend
Monday, May 20, 2013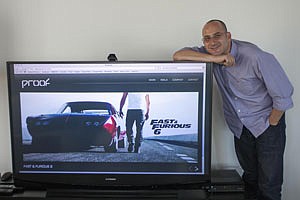 With summer action flick "Fast & Furious 6" opening this weekend, Universal Pictures is hoping adrenaline junkies will show up for the big explosions and car chases that commanded so much of the film's megabudget.
In one scene, a car jumps through the nose of a cargo plane as it crashes and explodes into flames – the type of spectacle that has made the "Fast & Furious" franchise $1.6 billion at the box office.
But long before the elaborate sets were built and expensive visual effects were created, the action sequences were designed and animated on computer screens across Los Angeles in a process called previsualization or "previs," which has become popular for producers of action flicks.
The previs work for director Justin Lin's "Fast & Furious 6" will be a high-profile credit for Miracle Mile's Proof Inc. The company's work gave the film's crew an animated idea of how some of the more complicated scenes would look on screen – and the blueprint for how they could be shot.
"We're playing the role of architect," said Ron Frankel, Proof's founder and owner. "We're taking in the creative vision of the director and practical constraints of the production. At the end of the day, you should have a pretty clear document that shows what's going to happen and how it's going to happen."
Effects-driven, big-budget blockbusters are often the movies that require the most previs work. And Proof's niche is in demand now as studios are increasingly reliant on box office returns from big action pictures.
Previs work usually begins weeks or months before filming and some of the staff will often follow a director to the filming location.
In a typical example, animators will work with a supervisor to create how scenes will look. That gives directors a blueprint showing how camera angles can be used, certain elements of the set should be built and shots should be sequenced, for example.
The work can be done for all kinds of films, but it is particularly useful for action sequences that require difficult camera work and visual effects.
For a big studio movie, the previs work can cost from $200,000 to $1 million. But because it helps in the planning process, previs reduces the risk of wasted time and money during shooting a film such as "Fast & Furious 6," with a budget reported at $160 million.
Previs work might or might not ultimately save the producers money, but many believe it improves the quality of a movie.
Chris Cram, vice president of visual effects at Universal, said previs has also become vital for big effects films as a reference tool that shows artists where the computer-animated explosions and characters will go.
"(Previs has) grown in importance along with visual effects," he said. "It determines where you're going to need visual effects help."
Storyboarding and other previsualization-type planning has been around since the 1930s, but today's computerized previs industry is relatively new. In the early 1980s, before today's sophisticated software, artists working on "Return of the Jedi," used action figures and a small camera to show how some scenes might look.
It has blossomed in the past two decades as animation technology has improved and firms such as Proof have set up shop across Los Angeles. Others include Third Floor Inc., also on the Miracle Mile, which recently did the previs work for "Iron Man 3," and Pixel Liberation Front in Venice, which did the previs work for "G.I. Joe: Retaliation."
Animating abroad
Frankel launched Proof in 2002 after leaving Pixel. The idea was to open a small shop with little overhead, although in recent years he's found the need to expand to respond to shifting production trends. Today, the firm has about 20 full-time employees in Los Angeles, including artists working on productions in Manhattan Beach and Studio City.
Last year, Frankel opened a London office as filming for "Fast & Furious 6" was ramping up in the United Kingdom. (To qualify for tax credits, productions must often contract with local companies.) Frankel hired about 10 full-time employees to staff the London office. The company hires additional workers in Los Angeles and London as needed.
"Fast & Furious 6" was the first project that Proof handled from both the L.A. headquarters and London outpost; it's a model Frankel expects to replicate in future jobs.
"Very few of these films – big-budget, effects-intensive action and superhero films – very few of them get filmed in Los Angeles," Frankel said. "Proof's looking for ways to connect the dots and provide visualization services whether they're here in Los Angeles or abroad."
Third Floor also opened a London office two years ago. The previs companies are chasing productions that are drawn to states and countries offering tax incentives.
Some visual effects companies did the same, but that proved problematic. Some of those visual effects industry leaders, such as Digital Domain and Rhythm & Hues ran themselves into the ground not only by chasing work around the world – adding more costs – but by bidding low to get jobs. In many cases, they ended up losing money.
The effects firms bid by the project without knowing exactly how many hours of work would go into it. Frankel believes previs companies have a more sustainable model: billing producers for the number of artists and weeks of work.
For example, a single artist for a week will cost a few thousand dollars and go up from there. In turn, the artists and supervisors are at the disposal of the director and other parties involved in the production for a fixed amount of time. That way, they're not inclined to lose money on any particular job.
The "Fast & Furious 6" job was at the top end of the scale. In addition to previs, Proof also did some "postvis" work, which is designed for the use of editors, and also contributed some visual effects work, such as removing camera rigs and wires from shots. The gig brought in about $1 million to Proof.
The firm has annual revenue of a few million dollars per year, although Frankel would not disclose specifics.
Bob Coleman, founder of Digital Artists Agency, which places visual effects artists on projects, said previs might influence how effects companies do business.
"There's been talk about the previs business model," he said. "I think it's interesting."
For reprint and licensing requests for this article, CLICK HERE.