Coffee Firm Hopes Distribution Cup Runneth Over
MANUFACTURING: Retail deals more than double outlets for Jammin Java.
Monday, March 18, 2013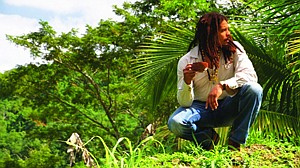 Coffee company Jammin Java Corp., the brainchild of Bob Marley's son Rohan Marley, has struggled to build sales for its reggae-branded roasts.
Now the company's executives say they're finally ready to pick up the tempo, making a major push to get into retailers and office break rooms.
Jammin announced earlier this month that it will distribute to Office Depot Inc., where businesses can buy it when shopping for supplies. Until recently, the Beverly Hills company's Marley Coffee brand could be found in almost 1,000 stores. The deal adds an additional 1,100 retail locations, doubling its points of sale.
The company is working on landing major grocery chains in the coming months and securing more financing to pay for sales and marketing.
"It's been a really long road to get where we are today," said Anh Tran, president of Jammin Java.
The nine-employee company, which emblazons its packages with the image of a lion, wants to extend its reach to 5,000 points of sale this year. To do that, Jammin is hoping to ride demand for single-serve products.
The startup launched its cups – used to brew a single cup of coffee – at the end of last year to respond to demand from customers using Keurig K-Cup machines sold by Green Mountain Coffee Roasters Inc. of Waterbury, Vt. Marley will compete for market share of both cups and bags of whole bean coffee with companies such as Seattle's Starbucks Corp.; Dunkin' Brands Group Inc. of Canton, Mass.; and Torrance's Farmer Brothers Co.
The market for single-serve products is the fastest growing part of the coffee industry. Sales of cups in the United States have doubled every year since 2010, according to a report by Chicago research firm Mintel.
"People have really changed their behavior," said Mintel analyst Jenny Zegler, who covers the beverage industry, of the single-serve sector.
Reggae reference
Rohan Marley started his enterprise in 1999 when he bought a farm in the Blue Mountains of Jamaica. The brand has operated under the Jammin Java corporate name since July 2009.
Jammin sells roasts named after Bob Marley hits such as "One Love" and "Get Up, Stand Up." The company sources beans mostly from Ethiopia and roasts at three locations in North America and one in the United Kingdom. The company has a small headquarters office in Beverly Hills that usually sits empty because executives and employees work remotely.
Marley's idea was to build a socially conscious, environmentally friendly brand that stayed true to the legacy of his reggae icon father. Marley hadn't wanted the company to grow too fast.
Prev Next
For reprint and licensing requests for this article, CLICK HERE.