SXSW: Iconothon Asks Techies to Unleash Creative Side
Tuesday, March 12, 2013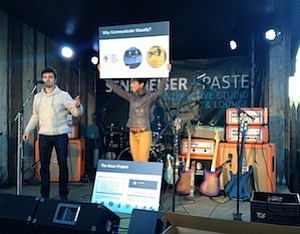 Ever wonder how the internationally recognized symbol for recycling came to be?
L.A. company Noun Project is trying to create a database of such recognizable symbols for every noun and idea. Noun Project currently has thousands of symbols that can be licensed for use in smart phone apps or infographics.
To help grow its database of symbols, Noun Project held a brainstorming session called an Iconothon Monday evening during the South by Southwest interactive conference in Austin, Texas.
During the two-hour Iconothon, participants sketched symbols that represent the process of having an idea. The most common symbol for an idea is the light bulb, but Noun Project Co-Founder Edward Boatman asked people to find a different way to represent it.
Noun Project received dozens of submissions and will turn those drawings into online icons that anyone can download for free.
Some of the submissions included drawings of exclamation points, brains and lightening bolts.
Andrew Courter, product manager at San Francisco online flashcard company StudyBlue, drew a profile of a face with a seed inside the head to represent the process of having an idea. He also drew a profile with a flag to represent achievement.
"It was hard for me to not draw a light bulb for an hour," Courter said. "What makes a good icon? Something with broad understanding from people of many cultures or backgrounds."
Boatman and his wife, Sofya Polyakov, started the Noun Project in 2010 through a Kickstarter crowdfunding campaign. Boatman, who previously worked as a designer at architecture firm Gensler, was frustrated that there wasn't a database of icons that he could use in his design work.
Anyone can submit icons to Noun Project. The company also hosts Iconothons around the country to add more symbols to its database.
Someone who wants to use a symbol can either attribute it to the original designer or pay a $2 licensing fee to use it without attribution. Noun Project might eventually license its database for use in creating apps that would use symbols for, say, text messaging.
Boatman said SXSW was the perfect place to hold an Iconothon because it brings together creative types from the tech, music and film worlds.
"That's our core market," he said. "It's a phenomenal place to meet others doing creative things."

For reprint and licensing requests for this article, CLICK HERE.